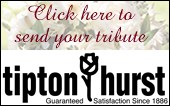 Read our Privacy Policy concerning online obituaries and release of information.
Walter Garrett Riddick, Jr.
---
Walter Garrett Riddick, Jr., age 83, of Little Rock, died Wednesday, April 28, 2010 at his home with family by his side. He was born in Little Rock on November 18, 1926.

He was the son of Hebe Fry Riddick and Walter Garrett Riddick, Judge of the United States Circuit Court of Appeals, 8th Circuit. He was the grandson of James Edward Riddick, Associate Justice on the Arkansas Supreme Court, and a descendant of Henry Massie Rector, Governor of Arkansas.

Walter attended Little Rock schools, graduating cum laude from Sewanee Military Academy in the summer of 1944. He attended Little Rock Junior College (UALR) before enlisting in the Army in 1945, during World War II. He served in the 66th Constabulary Squadron, 2nd Constabulary Group in Kiefersfelden, Germany as part of border control operations near Austria. Walter received the World War II Victory Medal and Occupational Medal (Germany). Upon release from the Army, he attended Washington and Lee University, Lexington, Virginia, where he was a member of Delta Upsilon Fraternity and Phi Delta Phi Legal Fraternity. He received his B.A. in 1949 and completed two years of law school before he was recalled to serve in the Korean War. Having taken the bar exam that summer, a year early, and having earned the second highest score, he was assigned to the JAG section, Headquarters 1st Cav Division, to serve in Japan and Korea. After discharge from the Army, he completed his senior year in law school and received his LLB in 1952.

Walter practiced law at the Rose Law Firm from 1952 to 1955. In the fall of 1955, he became an Assistant U.S. Attorney and served in that capacity until January 1984, when he left to join his son in private practice in the Riddick & Riddick law firm.

Walter was an important anchor of his extended family, providing advice, encouragement, and support to his loved ones. He was genial, good tempered, infinitely patient, and generous in praise of his nieces, nephews, and grandchildren, who adored him. Throughout his life, Walter exhibited a curious intellect and a love of reading, as a result of which he could hold court on subjects as varied as law, geography, physics, birds, military history, and poetry.

Walter was preceded in death by his parents and by his first wife, Marguerite Rice Riddick. He is survived by his wife of 38 years, Joanne Hamilton Riddick; his son, Walter Garrett Riddick III (Walt), his wife Jessica, and their three children, Elizabeth, Walter Garrett Riddick IV (Garrett), and Donovan of Little Rock; his three "bonus children"---John Stuart Haley and his wife Danette, of Little Rock and Bangkok, and their daughters, Anne and Colleen; Susan Haley Adams of Memphis, her fiancée, Mark Betts, and her sons, Christopher and Andrew; and David Costen Haley and his wife Lori, of Fort Worth, Texas, and their children, David Jr., Connor, Lauren, and Katherine. He is also survived by his sister, Dr. Hebe Riddick Mace of Little Rock and her son, Zach Bair of Memphis; and by his cousin, Edgar K. Riddick III of Little Rock, and his wife Lisa and their two children, Kader and Rebecca. He leaves behind very special Rice nieces and nephews, extended family on both sides, cherished colleagues from the U.S. Attorney's office, and the dearest neighbors anyone could have.

Services will be held on Monday, May 3, including a graveside service at Mount Holly Cemetery at 10:30 a.m. and a celebration of life service at Ruebel Funeral Home at noon. The family will greet visitors before and after services at Ruebel.

In lieu of flowers, memorials may be made to Second Presbyterian Church Youth Music Program, 600 Pleasant Valley Drive, Little Rock, AR 72227; Camp Aldersgate (where the Grite's Pavilion is named for Walter's first wife), 2000 Aldersgate Road, Little Rock, AR 72205; or Arkansas Hospice, 14 Parkstone Circle, North Little Rock, AR 72116. Arrangements by Ruebel Funeral Home. www.ruebelfuneralhome.com.


Condolence Book
---
"Walt, Aunt JoJo, John, Susan, David and the rest of the family, please know that my thoughts and prayers are with you. Walter is at peace and in no pain now. Rob, Nathan & I will be thinking of you all with love and sympathy."
Peggy Young Seamon | Little Rock, AR | rpnsea@aol.com
"I can hear his voice in my head. His stories were so full of interesting stuff. I never tired of listening......our prayers and thoughts are with all of you.
"
Bob Essert | Conway 72034, AR | godsman2@mindspring.com
"I cannot adequately express my sorrow for your loss, my admiration of Walter, and my appreciation for him and your family. Please accept my deepest sympathies and love. "
Frances Carner | Denham Springs, LA | fcarrner@cox.net
"Please know for certain that we never lose the people we love. They continue to participate in every act, thought and decision we make. Their love leaves an indelible imprint in our memories. We find comfort in knowing that our lives have been enriched by having shared their love. My continued prayers for strength and healing are with you."
Joanne Jacks | Little Rock, AR |
"JoJo, you are in my thoughts and prayers.I'll be in touch when I come to Little Rock again.You are very special.Please take care of you."
Patricia Stedem Pratti | Spring, TX |
"I am very sorry about the death of Walter Riddick. He was a gentleman of the first order. I know he will be missed. My condolences to Joanne and the entire famil."
Paul D. Snodgrass | VIENNA, VA | paulsnodgrass@verizon.net
"Jo Jo,
The loss of a love is always so painful. I know you will forever hold Walter close to your heart.
Sympathy and love.

"
Anne S St Pierre | Concord, CA | annestpierre@sbcglobal.net
"Mrs. Riddick, My thoughts are with you and your family. I will always remember your house was the first stop for any of my fundraiser sales - Not simply because you guys were next door but mainly because Mr. Riddick and you were always sure to help my sales get off on the right foot. "
Jason Plowman | Wauwatosa, WI | jnwplowman@gmail.com
"Joanne, Walt and Family - I find I can't craft a sentence that truly expresses the admiration and respect I have for Walter. I pray for Grace for each of you and am thankful to have shared the gift of Walter's dynamic personality and spirit. Heaven is a much richer, wiser place and he will never be forgotten."
Carole Haynie McDonald | Little Rock, AR | jimorcarole1300@sbcglobal.net
"Joanne, Walt and Family--
A great man has passed. He was a mentor to many of us back in the day of 523 W. 3rd. He will be missed and our thoughts and prayers are with you."
Larry Vaught | Little Rock, AR | larry.vaught@arkansas.gov
"Joanne, Walt, Jessica, Elizabeth, Garrett, Donovan-
I know how hard it is to lose such a vital force in your family. But time and memories will heal and bless you after the pain fades. You will always have him with you...cherish the memories, the stories, the traditions- and let your friends know when you need us, we will be there."
Debra Thomas | Little Rock, AR | debchowning@hotmail.com
Sign Condolence Book
---
Please fill out the form below to enter your name and a short message to the family into the online condolence book. Please type in regular sentence format; do not type in all capital letters; only type your condolence or comments in the "comments" field – your signature will be formatted from the "Name," "City & State," and "E-mail" fields. Please remember that you are leaving comments for a public guestbook and not sending personal email to family members. Do not type in email or letter format. Phone numbers and Addresses (other than email) will not be posted.
* denotes required fields.