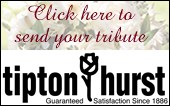 Read our Privacy Policy concerning online obituaries and release of information.
Lora Ann Baxley
---
Lora Ann Baxley was born July 17, 1955, in Little Rock, Arkansas to the late Edwin Lee and Helen Joyce Ederington Baxley.

She passed away at her home on January 28, 2018.

When she was young, Lora Ann showed unusual athletic promise. She swam at two, then led the First United Methodist's basketball team to victories, cheered as the mascot at games with Hall High Varsity cheerleaders at age eight, enjoyed ballet lessons, especially her performances at Robinson Auditorium, for over six years, and participated in many sports.

Lora Ann started playing tennis at age 12. She took three lessons and won the Arkansas State Novice Tournament. From then on, she played almost daily at the Country Club of Little Rock with a wonderful group of lifelong friends.

Although she was outstanding in many sports, as she grew older, tennis became her passion. Lora Ann was a fierce competitor on the tennis court. While in high school, she won the Arkansas High School Girls State Tennis Tournament three consecutive years, when she was a sophomore, junior, and senior. She also won many Arkansas junior state tournaments.

In 1971, she won the Southern Girls Tennis Tournament an all south tournament in Chattanooga, TN, and was ranked #1 in the South in Girls 16's singles. She was also nationally ranked by the United States Lawn Tennis Association in the Girls 16 singles. That year, she received the Raymond Rebsamen & Herschel Friday Award in recognition of ability and excellence in junior tennis and achievements in sportsmanship, character, and citizenship. She received Pulaski County's Outstanding Athletic Award for two consecutive years. Lora Ann's achievements date back to winning #1 in the state singles and doubles when she played in the 14's, 16's, 18's, womens and mixed double divisions.

She played tournaments in Arkansas, Tennessee, Mississippi, Louisiana, Wisconsin, New York, Puerto Rico, and Florida. She trained with Nick Bollettieri at his summer tennis camps in Wisconsin during junior high and high school.

Lora Ann graduated from Hall High School in Little Rock in 1973. She attended American University in Washington, D.C., the University of South Florida, and the University of Arkansas at Little Rock.

She taught tennis under Nick Bollettieri at the renowned Dorado Beach Club in Puerto Rico, as well as Bollettieri Academies in Bradenton, FL.

Tennis opened the door to extraordinary opportunities and events. These included being one of four pros to play a U.S. Open sponsored exhibition in New York City in 1975. Also, for part of the summers of 1974 and 75, Lora Ann lived at the estate of Vice-President Nelson Rockefeller, giving tennis lessons to his sons, wife, and bodyguard. She attended the United Nations 13th Annual Concert and dinner honoring the U.N. ambassadors. Lora Ann had fun playing tennis with pros like Arthur Ashe and Stan Smith, who thrilled her at a party saying, "Lora Ann, you have great moves on the court, let's see how you move on the dance floor."

Lora Ann returned to Little Rock after her father died. She taught tennis at West Side Tennis Club, Chenal Country Club, and Rebsamen Tennis Center. During this time, some of her favorite students were over the over 60's women group, Baxley's Bombers, which included Honey, her mother.

Lora Ann was a member of the United States Professional Tennis Association, as well as the United States Tennis Association. In 1983, she received the Victor Sheshunoff Meritorious Education Award in recognition of outstanding service to the tennis education program by a teaching professional.

She continued to love coaching and playing in team tennis leagues. She and Linda Sneed were ranked #1 in Doubles in 1990, 91,92, and in the women's 35. They played at the nationals at the 5.0 level.

Over 30 years, Lora Ann taught hundreds of students around the country. Many of top Arkansas juniors became highly ranked in and out of state.

Lora Ann was devoted to her family. She adored her niece, nephew, and great niece and nephews. She was known for her kindness, generosity, and infectious sense of humor. She enjoyed playing with and spoiling her niece and nephew, traveling, reading, and fishing with her brother, Edwin, who proceeded her in death.

Lora Ann is survived by her sister, Joyce Baxley Aldworth (John Childs Aldworth) of Clinton, Arkansas, and Harpswell, Maine, and her beloved niece, Dr. Anna Childs Aldworth Davis (Dr. Charles Austin Davis, Jr.) and their children, Carolyn and Baxley of Tuscon, Arizona. She is also survived by her beloved nephew, John Baxley Aldworth (Linda Lu Aldworth) and their son, Fletcher of Taipei, Taiwan and Little Rock, Arkansas.

A memorial service will be held on Saturday, February 17, 2018 at 11:00 a.m. at Ruebel Funeral Home 6313 W. Markham St., Little Rock, Arkansas.

In lieu of flowers, the family requests that you celebrate Lora Ann's life by considering a donation to First United Methodist Church, 723 Center St, Little Rock, AR 72201, or to Camp Aldersgate, 2000 Aldersgate Rd., Little Rock, AR 72205, or to Pulaski County Humane Society, 14600 Colonel Glenn Rd., Little Rock, AR 72210. Arrangements by Ruebel Funeral Home, www.ruebelfuneralhome.com.

Condolence Book
---
"Regrets to Joyce and the family ! R.I.P. Lora Ann !"
Pat Jones | Tulsa, OK
"My deepest condolences for your loss! Lora Ann was a good friend when I lived in Little Rock back in the early 1980's, and even accepted an invitiation to go see the US Open in New York during that time! I introduced her to other friends in NY, and we had such great times going out up there as a group! My favorite story was when Lora Ann needed some time off to check on an offer to teach in Colorado. We somehow came to the decision to fake a fractured wrist, and one night I applied a plaster cast to her arm that was very convincing! She wore that thing for the entire 6 weeks it would take for a fracture to heal! So funny! I loved her sense of humor, and she will be sorely missed! May you all know God's peace and comfort during this difficult time!"
Dr. John M. Bartsch | Cincinnati, OH
"I am so sorry for your loss. I also, graduated from Hall, in 1973. We both took ballet lessons from Lorene McAfee. Therefore, we both danced on stage, at Robinson Auditorium. I learned a little tennis in Junior High, at The Racquet Club. I also took a class at ASU. Again, I am so sorry. "
Kristi Youngdahl | Little Rock, AR
"I am so very sorry for your loss. Lora Ann was such a special person. I first met her in college when she attended UALR and I attended OBU. When she was teaching tennis in Little Rock, my tennis partner and I took lessons from her. You could have the worst lesson of your life and Lora Ann would always find something positive to point out. We even had the honor of Lora Ann taking us to have a meal with her mom--a wonderful women. She will be greatly missed. Joyce, you and your family are in my thoughts and prayers at this very trying time."
Mary Ann Marshall | Batesville, AR
"Joyce and family, our hearts go out to you for the loss of Lora Ann. Heaven has gained a beautiful soul. "
Gary & Paula Childers and family | Roland, AR
"Growing up next door to Lora Ann was one wild adventure after the other. Lora Ann was never at a loss what to do-kick the can, basketball, football, softball....writing the neighborhood newsletter, planning our Halloween tricks-our favorite night of the year or teaching me about the birds and the bees!
Most vivid memory was getting caught smoking cigarettes in the restrooms at the Pine Bluff tourney by my Mom! That was a bad day!
One summer in the college years, Lora Ann roped me into teaching tennis for Bollettieri in Wisconsin. That summer set me up for a tennis career for the next 30 years!
Will miss her infectious laugh, crazy humor and passionate caring for her friends. Love ya' Lora Ann! Thinking of Joyce and family!"
Laurie Lynn Tinnell | Sarasota, FL
"Condolences to the family of Lora Ann on her passing. We were friends all the way back to 7th grade, Hall High and she provided my daughter some tennis lessons in the early 90's. Didn't see her much over the last many years but will always remember her kind demeanor and smile.
"
Scott Schuh | Little Rock, AR
"Joyce, our deepest sympathy from all the Pendergrass family. You are in each of our prayers

What a beautiful tribute to your baby sister. I can't believe both she and Edwin left this earth so early. Take comfort they are in heaven with your mom and dad. What a reunion.

We love you and are thinking about.

Paula"
Paula Pendergrass Allen | Little Rock, AR
"Dear Joyce and Family:
My heart goes out to you with tremendous sympathy. Lora Ann was so much fun and such a bright spirit. She will be greatly missed as she was greatly loved. Many prayers for you all."
Allison Streepey | Little Rock, AR
"Lora Ann, such a special lady! Arkansas tennis will never be the same! R.I.P."
Karen Graham | Van Buren, AR
"Joyce and Family, deepest sympathy for the loss of your sister. She was always so full of life on the tennis court and spent much of our lessons making us laugh. I remember during one lesson she challenged our children to a tiebreak game to 10 and the winner would buy a pizza for the loser. Of course, she let the kids win, and they were so happy. She also loved to brag on Anna and Baxley. They were a very special joy in her life.We will all miss her so much."
The Chang Family | North Little Rock, AR
"I was so sorry to hear about Lora Ann. I have great memories of playing tennis, hanging out at LRCC, spending the night with her and playing outside with Laurie Lynn, playing with her brother's drums and playing on the volleyball team at Hall High. I remember visiting her grandmother (?) in Warren, and she let us drive a jeep around in the field by her house - I don't think we were legally old enough to drive, so we loved it. Lora Ann was one of a kind! Unfortunately, we lost touch after high school. Thoughts and prayers for her family. "
Joy Dillingham | Atlanta, GA
"I am so sorry and sad for the loss of Lora Ann. I met her in 1990 when she became the tennis pro at Chenal Country Club. As did many ladies my age, I started playing tennis then. She was so patient with us and taught us with kindness, encouragement joy. She always had a smile on her face and was so sweet to always ask about our families and kids. My thoughts and prayers are with you. "
Marsha Allbritton | Little Rock, AR
"Dear Joyce and family, So sorry to hear of the loss of Lora Ann. She was such fun in high school, and then later she taught my son tennis with a smile on her face as he hit the ball to kingdom-come. She was a special person and had such a big heart for everyone she knew no matter their problems. I used to read about her successes (or my mother told me about them when she knew I didn't have my newspaper—my mama was proud of her, too) and I used to pray for her continued success. The world will be a little less bright without her in it. She's probably talking with my mama right now being congratulated for her latest success-heaven. I am not able to make it to Ruebel on Saturday, but I wanted you to know my prayers and condolences are with you. "
Lissa Young McCoy | Little Rock , AR
"My condolences for Lora Ann. I loved her and she loved. She will be truly missed and will always be in my heart. Joyce I love you and the family . You all I have in myprayers. I love you all. God is taking care of you all. He is working it out for you. Bernie Williams"
Bernie Williams | Little Rock, AR
"When I was in high school, Lora Ann took me to a pro tennis tournament in Memphis. Anna Kournikova was supposed to be there, so of course I was very excited. At the stadium, Lora found a players only banquet room, and without any hesitation made me go in with her so we could find Anna Kournikova. Turns out she was sick and wasn't at the tournament, but it still left with me a fun memory of LA I'll never forget. Gonna miss her!"
Baxley Aldworth | Little Rock, AR
Sign Condolence Book
---
Please fill out the form below to enter your name and a short message to the family into the online condolence book. Please type in regular sentence format; do not type in all capital letters; only type your condolence or comments in the Comments field. Your signature will be formatted from the Name,City & State, and E-mail fields. Please remember that you are leaving comments for a public guestbook and not sending personal email to family members. Do not type in email or letter format. Phone numbers and Addresses (other than email) will not be posted.
* denotes required fields.