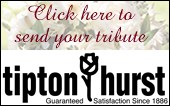 Read our Privacy Policy concerning online obituaries and release of information.
Eva Sullivan Waring
---
Eva Sullivan Waring passed away at the age of 96 on Tuesday, January 30, 2018. She was a member of St. Mark's Episcopal Church.

Mrs. Waring was preceded in death by her husband of 56 years, Doyle L. Waring, son-in-law William D. Trumbower, grandson Brad Davis, her parents and siblings.

She is survived by two daughters, Eva Beth Trumbower of Columbia, MO. and Joan Waring Whitlock (George A.) of Little Rock, AR.; grandchildren, Elisabeth Trumbower (Merek LeGrand) of Columbia, MO., William W. Trumbower (Eliza) of Columbia, MO., Christopher Davis (Valarie) of Hot Springs, AR., and Amanda Short (Russell) of Little Rock AR; great-grandchildren, Cooper, Cannan, Kinzee, Caleb, Lauren, Siri, Eliot, and Meris.

A celebration of life will be held Monday, February 5, 2018, 10:00 a.m. in the Chapel at Pinecrest Funeral Home, 7401 Highway 5 North, Alexander, AR 72002. The Reverend Michael McCain of St. Mark's Episcopal Church, Little Rock, AR will officiate. Interment and a reception at Pinecrest will follow the service.

Memorials may be made to the charity of your choice.

Condolence Book
---
"So sorry to hear about Eva,I have thought about her often lately. She was the last of the Waring group of that generation,since mom,Maxine, passed 3 years ago. My thoughts are with all of you during this time. "
Doris Riehle | SEARCY, AR
"Joan: So sorry for the loss of your mother. Mine passed away last January at the age of 95. We were blessed to have the, so long but it still hurts. May God be with you and your family. Sarah"
Sarah Murry Childers | Southampton , NJ
"So sorry for your loss may you find peace and comfort in the words spoken at 2 Corinthians 1:3 & 4" ( 3) Praised be the God and Father of our Lord Jesus Christ, the Father of tender mercies and the God of all comfort, (4 ) who comforts us in all our trials so that we may be able to comfort others in any sort of trial with the comfort that we receive from God"
DW | , TN
Sign Condolence Book
---
Please fill out the form below to enter your name and a short message to the family into the online condolence book. Please type in regular sentence format; do not type in all capital letters; only type your condolence or comments in the Comments field. Your signature will be formatted from the Name,City & State, and E-mail fields. Please remember that you are leaving comments for a public guestbook and not sending personal email to family members. Do not type in email or letter format. Phone numbers and Addresses (other than email) will not be posted.
* denotes required fields.