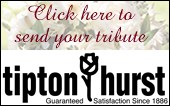 Read our Privacy Policy concerning online obituaries and release of information.
Beth Mullins Paulson
---
Beth Mullins Paulson, 96 of Little Rock, Arkansas went to be with her Lord and Savior Jesus Christ on Wednesday, January 24, 2018. Beth was born in Center Valley, Arkansas on December 3, 1921 to Ethel Faye Weir and Lester Ira Mullins.

Beth grew up on a farm in Center Valley, in a wonderful family that resourcefully survived the Great Depression. She fondly recounted her childhood experiences and they had a profound impact on how she lived the rest of her life. She was the valedictorian of her high school class and studied homemaking at Arkansas Tech in Russellville.

She was an amazing mother, grandmother and homemaker—strong and patient and the perfect picture of grace. She was very involved in the activities of her children by serving in PTA, a Girl Scout Leader and volunteering in many other capacities. She also attended many sporting and club events for her children. Her constant prayers and encouragement were expressed through her many letters to her children and grandchildren who all knew how much they were loved. Beth also enjoyed serving her family and friends through her cooking. Every visit to her home was met with a home cooked meal or at least a home cooked sweet treat. She was a godly example to her children and her sweet, servant heart was evident as she moved her Mother into her home and took care of her the last eighteen months of her life then did the same for her former husband Virgil.

Beth was a faithful follower of Christ and member of Grace Lutheran Church for over fifty years. She loved her Bible Study Fellowship and Community Bible Study classes where she grew in her faith and made wonderful friends. She also listened daily to her Christian radio programs with John MacArthur being one of her favorites. Singing along to the old gospel songs was another favorite pastime.

With her husband, Virgil, she traveled throughout Europe and the United States. Later, she traveled with her more adventurous sister, Janie, including a cruise and a trip to Venezuela. Her family was amazed about the cruise since she was extremely afraid of the water, but Janie persuaded her and they had a great time.

Beth was preceded in death by her parents, her husband Virgil E Paulson, her son Michael E (Mike) Paulson, and her sister Janie Sue Sims.

She is survived by her daughter, Judi Ward and husband Malcolm of Austin, Texas; her son, Steve Paulson, also of Austin, Texas; five grandchildren, Keith Ward and wife Thuy, Jeff Ward and wife Trish, Jonathan Ward and wife Christie, Robin Paulson and Steven Michael Paulson; ten great-grandchildren and two great-great-grandchildren.

The family is eternally grateful for those who have prayed for her and been there to support and care for her including her church family, her wonderful neighbors, and her caretakers from Home Instead and Hospice Austin. All who cared for her took notice of her wonderfully sweet smile, her quick wit, and her dry sense of humor.

Visitation and viewing will be at Ruebel Funeral Home on Friday, February 2nd from 4 to 6. There will be a private family graveside service on Saturday morning. A memorial service will be held at Grace Lutheran Church at 11:00 followed by a reception for friends and family.

In lieu of flowers donations in her honor may be made to her church: Grace Lutheran Church, PO Box 250769, Little Rock, AR 72225 or to Hospice Austin, PO Box 149030, Austin, TX 78714-9030.


Condolence Book
---
"Judi and Steve,
I am so sorry to hear of your great loss. My thoughts and prayers are with you and the your families."
Rusty Graham | Florence, AL
"So sorry for your loss. Prayers and thoughts for you and your family."
Janis sevier | Little Rock, AR
"So sorry for your loss may you find peace and comfort in the words spoken at 2 Corinthians 1:3 & 4" ( 3) Praised be the God and Father of our Lord Jesus Christ, the Father of tender mercies and the God of all comfort, (4 ) who comforts us in all our trials so that we may be able to comfort others in any sort of trial with the comfort that we receive from God"
DW | , TN
"So sorry to hear of Beth's passing. I am a distant Mullins cousin who has moved back to Center Valley, and became re-acquainted with Beth and Janie through "Decoration Days" at Old Baptist Cemetery. These ladies always had a story of the old days, and a smile to share. She was a delight, and will be missed. "
Cheryl Alewine King | Russellville, AR
Sign Condolence Book
---
Please fill out the form below to enter your name and a short message to the family into the online condolence book. Please type in regular sentence format; do not type in all capital letters; only type your condolence or comments in the Comments field. Your signature will be formatted from the Name,City & State, and E-mail fields. Please remember that you are leaving comments for a public guestbook and not sending personal email to family members. Do not type in email or letter format. Phone numbers and Addresses (other than email) will not be posted.
* denotes required fields.