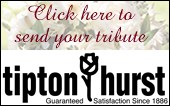 Read our Privacy Policy concerning online obituaries and release of information.
Ralph Lane Bivens
---
Ralph Lane Bivens, of Quitman, Arkansas, beloved brother, uncle and friend, died
peacefully in his sleep early last Saturday morning at Good Shepherd Nursing and Rehabilitation Center in Little Rock. He was born on October 24, 1934. He was 83 at the time of his passing. He was the youngest of 5 children born to H.P and Esther Bivens in a farmhouse which still stands in the Pearson Community just outside of Quitman.

Uncle Ralph was preceded in death by his parents, his beloved wife Virginia Riggs
"Ginger" Bivens, a brother, William Henry Bivens and his wife Jean Bivens and his sister,Donice Bivens Bowen and her husband A.C. "Buck" Bowen, along with a niece Lesa Means.

He is survived by his brother Howard Bivens (Marlene) of Louisville, Kentucky, and his
sister Charlsie Gadberry (Joe) of Bixby, Oklahoma.

He is also survived by three nieces, Jananne Reding (David) of Little Rock, Rebecca
Parke (Steve) of Fort Smith and Alice Campbell
(Gary) of Ardmore, Oklahoma. He is survived
by 5 nephews,Brian Bivens (Amy) of Louisville, Kentucky,Arthur Paul Bowen and John V. Bowen (Michelle) of Little Rock,David Russell Bowen of Rogersville, Missouri and Robert Lane Bowen (Shirley) of Conway. Bob and Paul share Uncle Ralph's birth date of October 24, an arcane fact that always delighted all three. He is also survived by several great nieces and nephews along with their respective children.

Uncle Ralph was never afraid of hard work. He worked on the farm with his brothers and father. He worked as a sawmill hand. He went to Indiana in the early nineteen fifties to work in the steel industry. He spent most of his career as a steelworker for Bethlehem Steel at the Slab Mill in the Burns Harbor Plant on the shores of Lake Michigan next to his adopted home in Valporaiso, Indiana. In 1983, he returned to Pearson to care for his mother after she sustained a stroke. Upon his return to Arkansas, he obtained work with the Arkansas Department of Transportation (as it is referred to now) as a member of a road crew. He worked for the ADOT until his retired once and for all. He kept busy in his retirement years tending to his property and to the happy country home in Pearson he shared with Ginger until her death in 2008. He was an excellent basketball player for the Quitman Bulldogs back in the day and he maintained a lifelong avid interest in the game and in high school teams in the area. Gentle and stubborn in equal measure, he loved his family and it gave him great happiness to help them whenever he could. He loved bacon and eggs for breakfast with black coffee. He enjoyed tinkering with farm equipment and trading cars. And when it came time to tell a story, nobody, as in nobody, could tell one like Uncle Ralph. His passing leaves a very real void in our family. But we will always cherish the stories.Uncle Ralph was of the Baptist faith.

A graveside service will be conducted January 25 at Pearson Cemetery adjacent to the Palestine Baptist Church in Quitman at 1pm. The family requests that memorial gifts in his honor be made to Arkansas Hospice. The family also wishes to thank Arkansas Hospice and the Aldersgate Memory Unit at Good Shepherd for the skilled and compassionate care given to Uncle Ralph during his time there. Arrangements by Ruebel Funeral Home.


Condolence Book
---
"I am a friend of Paul Bowen. I have heard him speak on a number of occasions of his deep and abiding affection for his loved one. My sympathy to Paul and all the family."
Randy Hyde | Little Rock, AR
"I am going to very much miss my Good Uncle.
David"
David Bowen | Rogersville, MO
"I am so sorry to hear about Ralph. My thoughts and prayers are with the family, during this difficult time."
Karen Gresham McDonald | Conway, AR
"Rest In Peace Blue. "
Arthur Paul Bowen | Little Rock, AR
"So sorry for your loss may you find peace and comfort in the words spoken at 2 Corinthians 1:3 & 4" ( 3) Praised be the God and Father of our Lord Jesus Christ, the Father of tender mercies and the God of all comfort, (4 ) who comforts us in all our trials so that we may be able to comfort others in any sort of trial with the comfort that we receive from God"
DW | , TN
Sign Condolence Book
---
Please fill out the form below to enter your name and a short message to the family into the online condolence book. Please type in regular sentence format; do not type in all capital letters; only type your condolence or comments in the Comments field. Your signature will be formatted from the Name,City & State, and E-mail fields. Please remember that you are leaving comments for a public guestbook and not sending personal email to family members. Do not type in email or letter format. Phone numbers and Addresses (other than email) will not be posted.
* denotes required fields.