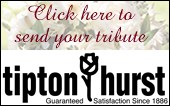 Read our Privacy Policy concerning online obituaries and release of information.
Zeora Dean Hurley Bullard
---
Zeora Dean (Hurley) Bullard was born March 1, 1919 in Marianna, AR. to Edgar and Bonnie (Jones) Hurley. She was preceded in death by her parents, two brothers, three sisters, and her youngest son, Charles E. Bullard.

Zerora graduated from McCrory, AR. High School and attended business school at Batesville, AR. She was employed as a typist for the War Production Board in Washington D.C. during WWII.

In 1944 she married her longtime friend and sweetheart James D. Bullard who was awaiting shipment overseas. She returned to work until the war ended. After J.D. was discharged, they returned to Arkansas, moved to Little Rock, where they raised their family and spent 55 years together until his death in 1999.

"Miss Zeora" as she was called by her church family, was a member of Temple Baptist Church, now known as South City Church, for more than 65 years. She loved to sing and was a member of the Young at Heart Choir and the Sanctuary Choir. She had lost most of her eyesight due to Macular Degeneration, but she never lost her love for her Lord and Savior nor her desire to be in service each and every week.

Zeora is survived by two children, James D. Bullard, Jr. (Cindy) of Maumelle, AR. and Karen E. Burgess (Mike) of Bryant, AR.; six grandchildren, Chris Bullard of Tampa, FL., Spencer Bullard of Maumelle, AR., Matthew Bullard of Portland, OR., Jackie Lindsay of Conway, AR., Brian Bullard (Alli) of Searcy, AR., Charlotte Highfill (Aaron) of Sherwood, AR.; two great grandchildren, Evan Metzger of Conway, AR. and Junie Bullard of Searcy, AR.; as well as numerous nieces, nephews, and friends.

The funeral service for Zeora will be at South City Church, formerly known as Temple Baptist Church (10710 I-30 Little Rock, AR. 72209), on Thursday, January 25, 2018 at 12pm. There will be a visitation at the church one hour prior to the service. The burial will be at Pinecrest Memorial Park following the church service.

In lieu of flowers, the family has asked that donations be made to South City Church.
Condolence Book
---
"Mrs. Bullard was a soft spoken, gentle, and very sweet lady. We were next door neighbors for over 18 years. She spoke of her family and church often. She was 38 days shy of her 99th birthday. Her son Charles told her he wanted her to see her 100th birthday and she tried her best to fulfill his wish. She was a good neighbor and friend. She will be deeply missed."
Gloria Miller | Little Rock, AR
"May her soul finally find heaven 🌸laval"
Michele K | St Petersburg, FL
"My deepest sympathies to Jackie, Evan and all of the family! Rejoice in the long and fruitful life of your lived one. Keep memories close and your family closer. Love you!"
Rhea Williams | Conway, AR
"So sorry for your loss."
Melba Sharp | Little Rock, AR
"Please accept my deepest condolences for your family's loss."
Draga Hill | Panama City, FL
"Words cannot even begin to express our sorrow. You are all in our thoughts and prayers."
Drina and Draga | Birmingham, AL
Sign Condolence Book
---
Please fill out the form below to enter your name and a short message to the family into the online condolence book. Please type in regular sentence format; do not type in all capital letters; only type your condolence or comments in the Comments field. Your signature will be formatted from the Name,City & State, and E-mail fields. Please remember that you are leaving comments for a public guestbook and not sending personal email to family members. Do not type in email or letter format. Phone numbers and Addresses (other than email) will not be posted.
* denotes required fields.