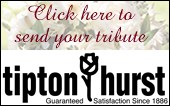 Read our Privacy Policy concerning online obituaries and release of information.
Alfred Marinus May
---
Alfred Marinus May was born August 11, 1931 to his late parents, Al and Mayme May. He passed away peacefully on December 25, 2017. He is preceded in death by his brother, Richard May; son, Dale May; and two daughters, Teri Flowers and Cynthia Antoun. He is survived by his wife, Irene Thompson and her daughter Lisa Holcomb (Doug); two sisters, Barbara Miller (Arnie) and Susan May; five grandchildren, Tiffany Teal (Daniel), Richard Teal (Alexis), Nancy Larsen (Justin), Norman Antoun (Ashley), Rebekah Antoun (Justin), and Shane Welch (Dana); and eight great-grandchildren, Ciera, Cannon, Emily, Brianna, Aiden, Grace, Colton, and Chandler, all of which knew him as "Peepaw" and he cherished them dearly.

Al served his country as a Sergeant in the United States Marine Corp. He fought in the Korean War where he was once trapped during The Battle of Chosin Reservoir. He was employed by A.O. Smith Corporation for over 40 years and enjoyed traveling the world for both work and pleasure. He was a humble man who never wanted to be the center of attention and never met a stranger. He was dedicated to his work, his family, and loved the Green Bay Packers.

We will miss the most his great big hugs, his laugh, and his love. We take consolation in knowing that we have warm memories of him to carry with us until we meet again.

"And God shall wipe away all tears from their eyes; and there shall be no more death, neither sorrow, nor crying, neither shall there be any more pain: for the former things are passed away." Rev. 21: 4

A memorial service will be held at 2 p.m. on Thursday, Feb. 1, 2018, at Ruebel Funeral Home located at 6313 W. Markham St. in Little Rock.

Condolence Book
---
"Al was one of the nicest employees I knew at AO Smith."
Garry Rowr | Sherwood , AR
"To my dear Al and family- I'm so fortunate to have you all growing up , to know and love you guys - Al - you'll be missed dearly!"
Leigh Thomas | Little Rock, AR
"My family and I were so sorry to hear of the passing of Al. He was a friend to our parents many years ago. Please accept our sympathy.
"
Kathi Stoyanov | Little Rock, AR
"My Uncle Al had positive influence on me growing up, and many of the choices I made in my life. I will miss him very much.. "
Erik Bergan | West Bend , WI
Sign Condolence Book
---
Please fill out the form below to enter your name and a short message to the family into the online condolence book. Please type in regular sentence format; do not type in all capital letters; only type your condolence or comments in the Comments field. Your signature will be formatted from the Name,City & State, and E-mail fields. Please remember that you are leaving comments for a public guestbook and not sending personal email to family members. Do not type in email or letter format. Phone numbers and Addresses (other than email) will not be posted.
* denotes required fields.