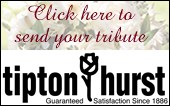 Read our Privacy Policy concerning online obituaries and release of information.
Austin McCaskill, Sr.
---
Austin McCaskill, Sr. lived a long and full life spanning nearly a century. He passed away on December 15, 2017, outliving nearly all of his friends, but leaving behind a legacy of kindness, faithfulness, and determination. Although he faced many changes and challenges during his 97 years, he rarely mentioned them. When you asked Austin how he was doing, his response was most often, "Fantastic. I just couldn't be better." His faith, his positive outlook on life, and his diligent work ethic kept him going through many setbacks and difficult times, and he remained a steadfast and loyal husband, father, grandfather, great-grandfather, and friend to the end.

Austin was born in Little Rock, Arkansas on January 31, 1920 to Elmer A. McCaskill and Lenora Rice McCaskill. He graduated from Little Rock Senior High School. At the age of 16, he went to Washington & Lee University in Lexington, Virginia, and graduated with a law degree at age 22. He then was inducted into the US Army and was assigned to the Counter Intelligence Corps for the Atomic Bomb Project. He was a security officer at the time of his discharge. Then he returned to Little Rock, where he met and married Grace Jones, and had two sons.

He practiced law with the firm Barber, Henry, and Thurman (which later became Barber, McCaskill, Amsler, Jones and Hale) from 1947 until 1995, when he became counsel to the firm. He continued to go into the office several times a week until just a few months ago. In his practice he represented and served on the Boards of Directors of Afco Steel and Afco Metals, and the Arkansas Democrat Newspaper. He also handled defense litigation for Firemans' Fund, Royal Globe, Travelers and other insurance companies, as well as litigation for General Motors. He was a Fellow in the American Academy of Trial Lawyers and served as President of the Downtown Little Rock Kiwanis Club. He was a faithful member of Our Lady of the Holy Souls Catholic Church in Little Rock. He enjoyed fishing and hunting, which he taught his sons and participated in for many years. He was a regular at the Little Rock Country Club; playing golf with friends was a favorite pastime.

Austin was preceded in death by his first wife, Grace Jones McCaskill, to whom he was married for 42 years. He subsequently married Lucile Ramsey McCaskill, who passed away about a year after their marriage. In 1996 he married Joan Powell McCaskill, and they shared over 21 years of happy marriage.

Austin is survived by his wife, Joan Powell McCaskill; his sister, Mary Jane Mehaffey; his sons Austin McCaskill (Beverly) and Roddy Jones McCaskill (Martha); his six grandchildren: Mary Grace Otis (Andrew), Emily Gaiser (John), Molly McCaskill, Kate Dewey (Derek), Ellen Walker (John), and Roddy McCaskill, Jr. (Angela); and 11 great grandchildren.

Austin is also survived by his wife Cile's children, Peggy Farrell (Tim) and James Ramsey, and by Joanie's children, Ellen Powell Yeary (Jim) and Danny Powell (Sloan); and Joanie's four grandchildren.

Austin was a faithful and kind husband, a wonderful father, a caring grandfather and great-grandfather, and a courteous and pleasant person to spend time with.

He loved well and was well loved. He will be greatly missed.

Memorials may be given to Habitat for Humanity for Central Arkansas or the UAMS Winthrop P. Rockefeller Cancer Institute. Visitation will be from 4:00 to 6:00 pm on Tuesday, December 19 at Ruebel Funeral Home. A Memorial Service will be held on Wednesday, December 20 at 11:30 am at Our Lady of Holy Souls Catholic Church
Condolence Book
---
"I am so very sorry for your great loss. My thoughts and prayer are with the entire McCaskill clan.

Rusty Graham"
Rusty Graham | Florence, AL
"I was saddened tonight when I saw your daddy's obituary. You were blessed to have him for such a long time and you will miss him I know but I'm sure you have many good memories that will of comfort to all of you in the coming days. I can just imagine there is much "catching up" going on since he got to Heaven and was reunited with your mother, Sis and Guy, Phil Carroll and his many other friends. Please know that you have my prayers for peace.
Deborah Beard"
Deborah Beard | Little Rock, AR
"June and I are so sorry for your loss and we are keeping you in our thoughts and prayers. Please accept our deepest condolences. We are both glad to consider him a friend.
Dr. Bunny Brown"
Dr. and Mrs. H.F. "Bunny" and June Brown | Little Rock, AR
"What a blessed life! I believe my grandfather, E. A. Henry, hired him after the war, and it was the best decision he ever made. I'll always remember Austin picking up Roddy & I from the movie Bonnie & Clyde 50 years ago. I was relating the exciting scenes, and Austin stated that he was part of the group the ran B & C out of Little Rock. When I excitedly told mom about Austin's heroic actions, she shook her head and said "he's pulling your leg." Now Heaven is filled with even more laughter."
henry kinslow | el dorado, AR
"Love and sympathy to the whole McCaskill clan. I am so sorry for your loss, and will be thinking of you all during this difficult time. "
Lynne Beard Quinn | Annandale, VA
"What a wonderful man you had Joanie. I hope all the good memories will help you through the days and weeks ahead. On behalf of myself and the Board of The Stewpot, we will pray for peace for all the family.
Love,

Nancy"
Nancy Rorex | Little Rock, AR
"Condolences to the McCaskill family. Our thoughts and prayers go out to your whole family. Psalms 147:3 says God, "heals the broken hearted, and binds up their wounds." May God bring you comfort and peace."
Williams Family |
"Our household extends to the McCaskill family, as well as his almost century-long-collection-of-friends, sincere sympathy. As difficult as this time is, may you find comfort in knowing the memories you shared -- observing his solid legal abilities; taking note of his regard for those who are homeless and hungry; the many amusing asides he would toss-off; plus, his wise words and advice we incorporated into our own lives, all this and more will assure Austin McCaskill will forever be a part of lives."
Audrey & Jim Stanley, Jr. | , AR
Sign Condolence Book
---
Please fill out the form below to enter your name and a short message to the family into the online condolence book. Please type in regular sentence format; do not type in all capital letters; only type your condolence or comments in the Comments field. Your signature will be formatted from the Name,City & State, and E-mail fields. Please remember that you are leaving comments for a public guestbook and not sending personal email to family members. Do not type in email or letter format. Phone numbers and Addresses (other than email) will not be posted.
* denotes required fields.