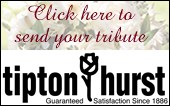 Read our Privacy Policy concerning online obituaries and release of information.
Pauline (Polly) Barton Johnson
---
Pauline (Polly) Barton Johnson, 101, widow of Michael Neal Johnson, passed away on December 13, 2017. Polly was born to Cephas Conley Barton and Mary Aiken Barton in Hamburg, AR. on February 29, 1916.

Polly grew up in Parkdale, AR, where she graduated from Parkdale High School. She furthered her education at the University of Monticello and the University of Conway where she received a B.A. degree. Later Polly received a masterís degree from Fayetteville.

Pauline taught school for 14 years at Jacksonville High and Mabelvale High, and 25 years at Southwest Jr. High School, totaling 39 years as a school teacher. She was a member of Second Presbyterian Church for 64 years, and was a member of the Heuker Friendship Class.

Some of Pollyís favorite activities were reading, gardening, traveling, and fishing.

Polly is preceded in death by her parents, her husband; five brothers, Arthur, John, Edward, Cephas, and Jack Barton, three sisters, Agnes Ogles, Venie Flaherty, and Mary Cornwell; five nieces, Janice Menzie, Jonnie June Haring, Patsy Yancy, Judith Hearn, and Jane Pennington, and one nephew, Darrell Barton. Polly is survived by two nephews, Charles and Tommy Barton, two nieces, Charlene Martin, and Suzanne Cornwell; many grand nieces and nephews, as well as many dear friends.

A visitation will be held at Ruebel Funeral Home on Monday, December 18, 2017 at 10am until 11:30am. Rev. Marie OíConnell will officiate a graveside service at Pinecrest Memorial Park at 12pm following the visitation. A memorial service will also be held for Polly at Second Presbyterian Church on Monday, December 18, 2017 at 2pm.

In Lieu of flowers, memorials may be given to Second Presbyterian Church at 600 Pleasant Valley Dr.
Condolence Book
---
"Polly Johnson was a friend of my family since the 1950's and for the 1958-59 school year was one of my teachers at Southwest Junior High School.

She cared very much about her students. I will always remember her saying, "the best students don't always make the best grades." For the last ten years I spoke with her on or around her birthday. Sometimes she would call me. She always cared about her students. Including me. "
Phillip Byrd | Montclair, NJ
"I met Polly only in 2006, introduced to her by my husband Phil Byrd (who has also commented here). We were in Little Rock looking after Phil's parents, and during those years Polly became a good friend to us. I always looked forward to spending some time with her whenever we visited Little Rock. She was an inspiration - sharp, funny, tuned in and concerned. I'm honored to have known her, and very sad that she's no longer with us."
Janet Shapiro | Montclair NJ
Sign Condolence Book
---
Please fill out the form below to enter your name and a short message to the family into the online condolence book. Please type in regular sentence format; do not type in all capital letters; only type your condolence or comments in the Comments field. Your signature will be formatted from the Name,City & State, and E-mail fields. Please remember that you are leaving comments for a public guestbook and not sending personal email to family members. Do not type in email or letter format. Phone numbers and Addresses (other than email) will not be posted.
* denotes required fields.