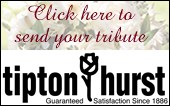 Read our Privacy Policy concerning online obituaries and release of information.
Christine Ospring Startz
---
Christine Startz, entered the world on May 12th 1965 in Belleville Illinois and went on permanent vacation on the sandy beaches in Heaven on December 2nd, 2017.

She survived by her mother, Sandra Hardin and her children, Cassandra (Justin) Startz, Alexander Startz , Camryn Startz and Addison Startz; her siblings, Michael Ospring, Carrie (Adrian) Tiller, and Becky(Tony) Cardona; and she was the grandmother to Ethan and Castin Startz, Adrian Rodriguez , Alexander Startz Jr., Xiomara and Xela Startz. Chris had many aunts, uncles, cousins and friends.

She preceded in death by her father, Robert Ospring and her grandparents, Louise and Robert Mabry and Bea and Bill Harned.

She attended St. Luke's Episcopal Church as often as possible and was active in the Daughters of the King. Chris had such a enormous heart, she would do anything and everything for anyone who asked. She was always worried about her friends and what they were going through. She had not only a large immediate family but also a large work family that she cared for. Chris was employed for fourteen years at Arkansas Children's Hospital and two years at Panera Bread Company.

Her arch nemesis (Triple- Negative Breast Cancer) whom she fought courageously for 11 years finally won and took this beautiful soul.

A Funeral Service will be held at 3:00 p.m., Thursday, December 7, 2017 at St. Luke's Episcopal Church in North Little Rock with a reception following in the parish hall.

In lieu of flowers, memorial contributions or donations can be made to St. Luke's Episcopal Church,4106 John F. Kennedy Blvd., North Little Rock, Arkansas 72116.

Arrangements are by Ruebel Funeral Home.

Condolence Book
---
"Were very saddened to hear of Chris's passing. We were good friends when the kids were little and they lived in Alice, Texas. We will keep the family in prayer. May the perpetual light shine upon her. "
Nani and Vicki Sanchez | Alice , TX | dc_sanchez97@yahoo.com
"Prayers for your whole loving family during this difficult time. My heart sank when I saw the news. I know you miss her tremendously . Love to you all. "
Sylvia Garcia | Cabot , AR |
"To the family of Christine Startz:

The faculty and staff of Sylvan Hills Elementary would like to express our most heartfelt condolences. Remember that God know and he cares for your family.

Trina Coleman
Sylvan Hills Elementary Counselor"
Trina Coleman | Sherwood, AR | tcoleman@pcssd.org
Sign Condolence Book
---
Please fill out the form below to enter your name and a short message to the family into the online condolence book. Please type in regular sentence format; do not type in all capital letters; only type your condolence or comments in the "comments" field – your signature will be formatted from the "Name," "City & State," and "E-mail" fields. Please remember that you are leaving comments for a public guestbook and not sending personal email to family members. Do not type in email or letter format. Phone numbers and Addresses (other than email) will not be posted.
* denotes required fields.