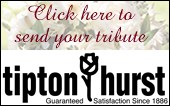 Read our Privacy Policy concerning online obituaries and release of information.
Garnett Thomas Eisele
---
Garnett Thomas Eisele, or "Judge" as most people, including his family, called him, died on November 26, 2017. He was born on November 3, 1923, to Garnett and Mary Martin Eisele of Hot Springs. He was predeceased by his wife, the former Kathryn Freygang, and his brother, Dr. W. Martin Eisele of Hot Springs. Four children survive him: Wendell Alan "Sandy" Eisele (Nancy) of Canton, Georgia; Garnett "Gar" Martin Eisele, II, (Debby) of Mena, Arkansas; Kathryn Martin Eisele, and Jean Elizabeth King (David), both of Little Rock; grandchildren Justin Eisele; Drew Eisele (Alisha), Noel King, Tina Eisele, Jody Eisele, Trevor Eisele (Dina), Nicholas Eisele (Molly), Cherie Eisele. He is also survived by 13 great-grandchildren, 1 great-great-grandchild, and two nephews. He treasured his family and was devoted to them.

Judge grew up in Hot Springs, Arkansas, where he was exposed to passionate public service by two grandfathers at different ends of the political spectrum. Martin Augustus Eisele, a successful druggist, was a staunch Republican. Will Martin, who served as United States Attorney, was a prominent Democrat.

In 1942, Judge left college after one year and enlisted in the Army, concerned that he was "missing the war." He arrived in Germany just after the Battle of the Bulge. He had not been there long when, given the task of driving General Simpson, he appeared in a photo of Churchill and other Allied Generals as they gathered for a high-level meeting. Army officials were later required to identify the mysterious soldier, at attention, standing a stone's throw from Churchill. Months later, officials tracked him down to confirm his identity and make him aware of the trouble he had caused. He kept a copy of the photo in his office and enjoyed telling the story to visitors.

After the war, Judge returned to the states to finish his education. He often said that he made the most of the GI Bill, completing his undergraduate degree at Washington University in St. Louis (1947) and his legal education at Harvard, with a Bachelor of Law (1950) and a Master of Laws (1951). While at Harvard, he met his beloved Kaye. They married at her parents' home in Winchester, Massachusetts.

In 1951, he began practicing law in Hot Springs with the law firm of Martin, Wootton and Martin, founded by his grandfather. In 1953, he moved to Little Rock, where he worked as an Assistant United States Attorney for two years. Next, he worked at the firm of Owens, McHaney, Lofton and McHaney. In 1960, he opened his own law office.

Following the Central High Crisis of 1957, Judge worked energetically to convince others to follow the Supreme Court's integration decision and to preserve free public education. In 1969-70, he was an elected delegate to Arkansas's Seventh Constitutional Convention.

Judge became close to Winthrop Rockefeller, who was eager to play a role in the modernization of Arkansas. He was Rockefeller's 1964 campaign manager in his first run for the governor's office and was active in his successful 1966 and 1968 gubernatorial campaigns. After Rockefeller took office in 1967, Judge became his private legal advisor, at a salary of $1 a year.

On August 17, 1970, Garnett Thomas Eisele was sworn in as a United States District Judge for the Eastern District of Arkansas. Once a judge, he left politics behind. For the next 41 years, until his retirement in September of 2011, he devoted himself to being a fair and impartial trial judge. He firmly believed that politics had no place in the judiciary. It was a different era for judicial nominees. At his confirmation hearing, he faced only one question, "Son, do you promise to uphold the Constitution of the United States?"

Uphold it he did. His rare combination of raw intelligence, work ethic, and an abiding sense of fairness served him well. He also possessed courage and vision in abundance. In the mid-1980's, he attempted to warn Congress and the judiciary about the problems inherent with mandatory Federal Sentencing Guidelines, accurately predicting both the practical and constitutional problems in their administration.

Judge was adamant about preserving the right to a jury trial for all and an independent judiciary. He successfully fought a proposal to impose mandatory ADR on civil litigants in federal courts, pointing out the effect would be to delay trials and unduly burden litigants. He presided over hundreds of jury trials, treating all who entered his courtroom with the same dignity and respect. One plaintiff remarked to a law clerk after losing a difficult civil rights discrimination trial: "Please thank Judge Eisele for me. I know I had my day in court."

While a summary of his important cases is not possible here, suffice it to say he approached every court proceeding, big or small, with the same attention and focus. Attorneys appearing before him could count on him to have mastered the details of each case before taking the bench.

His sentencing responsibility weighed heavily on him. In a mandatory guideline regime, he frequently had no choice but to send defendants, even those with no criminal record, to prison. He recognized that the absence of liberty, even if temporary, had lifelong consequences that were difficult to overcome.

As a trial judge, Judge Eisele earned many accolades, including "Outstanding Federal Trial Court Judge" by the Association of Trial Lawyers of America (1977) and best district judge in the Eighth Circuit by American Lawyer magazine (1980). Awards did not impress him. Never one to seek out the spotlight, he also spent no time basking in it.

One of Judge's proudest moments "on the bench" occurred in 1991, when he presided over his granddaughter Noel's naturalization ceremony. He noted that Noel, age 2, would be eligible to vote in the year 2008. He stated: "It is my hope – indeed it is my faith – that America in the year 2008 will be better than it is today. Perhaps by then we will have moved beyond the irrelevancies of race and gender and ethnicity, to the point where the absence of discrimination, and the reality of equality of opportunity will be so accepted, and so much part of our national psyche, that we will no longer feel the need to talk of such things." He then addressed Noel: "You, Noel, were born a Korean. Yesterday, you might have been considered a Korean-American. But today you are simply an American." He continued: "No country has done as much as this nation has to remove the hyphens and the barriers that separate and divide us. We should value those things which unite us over those things which separate us."

During Judge's tenure, over fifty lawyers were fortunate to work for him as law clerks. They count their years with Judge as among the best of their professional lives. Along with his permanent court staff, he treated them all like family. His law clerks quickly learned that there was much more than just a brilliant legal mind behind those bushy eyebrows. There was a passion for equality before the law, and an encouraging and genuine concern for them as people. Many departing law clerks were treated to Judge Eisele's infamous limericks, in which his wicked sense of humor and love of doggerel were on display. He was proud of all of his law clerks and their accomplishments. He remained only a phone call away to anyone who had worked for him.

His open-door policy extended to the public. For many years, Judge politely declined security on the main entrance to his chambers. This was consistent with his view that the taxpayers owned his office and had the right to call or visit. His staff rarely beat him to the office at 7:30 in the morning, and he would answer the phone himself until someone arrived. After one "unpopular" decision, his staff arrived to find him patiently explaining to a caller why he believed the law required the ruling he had made.

Judge quipped that he never thought he would live to see two things, the fall of the Berlin Wall, which occurred in 1989, and the U.S. Supreme Court's Booker decision in 2005, declaring the Federal Sentencing Guidelines unconstitutional for reasons strikingly similar to those in Judge's 1990 Galloway opinion.

Insatiably curious, eternally optimistic, and reflexively kind, Judge Eisele had the gift of looking past labels. He saw the individual first and the human potential in all. Spirited debate and disagreement always focused on the merits of the idea at issue, not the person advancing it. In a climate in which we all too frequently identify or oppose another based on his or her political, religious, or other "tribal affiliation," let us today remember Judge's fine example and strive to follow it.

The family will host a public visitation at Ruebel Funeral Home on November 30, 2017, from 5 to 7 p.m. Burial will be private. In lieu of flowers, memorial donations may be made to: Eisele Family Endowment, c/o Arkansas Community Foundation, 1400 W. Markham, Suite 206, Little Rock, AR 72201 (arcf.org, designating Eisele Family Endowment); or Parkinson's Foundation, 200 SE 1st St., Suite 800, Miami, FL 33131 (Parkinson.org).
Condolence Book
---
"No one I met in 40 years of practicing law exemplified a gentleman, judge, and exemplary human being than Judge Eisele. It was a pleasure to have had the opportunity to appear a few times in his court over the years. All judges at all levels should follow his practices. He was a credit to his profession and a wonderful man. Spencer Robinson"
Spencer Robisnon | Pine Bluff, AR
"I met Tom in 1968. As allies working to reelect Governor Rockefeller we shared many challenges. Later I tried many cases in his court. He was devoted to the rule of law and did not have a mean bone in his body. I learned a lot from him. Arkansas is a better place thanks to Tom Eisele. He will be missed, but his legacy of honor, good cheer, and service to Arkansas is safely ensconced. Rest in peace, dear friend.
"
Ed Bethune | Little Rock, AR
"Judge Eisele richly deserves the accolades other trial lawyers are expressing. I tried a number of cases in Judge Eisele's court, particularly when I was an Assistant United States Attorney in the 1970's. Judge Eisele always charged the jury with this closing instruction: "Remember, it doesn't matter whether the government wins or loses in this case. When justice is done, the government always wins." He has been a shining star in the beleaguered legal profession during my observation period."
David Hargis | Little Rock, AR
"I owe Judge Eisele so much. I met him while in law school in 1979, and he shaped my views of law and society from that point forward. He is responsible for whatever success I have achieved as a lawyer. He taught me about the pursuit of truth and justice. His positive influence on the Arkansas legal system during the 20th century is, in my opinion, unsurpassed by any other Arkansas lawyer or judge. My prayers are with the family. Rest in peace Judge. "
david donovan | Little Rock, AR
"Many will remember Tom Eisele in his role as Judge; his contribution as an outstanding lawyer and jurist on a level few can hope to achieve. However, I remember him fondly as one of my best friends dad. I came of age, from grade school, to junior high to high school knowing Tom as a kind and decent person who was a loving father and devoted husband. The fact that he and Kathryn tolerated the likes of me, being underfoot all those years, is testament to their tolerance and enduring graciousness. As I look back, I miss those years in many ways, as I will surely miss you, Judge. "
Dennis Cossey |
" 'Great respect' has always been in the forefront when reflecting on my occasions before Judge Eisele. He was outstanding; His wise words are unforgettible. The Judge always stressed he was not 'the Master,' but 'the Minister Of The Law.' As the man-with-the-gavel, he stressed authority without virtue is a dangerous state.

One evening my wife and I joined the Judge and Mrs. Eisele at their table for a meal at Franke's Cafeteria. (I always tried to be cautious too not appear to be enhancing my standing with any judge and generally kept my relationships with all judges as business.) The dinner-table conversation went from serious and informative as we listened to his reflections on having served in WWII. Then, the talk evolved into mostly laughter and smiles. It was easy to see we parted that night as special friends and I cherish the memory.

I am proud to have been an occasional courtroom participant in Judge Eisele's career. My condolences to his loved ones and friends..."
Jim Stanley, Jr. | , AR
"Tom was a wonderful person. I recall his early years and the kindness an love he showed me an my family. The whole family were very kind. Tom as I knew him was a very close friend of my mother Mary McLeod, he was thruout his life always a warm smile and a friend. His pressence will be missed he is one of the last from an era that was filled with tribbulations an thru it all a calming an peaceful person to be around. A person like Tom comes along seldom in ones life time and he will I am sure be missed an a void will be felt by many. To all I can only say that as I we will get to some day again when god calls us home , get to enjoy his presence I pray once again .
Mike McLeod "
Michael McLeod | Little Rock , AR
Sign Condolence Book
---
Please fill out the form below to enter your name and a short message to the family into the online condolence book. Please type in regular sentence format; do not type in all capital letters; only type your condolence or comments in the Comments field. Your signature will be formatted from the Name,City & State, and E-mail fields. Please remember that you are leaving comments for a public guestbook and not sending personal email to family members. Do not type in email or letter format. Phone numbers and Addresses (other than email) will not be posted.
* denotes required fields.