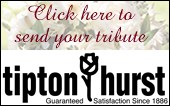 Read our Privacy Policy concerning online obituaries and release of information.
Katherine Theresa Hays Treece
---
KATHERINE THERESA HAYS-TREECE, age 93, of Little Rock, AR, passed away peacefully on Monday, November 6, 2017, in Golden Valley, MN of natural causes. She was a genteel product of the Old South. A happy and successful wife, mother, and homemaker, she was born in Dallas, TX on December 13, 1923 to the late Patrick Herkles Hays and Sallie Mae Sullenberger-Hays-Cruce. She grew up in Little Rock and graduated from Little Rock High School in 1942. She also attended the University of Arkansas where she was a member of Delta Gamma Sorority and met the love of her life, Bobby Gerald Treece of Fayetteville. They married in 1948 and she supported her husbandís career first in New York City and then in Chicago. After retirement in 1994, they returned to their beloved Little Rock.

Katherine was a member of Pulaski Heights United Methodist Church, the Upper Room Sunday School class, and AARP Chapter 34. She enjoyed reading, social activities, line dancing with The Inspirations ensemble, traveling, playing bridge, and most of all spending time with her family.

She will be remembered as a sweet and courteous woman who was loved by all. She was always polite and kind to everyone she met. Despite her many years in the north, she was always proud of her Arkansas roots, which began in the early 1800ís.

Katherine is survived by three of her children: William R. Treece of Hollywood, FL, Alan H. (Ann L.) Treece of Plymouth, MN, and Katherine L. Treece of Minneapolis, MN. Additionally, she is survived by daughter-in-law Polly Treece of Bixby, OK and grandchildren, Brian, Brad, Michael, Bobby, Adam, and Margaret Treece, and Angela Aldritt and three great grandchildren. Awaiting her in heaven are her husband Bobby Gerald Treece, son, James H. Treece and sister, Patricia L. McGehee.

A funeral service celebrating her life will be held on Saturday, November 18, 2017, at 1:00 pm at Pulaski Heights United Methodist Church in Little Rock with Rev. Lynn Lindsey officiating. Visitation will be at the church one hour prior to the service. Burial will be at Pinecrest Memorial Park in Alexander, AR.

Memorials may be made to the Pulaski Heights United Methodist Church in Little Rock. Arrangements by Ruebel Funeral Home, www.ruebelfuneralhome.com.

Condolence Book
---
"Katherine was a lovely lady who will be missed by all those who knew her.
Nancy Pullen & David PreussM"
Nancy Pullen | Richmond, CA
"Rest in Peace Dear Katherine. I remember the good times we had dancing in the Inspirations. I am sorry I lost touch with you this last year due to my own ill health.I always remember what a sweet,kind lady you were.
I wish to send my condolences to your family.
Sheila Hurt
"
sheila hurt | little rock, AR
Sign Condolence Book
---
Please fill out the form below to enter your name and a short message to the family into the online condolence book. Please type in regular sentence format; do not type in all capital letters; only type your condolence or comments in the Comments field. Your signature will be formatted from the Name,City & State, and E-mail fields. Please remember that you are leaving comments for a public guestbook and not sending personal email to family members. Do not type in email or letter format. Phone numbers and Addresses (other than email) will not be posted.
* denotes required fields.