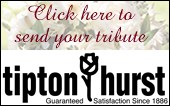 Read our Privacy Policy concerning online obituaries and release of information.
Donie Evelyn Brown Harrison
---
Donie Brown Harrison, 74, went to be with her Lord and Savior on November 2, 2017, after battling a long illness. Donie was born on July 27, 1943 in Little Rock, AR to Martha Meeks Brown and Charles W. Brown, Sr.

Donie attended Little Rock schools, and after graduating from Hall High School, she married her high school sweetheart and love of her life, Steve E. Harrison. Donie was a homemaker and she and Steve raised two children. Donie always supported and worked in the children's activities. She always loved their place in the country, Okatoma.

Donie is predeceased by her father, Charles and her husband, Steve, he died in 2009. Steve was the owner and CEO of Welsco Inc.

Donie is survived by her mother, Martha, her children, Brian Harrison of Little Rock, AR, and Angela Harrison King (Petey) of Little Rock, AR; her brother, Dr. C. Winston Brown (Lally) of Little Rock; her nieces Evelyn Mizell (Grant), Lorelei Mizell, and nephew, Kelly Mizell; and her grandchildren, Lauren (Robbie), Hayden (Austin), Grant, Haven, and Ashton, all the grandkids referred to Donie as their beloved "Doey-Doe"


Donie and the rest of the Harrison family would like to extend a special thank you to her long time friend and caregiver Sametta Russ for her love and extra special care throughout Donie's final years. The family also sends a special thank you to Heidi and Brandi, two excellent nurses that provided Donie with care and comfort.

The pallbearers for Donie's interment service are Brian Harrison, Grant Harrison, Richard Harrison, Matt Harrison, Mark Harrison, James Tyler, Gerald Perrier, Petey King, Steve Ridout, and Dr. Winston Brown.

In lieu of flowers, the family has asked that donations be made to Easter Seals of Arkansas or to the Pulaski County Humane Society.

A funeral service will be held at St. James United Methodist Church (321 Pleasant Valley Dr, Little Rock, AR 72212) on Tuesday, November 7, 2017 at 11 a.m. An interment at Pinecrest Memorial Park will immediately follow the church service.
Condolence Book
---
"I never knew Donnie personally, but idealized who she was and her mother my parents new Charles and admired him. Of course Winston and I knew each other and always admired the Brown family. Sounds like she was a wonderful person to all in the family.. how wonderful for her"
Mary Rice Goodman | Colleyville, TX
"My sweet Cousin Donie,you will be missed! I will always cherish your fun and laughter. Aunt Martha, Brian, Angela and family my thoughts and prayers are with you all. Heaven gained another Angel and the Brown's are together watching over us. Love you all! Shelley "
Shelley Brown Brixey | Little Rock, AR
"The Pendergrass Family is heartbroken for your loss. I always looked up to Donie as my ideal. Even was the flower girl in her wedding. Our prayers go out to each of you. Much love from all our family. "
Paula Pendergrass Allen | Little Rock, AR
"I am so sorry for your loss. May the words of our loving heavenly Father bring your family comfort and strength during this most difficult time as He promises to bring our loved ones back to life in a perfect world where there will be no more suffering or death (John 5:28-29 & Revelation 21:4).
"
Betty |
"Please accept our condolences on behalf of Brian Harrison's "work" family. Our thoughts and prayers are with all of you during this difficult time. The company will make a donation in memory of Donie."
AlcoTec Wire Corporation | Traverse City, MI
"Memaw Brown, Brian and children, and Brown/Harrison families: May God bless each of you with peace and comfort during your time of sorrow and loss. "
Karen Fortner | Little Rock, AR
Sign Condolence Book
---
Please fill out the form below to enter your name and a short message to the family into the online condolence book. Please type in regular sentence format; do not type in all capital letters; only type your condolence or comments in the Comments field. Your signature will be formatted from the Name,City & State, and E-mail fields. Please remember that you are leaving comments for a public guestbook and not sending personal email to family members. Do not type in email or letter format. Phone numbers and Addresses (other than email) will not be posted.
* denotes required fields.