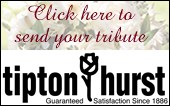 Read our Privacy Policy concerning online obituaries and release of information.
Floyd Hurt Fulkerson, Jr.
---
Floyd Hurt Fulkerson, Jr., 96, a member of "The Greatest Generation," a highly honored veteran of the U.S. Army Air Force in WWII, and the grandson of an Arkansas Civil War commander, died on October 30, 2017. He was born April 6, 1921 in Little Rock, one of three children to Floyd and Georgia Fulkerson.

The Fulkerson family heritage in military service heritage can be traced to a maternal grandfather, Colonel George F. Baucum, commanding officer of the 8th Arkansas Regiment, who was active in Civil War battles from Shiloh to Atlanta. In Little Rock, Col. Baucum resided in the White-Baucum House, a structure placed on the National Register of Historic Places in 1980.

As a youth, Fulkerson lived on the family plantation at Baucum, near Scott, He attended Little Rock High School and Sewanee Military Academy. He completed a year of college at the University of the South, then transferred to the University of Arkansas.

In December 1941, he was home for a weekend visit in Little Rock when the news of the Pearl Harbor bombing was announced on the radio.
Returning to the UA campus, Fulkerson was recruited by a traveling aviation cadet examination board. Because he met the requirements of the two years of college, he was allowed to pick his choice of military service. He enlisted in the Aviation Cadet Program of the U.S. Army Air Forces on January 21, 1942. He was commissioned a 2d Lieutenant and awarded his pilot wings on September 29, 1942.

Completing his B-25 bomber training in June 1943, Fulkerson was deployed to Port Moresby, New Guinea. He flew combat as a B-25 pilot for six months, including one low-level strafing run on the Japanese airfields at Rabaul, an extremely risky endeavor. Seeking more active combat role, he was approved for the transfer to a new fighter group with a new airplane, the 'J' Series Lightning P-38. The single-seat aircraft was equipped with ample firepower, four 50-caliber machine guns and a 20mm cannon, and it had a top speed of 408 knots, as fast as any airplane in military service at the time.

When he arrived in January 1944, the 5th Air Force, 475th Air Group had just been organized, trained and deployed at Forward Bases around Port Moresby. He was assigned to the 431st Fighter Squadron. For the next year, he flew combat missions with the new P-38 twin-engine fighter aircraft. Some missions lasted up to eight hours, and there were only an occasional 10-day rest and recuperation break. Flights ranged as far away as Ceram, Indonesia, across the New Guinea countryside and surrounding waters, and ultimately to the Philippines. Each squadron has a sign painter, who customized the aircraft at the pilots' wishes. Fulkerson's P-38 was emblazoned with his choice of nose art, reading "Who's Next…?".

A 2012 Flight Journal magazine article titled "Wing man to the Aces" stated, "There are no great aces without great wingman, and young Lt. Floyd Fulkerson from Little Rock, Arkansas, was one of those wingmen. Although he had four confirmed victories, so he was nearly and ace himself, he sees his primary contribution to the war effort to have been the protection of his lead pilots, some of whom were America's leading aces. During his time with the 475th Fighter Group in the Pacific, Floyd flew with such a notables as Major Richard Bong, Major Tommy Maguire, and even the much celebrated "Lone Eagle", Charles Lindbergh. Cover the shooter, that's what wing men do. They protect the shooter from surprise attack. In this role, Fulkerson helped some of our great aces achieve their successes.

On Christmas Day, 1944, Fulkerson was in his second term of duty and had completed 124 missions. He took off that morning in a formation of 15 P-38s escorting B-24s planning to bomb the Japanese-held Clark Field at Manila, Philippines. Near their target, the formation encountered about 50 Japanese-held Clark Field at Manila, Philippines. Near their target, the formation encountered about 50 Japanese fighter planes. In the air battle that followed, Fulkerson shot down two enemy planes, aided crippled P-38, and twice drove enemy attackers away from the other P-38s. When his own plane was attacked from the rear and disabled, Fulkerson managed an emergency landing in rice field, 25 miles outside of Manila and behind enemy lines. His plane caught fire during the crash landing, and though he received compression fractures in his back from his crash, Fulkerson escaped moments before the plane exploded. He was assisted by Filipino guerillas who took him to a camp 50 miles away in the Sierra Madre Mountains. There, he joined other Americans from the Office of Strategic Services (forerunner of the CIA), and over the next six weeks, Fulkerson participated in commando missions on the Japanese defenses in the area, including the nighttime dynamiting of a bridge.

During this time, Fulkerson used a caribou to clear a landing strip in the jungle. When a U.S. Army Colonel, told Fulkerson his efforts were useless and the servicemen in the area would walk out to safety, Fulkerson responded: "Colonel, I joined the Air Force, not the infantry. I'm gonna fly out."

Fulkerson's prophecy proved true when the airstrip was completed and a radio signal was sent to the U.S. Base at Luzon. When the first small reconnaissance plane landed, Fulkerson told the pilot by that Japanese forces were nearby. This was a gross exaggeration, he later confessed, but it convinced the pilot to immediately depart with Fulkerson on board. Later, additional rescue planes came for others.

Fulkerson's back injuries became more problematic, and he was forced to wear a full body cast for nearly six weeks at Luzon base hospital. He was discharged from military service in 1946 as a captain, having been credited with the destruction of four enemy aircraft in aerial combat, plus five more on the ground, while strafing enemy airfields. His major engagements were the Battle of New Guinea and the Battle of the Philippines. He was recognized for saving the lives of naval personnel by intercepting and destroying and enemy kamikaze aircraft while braving anti-aircraft fire from the U.S. Navy ships below. For this heroic action, he was awarded the Silver Star from the U.S. Navy, the third highest military decoration awarded to a member of any branch of the U.S. Armed Forces. Fulkerson's Silver Star is also one of the very few ever awarded to an Air Force member by the U.S. Navy.

Fulkerson was also awarded the Bronze Combat Star by the U.S. Army for his ground activity in the Philippines. He is the recipient of the distinguished Flying Cross with Oak Leaf Clusters for shooting down two airplanes in one mission, the Air Medal for shooting down a bomber in New Guinea; and two Purple Heart Medals (one for being shot down in 1944; the second for an injury received when his canopy was shot off during an air battle).

Years later, questioned to his skills as a young airman and his success in air combat, Fulkerson often smiled in a bashful manner and candidly stated that his strongest asset was over confidence. "I thought I was bulletproof" he would say. His military service convinced him of the profound value of loyalty and teamwork. He believed his generation's greatest asset was its ability to join in a cause with the fullest effort.

Returning to Arkansas, Fulkerson spent the next four years serving in the National Guard, flying P-31s. He retired from military service in 1950, though he continued to own and operate his own aircraft until he was 72. In 1946, Fulkerson took over management of the Baucum Plantation, which has been in the family since 1888. His initial investment in the farm included sizeable poker winnings from card games with the other Aces from his squadron. Fulkerson modernized the plantation, guiding it through the challenging transformation from manual labor from sharecropper families to the mechanized operation of contemporary agriculture. Fulkerson also became a real estate developer, and he is credited with establishing the Longlea and Pleasant Valley Neighborhoods and the Second Presbyterian Church.

Fulkerson pioneered the concept of office warehouses in Little Rock, locating the first off Cantrell road near Cajun's Wharf. He was appointed to the Arkansas Plant Board by Gov. Orville Faubus and served in the group for twelve years.

Fulkerson is preceded in death by his parents; a son, Floyd Fulkerson, III; and his brother, George Baucum Fulkerson, a Rhodes Scholar from Sewanee University who served as a member of the Nuremburg Military Tribunal and prosecuted Nazi officers for War Crimes. He is survived by Brenda Mitchell Fulkerson, his wife of thirty-one years; his sister Margaret Cooper of San Francisco; three children from a previous marriage: Katherine Matthews of Little Rock; Ann Fulkerson of Eugene, Oregon, and Roberta Binder of San Francisco, California; and five grandchildren and great-grandchildren.

A Memorial Service will be held at 3:00 p.m., Friday, November 3, 2017 at Second Presbyterian Church, 600 Pleasant Valley Drive, Little Rock, Arkansas 72227. In lieu of flowers, the family requests contributions be made to Arkansas Arts Center at P.O. Box 2137, Little Rock, Arkansas 72203.

Condolence Book
---
"Brenda,

My sincerest condolences to you during this time. I always enjoyed visits with Floyd and hearing stories about his life. He lived a full and exciting one indeed.

I will continue to keep you in my thoughts.

Johnna Feldman"
Johnna Feldman | North Little Rock, AR
"Brenda,
Floyd was truly a leader in our community. He will be missed by many. I have so many wonderful memories of him.

Robin"
Robin Reynolds | Little Rock, AR
"Brenda,
Floyd was a great leader that served his country, state and City--a man of vision and purpose.
I fondly remember our times together at the old Little Rock Club with Brick Lile, Freddy Sells, Sam Reynolds and Bob Wickard discussing the early days of Pleasant Valley and Baptist Hospital's move west.
A life well lived that will be missed by us all.
Both of you were blessed to have each other.
Blessings and peace to you and your family. Ed
"
Ed K. Willis | LR, AR
"Ms. Brenda,

Thinking of you in the loss of Mr. Floyd. My thoughts and prayers are with you. "
Kristin A. Keyes | Little Rock, AR
"Katherine, Ann and Roberta, I loved your Dad like my own. He was so incredibly kind to me and his dry wit was always on point. :-) Although I only knew him for eight years, I have many good times and great stories to reflect upon. Many shared with you as well! He is THE reason I have my private pilot's license! To this very day, every time, he is a part of how I cook a Porterhouse, duck hunt, drive a car, drive a boat, play gin, watch a Dallas Cowboys game and too many others to list. May your loving memories shine the brightest and bring you peace. My sincerest love and light goes out to you and yours."
Andrew Webre | Little Rock, AR
"Brenda you are in my thoughts and prayers."
Lee Westerman | Little Rock, AR
"Brenda, I am sad to learn of Floyd's passing. Yet with such a wonderful meaningful life, it is hard to be too sad, but when we lose someone like Floyd, I think we all deserve to be a little sad. And I will be sad for you because I know you will miss him.

Patsy
"
Patsy Thomasson | Washington, DC
"So sorry about Floyd. He was a joy to know. I have already made plans for Friday so I can't make the funeral but will be thinking of you and Floyd's children."
Kay Jennings | Little Rock, AR
"I am sorry for your loss. May you find comfort in knowing that your dear loved one is safe in God's memory, who will remember every detail about them and bring them back again. Revelation 21:4, psalms 34:18, John 5:28,29,Isaiah 25:8"
RH |
"I am sorry for your loss. May you find comfort in knowing that your dear loved one is safe in God's memory, who will remember every detail about them and bring them back again. Revelation 21:4, psalms 34:18, John 5:28,29,Isaiah 25:8"
RH |
"Uncle Floyd, so sad at your passing. Glad I got one last visit in. I'll miss the visits and the discussions about everything, and trading books. Well the party in Heaven has begun.
Brenda, Katherine, Ann and Tina, know that Floyd was appreciative of everything and well loved and will be greatly missed by me and Ann. Our lives are much richer for knowing him."
Will Cottrell | Little Rock, AR
"I had the utmost pleasure to meet Floyd (which he insisted on being called after I said Mr. Fulkerson) through my brother Kevin. His intriguing stories were captivating and not just his WW2 exploits. Loved it when he his eyes would light up right before he threw out a funny zinger. Rest in peace Floyd, John and Christy Kresse"
John Kresse | N.L.R., AR
" Floyd didn't suffer fools easily, but I'm glad suffered through me. After I had the pleasure of doing a bust of him years ago, he called me months later in November. "Are you home?" After I told him I was, he was driven up to my house. He handed me a turkey, cranberries and full sack of cracked pecans. I thanked him, all the while thinking Brenda had put him up to this act of kindness. The next time I saw Brenda, I thanked her...she had no earthly idea of what I was talking about. This wasn't the only Thanksgiving he did that.
I enjoyed our visits so much over the years. Floyd was incredibly well read, sharp as a tack till the end, and my life is so much richer for having known him. Much love to Brenda and his family.
"
Kevin and Bridget Kresse | Little Rock, AR
"Dear Fulkersons,
I am so sorry about the loss of your great Floyd Fulkerson. I have so many memories of spending time at Scott on Bearskin Lake and in carpools with Ann. I'm sorry I missed the service but wanted to send my sincere sympathy at this time. I know you won't greave but you will miss him terribly. I am on a similar journey with my father. Peace and love, Susan"
Susan Borne | Little Rock, AR
Sign Condolence Book
---
Please fill out the form below to enter your name and a short message to the family into the online condolence book. Please type in regular sentence format; do not type in all capital letters; only type your condolence or comments in the Comments field. Your signature will be formatted from the Name,City & State, and E-mail fields. Please remember that you are leaving comments for a public guestbook and not sending personal email to family members. Do not type in email or letter format. Phone numbers and Addresses (other than email) will not be posted.
* denotes required fields.