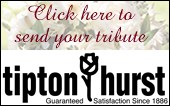 Read our Privacy Policy concerning online obituaries and release of information.
Helen "Hanna" Marian Karlovic
---
Helen "Hanna" Marian Karlovic, of Little Rock, died on Wednesday morning, October 25, 2017. She was born in Green Bay, Wisconsin on June 5th, 1929, to Nettie Johanna Peterson Karlovic and Martin John Karlovic. Her father immigrated to the United States from what was then Austria and is now Croatia, at the age of 16. He became an American citizen later in life. Her mother's parents were immigrants as well, originating from Norway and Denmark. The Martin Karlovic family moved from Denmark, Wisconsin to Pine Bluff, Arkansas and eventually to a farm in Woodlawn, Arkansas in Jefferson County.

Helen was a voracious reader and a good student. Immediately upon graduation from Woodlawn High School at the age of 17, she traveled to Memphis, TN and entered St. Joseph's School of Nursing. She graduated three years later with a degree in nursing and went to work for the Veteran's Administration Hospital in Memphis. She loved her time in Memphis, made many lifelong friends, and enjoyed hosting family members for visits to the big city. When her father became ill, Helen returned to Pine Bluff to assist with his care and accepted a nursing position with the VA Hospital in Little Rock. She worked primarily with neurology and neurosurgery patients.

She retired from the VA after 35 years, but promptly joined the staff of Dr. Sue Frigon in Pine Bluff. When she and her sister moved to Little Rock in 1995, Helen joined the staff of Tipton & Hurst. She worked on the sales floor at the Heights location and, just like in her nursing career, Helen was a diligent, conscientious and responsible worker. She was loved and valued by customers and staff alike.

Although Helen never had children, she claimed her six nieces and nephews as her own and enjoyed spoiling them at every opportunity. Likewise, she was devoted to her seven great-nieces and nephews and took pleasure in attending their sporting events and school-related activities. Like her father, Hanna loved animals, especially boxer dogs. She was a talented artist and produced many beautiful oil paintings. She enjoyed travel, fine dining and good wine, and will be remembered for her love of culture and the arts.

Helen was preceded in death by her parents and by her brother, Martin John (Buddy) Karlovic of Novato, California. She is survived by her sister, Katherine Louise Karlovic Johnson of Little Rock; a sister-in-law, Sandra Dickey Karlovic of Novato, CA; two nephews, Martin Stephen Karlovic and wife, Tami, of Rose Valley, Pennsylvania, and Jay Michael Johnson and wife, Elizabeth, of Little Rock; four nieces, Karla Ann Johnson of Little Rock, Stacy Lynn Johnson Hurst and husband, Howard, of Little Rock, Karen Rebecca Karlovic of San Francisco, and Katherine Anne Karlovic Ruimmerman and husband, Alex, of Truckee, California; and seven great-nieces and nephews, John Robert Karlovic and wife, Carrie, of San Jose, CA, Matthew Stephen Karlovic of High Point, NC, Kelsey Nicole Caeser of New York, NY, and Conley Karlovic Hurst, Windsor Roark Johnson, Johanna Cates Hurst, and Katherine Elizabeth Johnson, all of Little Rock.

A family memorial service will be held at a later date.
Condolence Book
---
"I had the honor of working with Helen at the old VA in Little Rock. Between her and Mrs. Dales I had the privilege of learning so very much about the care of Neuro patients, a skill that lasted for greater than 20 years. Her devotion to her patients was remarkable.She will be greatly missed. my condolences to her family."
Norma Newton | Bryant, AR
"I can still remember her smile from when I was a child and her black convertible. Thoughts and prayers to the family."
Dennis Coats | Pine Bluff, AR, AR
"Sorry for your loss. May your family find comfort in (Acts 24:15). "
Uyi | COLUMBIA , MD
"Thoughts and prayers to the family. We delivered her mail for many years, she was always a sweet lady. Kirk was also of Norwegian descent and found a kinship with the family.
"
Kirk and Sharon Hewitt | Sherwood, AR
"I was sadden to learn of Hanna's death. Please know my prayers and thoughts are with you. I have many fond memories of visiting at the home on King Richard in Pine Bluff. Hanna definitely loved her family. She was devoted to her family and her friends. Take Care."
Gretchen Zell | Tucker, AR
Sign Condolence Book
---
Please fill out the form below to enter your name and a short message to the family into the online condolence book. Please type in regular sentence format; do not type in all capital letters; only type your condolence or comments in the Comments field. Your signature will be formatted from the Name,City & State, and E-mail fields. Please remember that you are leaving comments for a public guestbook and not sending personal email to family members. Do not type in email or letter format. Phone numbers and Addresses (other than email) will not be posted.
* denotes required fields.