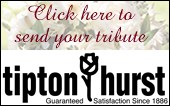 Read our Privacy Policy concerning online obituaries and release of information.
Ruth Butler Johnson
---
Ruth Butler Johnson of Benton, 100 years old, passed away at her home Tuesday, October 3, 2017. She was born May 19, 1917 to Oregon Benjamin Butler and Elsie Ruth Kline Butler of Ethel, Arkansas.

She was preceded in death by her parents, two brothers, James Kline Butler of Dewitt, O.B Butler, Jr. of Ethel, two sisters, Bernice Butler Chavez of Miami, FL, Polly Butler Tinsley of Conway, and one son, Dale Butler Johnson of Little Rock, AR.

Survivors are three children, Lloyd Scott Johnson (Robin) of Maine, Sandra Johnson of Benton, AR, and Ann Johnson Walker (Don) of Benton, AR, five grandchildren Tracy (Danny) Paul, Jennifer Walker, Valerie (Richard) Glasgow, Sarah Johnson, Adam Johnson; Six great-grandchildren, three great-great grandchildren, two brothers, Robert E. Butler of Hot Springs Village, George E. Butler (Dorothy) of Conway, and many nieces, nephews, and cousins.

She was a member of Delta Kappa Gamma, South Pulaski Co. Retired Teachers Association, Saline Co. Retired Teachers Association, and Red Hat Society. She was a member of Pulaski Heights United Methodist Church before moving to Benton and then became a member of Salem United Methodist Church.

Memorials may be made to Salem United Methodist Church or to a charitable organization of your choice.

Rev. Carlton Cross will conduct the memorial service at Ruebel Funeral Home, 6313 W. Markham, Little Rock, AR, on Saturday, Oct. 7 at 11:00 a.m.
Condolence Book
---
"All our love to you and sincere condolences for your loss.
"
Karen and Gary Martin | Newport Beach, CA | 40athome@roadrunner.com
"She was such a grand lady. Love and prayers for the family."
Cindy Dupslaff | Ethel, AR |
"I am one of Ruth's granddaughters. I know she lived a long happy life and didn't suffer. Mamaw, I have always loved you and I always will. You hold a very special place in my heart. I will never forget you. I cherish every moment I was able to spend with you. May you rest in peace. Words are unable to say how very very much I love you and how much you mean to me and always will.

"
Sarah Johnson ( Granddaughter) | Lewiston Maine | scorpiobutterflies457217@gmail.com
"Our thoughts and prayers are with your family. May her Grace take your Faith to new levels......we shall see her again!!!"
Billy and Renee Riggan | Lonsdale, AR | renee.riggan@uhsinc.com
"And he will wipe out every tear from their eyes,+ and death will be no more,+ neither will mourning nor outcry nor pain be anymore.+ The former things have passed away." (Revelation 21:4) This prophecy tells us that one day we will see our loved ones again in a new world! Please seek Jehovah God to see his promises fulfilled...."
CM | , GA |
"We are so sorry for the passing of your dear loved one. May your family find true peace and comfort from God's promise to reunite us with our family and friends who have died by means of an earthly resurrection (Acts 24:15). We all eagerly await the fulfillment of this wonderful promise from our Heavenly Father. Please accept our sincere condolences."
Celestins | | Jwjcelestin@att.net
Sign Condolence Book
---
Please fill out the form below to enter your name and a short message to the family into the online condolence book. Please type in regular sentence format; do not type in all capital letters; only type your condolence or comments in the "comments" field – your signature will be formatted from the "Name," "City & State," and "E-mail" fields. Please remember that you are leaving comments for a public guestbook and not sending personal email to family members. Do not type in email or letter format. Phone numbers and Addresses (other than email) will not be posted.
* denotes required fields.