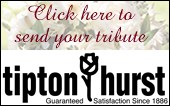 Read our Privacy Policy concerning online obituaries and release of information.
Rebecca "Frances" Murphree
---
Rebecca Frances Lumpkin Murphree, age 96, passed away peacefully on Friday, September 15, 2017. Frances was a lifelong resident of Little Rock except for a few years as a teenager in Santa Barbara when her father worked in a Los Angeles Chevrolet dealership owned by her uncle. She graduated from Little Rock High School (now Little Rock Central) with honors, and married Melvin T. Murphree. Frances and Melvin were longtime, devoted members of Pulaski Heights Baptist Church. They were married 60 years. Melvin had a stroke in 1992 and she selflessly cared for him for the last 7 years of his life and never remarried. They had one child who was the light of their lives, Sandra Murphree Newell, who was married to Jim Newell for 50 years. Jim remembers fondly that Frances had bright red hair, was always soft spoken and kind, and was devoted to her family. Sandra passed away of ovarian cancer in 2012. As well as being a devoted wife, grandmother and great grandmother, Frances was especially devoted to Sandra, her only child, during this time. Frances was full of grace and a strong woman with steadfast love and a constant, amazing faith.

She was an excellent cook and an even better seamstress. She made Sandra's wedding dress which was very detailed and she also made sure Sandra was the best dressed girl in high school by making some of her outfits. She and her mother Goldie were avid shoppers and would take Sandra along on Saturday, shopping at the downtown stores and having lunch in the tea room at Gus Blass and Co. She could shop for hours and not buy anything. She and Melvin were always frugal and saved their money.

In addition to her daughter and husband, she was preceded in death by her parents, James and Goldie Lumpkin, and her step-sister Betty. Frances is survived by her two grandchildren, Christopher Newell and Paige Newell, and three great-grandchildren, Rachel Newell, Laura Newell and Brady Beavers.

Her funeral service will be conducted at Ruebel Funeral Home, 6313 W. Markham, Little Rock at 3:00 p.m. Tuesday, September 19, 2017. Visitation will be at 2:30 p.m. prior to the service and Reverend Randy Hyde will conduct the service. Memorials may be given to Pulaski Heights Baptist Church or to the Sandra Murphree Newell Endowed Scholarship at UA Little Rock, in lieu of flowers. The family would like to give a special thanks to the staff at Presbyterian Village and Arkansas Hospice for their loving and supportive care.
Condolence Book
---
"May the Lord draw near and comfort you all in a special way during this time of loss."
Teresa Rogers | Sherwood, AR | teresa.rogers@gadberrygroup.com
"And he will wipe out every tear from their eyes,+ and death will be no more,+ neither will mourning nor outcry nor pain be anymore.+ The former things have passed away." (Revelation 21:4) This prophecy tells us that one day we will see our dead loved ones again in a new world! Please seek Jehovah God to see his promises fulfilled...."
CM | , GA |
Sign Condolence Book
---
Please fill out the form below to enter your name and a short message to the family into the online condolence book. Please type in regular sentence format; do not type in all capital letters; only type your condolence or comments in the "comments" field – your signature will be formatted from the "Name," "City & State," and "E-mail" fields. Please remember that you are leaving comments for a public guestbook and not sending personal email to family members. Do not type in email or letter format. Phone numbers and Addresses (other than email) will not be posted.
* denotes required fields.