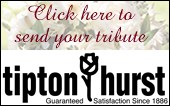 Read our Privacy Policy concerning online obituaries and release of information.
Charles E. "Charley" Wilkins
---
Charles E. Wilkins, 89, of Little Rock died peacefully on Saturday, September 9, 2017. He was the son of Floy S. and William W. Wilkins, the brother of William E. Wilkins, and the husband for many years of Julia E. Wilkins, all formerly from Little Rock who preceded him in death.

"Charley" has a surviving son, Charles Alan Wilkins, and daughter, Kay Wilkins Carpenter, son-in-law, Thomas M. Carpenter, and grandsons, Matthew Thomas Carpenter and Mark Loren Carpenter, all of Little Rock and Scott. Our family has also lost his loving daughter -in-law, Dana Read Wilkins. We have many cherished family members from "Judy's" side of the family, Epperson.

He has a special niece, Sherry Wilkins Wortsmith, her husband, Harrigan and their family, special friends, Frank A. Dean, Martha Lee Jones and the very caring congregation of St. Paul Methodist Church.

A graveside service will be scheduled in the future.

In lieu of flowers, memorials may be made to St. Paul Methodist Church, 2223 Durwood Rd, Little Rock, Arkansas 72207 or the charity of your choice.

Condolence Book
---
"Please accept my condolences on your loss. May your memories comfort your heart; and God help your family during this time of sorrow. Isa.41:13
"
Carla | Phoenix, AZ
Sign Condolence Book
---
Please fill out the form below to enter your name and a short message to the family into the online condolence book. Please type in regular sentence format; do not type in all capital letters; only type your condolence or comments in the Comments field. Your signature will be formatted from the Name,City & State, and E-mail fields. Please remember that you are leaving comments for a public guestbook and not sending personal email to family members. Do not type in email or letter format. Phone numbers and Addresses (other than email) will not be posted.
* denotes required fields.