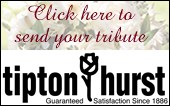 Read our Privacy Policy concerning online obituaries and release of information.
Barbara Gene Hencke Amsler
---
Barbara Gene Hencke Amsler, 90, a lifelong resident of Little Rock, passed away Friday, September 1, 2017. She was born on April 14, 1927 in Little Rock, Arkansas to Mabel Nettie Jefferies Hencke and Eugene Christian Hencke.
She graduated from Little Rock High School, in 1945, where she served as president Delta Beta Sigma sorority. She attended Lindenwood College, in St. Charles, Missouri, for 2 years, receiving an Associate's degree. She continued her education at the University of Oklahoma, where she was a member of Pi Beta Phi sorority and earned a Bachelor's of Arts Degree in Radio-Drama.

Following graduation, she worked part-time as a woman's shopping consultant for Gus Blass Department Store, in addition to working for Radio Station KGHI where she served as program director and hosted a women's show. That experience led her to doing TV commercials for KATV (and its predecessor, KRTV), which made her the first woman on TV in Arkansas.

She married her best friend, Guy Amsler, Jr. in 1951 and enjoyed 53 years of marriage, highlighted by fun, friends and travel. They were longtime members of the Country Club of Little Rock and especially enjoyed their "Sunday Golf Group". She and Guy were avid Razorback Fans and enjoyed being part of "The Homecoming Group". She lived on Centerwood Road for 52 years and cherished the many close friendships that she and Guy cultivated there. That was truly the embodiment of the word "Neighborhood".

She was an active member of Pulaski Heights Presbyterian Church for 66 years, where she taught Sunday School and served in various church leadership positions including Deacon and Elder. For the past 15 years, she led the Friday Morning Bible Study which is still active and will live on as one of her legacies.
She served the community in a wide variety of volunteer roles through organizations such as Stewpot and Arkansas Children's Hospital Auxiliary. She served as president of both The 20th Century Club of Little Rock and P.E.O. Chapter C, and was a longtime Commissioner for Presbyterian Village, where she also served on its Auxiliary Board and most recently as Vice President of the Residents Council. Barbara was also active, for many years, in the Pulaski County Bar Association's Gridiron productions.

Barbara was preceded in death by her mother, father, husband and her younger sister Carol Christian Hencke Tackett. She is survived by her son Guy Amsler, III, of Little Rock, her son and daughter-in-law, Chris and Pam Amsler, of Little Rock, and her daughter and son-in-law, Cathy and Chris Rogers of Bentonville, along with her five grandchildren, Blake and Logan Amsler of Little Rock, Caty and Christopher Rogers of Bentonville, and Thomas Rogers of Fayetteville. She also leaves behind a beloved niece, Cindy Tackett Murphy, and great niece, Zoe Murphy, of Holladay, Utah, a brother-in-law, C.F. "Buddy" Tackett, and his wife Lucinda, two step nieces, Amy Tackett and Beth Tackett Shields, a godson, and her dentist, Dr. Robert E. Richardson, Jr., and a goddaughter, Mary Richardson Admire, all of Little Rock.

The family would like to extend our sincere appreciation to the staff and management of Presbyterian Village, including her caregivers in the Health Care Center and the Physical Therapy staff. They also want to express their heartfelt gratitude to her personal caregivers, Bobbie and Belva Hughes of Little Rock and to her PV "Happy Hour Crew".

Visitation will be Friday, September 8 from 2 to 4 p.m. at Ruebel Funeral Home. A memorial service will be held at 11:00 a.m. on Saturday, September 9 at Pulaski Heights Presbyterian Church, with the Rev. Ruskin Falls officiating. Friends may sign the online guest register at www.ruebelfuneralhome.com.

In Lieu of flowers the family requests that memorials be made to: Pulaski Heights Presbyterian Church, 4401 Woodlawn Ave, Little Rock, AR 72205; Presbyterian Village, 510 North Brookside Drive, Little Rock, AR 72205; The Guy Amsler, Jr Scholarship Fund c/o the Arkansas Bar Foundation, 2224 Cottondale Lane, Little Rock, AR 72202; The Stewpot - Little Rock, 800 Scott Street, Little Rock, AR 72201; or, Arkansas Children's Hospital Foundation, P.O. Box 2222, Little Rock, AR 72203-2222.

Condolence Book
---
"My condolences for my lifelong friend. I will miss her terribly.

I am hoping to talk to Guy but I do not have a phone number. I believe he has mine. "
Patty Rettig | Normal, IL
"She was a special lady from a special family. Love you all. "
Holt mcconnell | Little Rock , AR
"Lovely words about your Mom, Cathy. Thinking of you and your family daily as you face the loss of your precious Mother."
Jean Horan | Bentonville, AR
"Dear Family,
Please accept our sincere sympathy for the loss of Barbara. With gratitude for special memories of life on Centerwood Road. Sincerely, Carole Lynn and Bill Sherman"
Carole Lynn Sherman | Little Rock, AR
"Very, Very Nice Lady Regrets to Guy and the family!!"
Pat Jones | Tulsa, OK
"Bridge, Bridge and more Bridge(SLAMS!). Such fun times at CCLR. She was such a breath of fresh air anytime I had the pleasure of visiting with her. Our last visit at the Center was a delight and so pleasurable for me.
I will miss her genuine enthusiasm. Waiting on her at CCLR and the Ladies Delight meal. Of course she and Guy were such fun at all the parties and the private times shared. I will miss her genuine love of her church(PHPC). The Lenten services were a continued shared event with her friend Diane and the love that remained as they shared continued lives.
In addition Barbara loved her children and conveyed to me all the joy she received from her adoring grandchildren and the support of her friends and expanded loves ones.
See you in heaven one day Barbara. David"
David L Cato | Little Rock, AR
"Cathy and Chris

I am so sorry for your loss. I have some great memories of your mom and her beautiful smile when we were at Forest Park
Prayers for peace and strength "
Kay Briscoe | Little Rock, AR
"Guy, My thoughts and prayers are with you and your family ~
You were raised by such an impressive woman. May precious memories comfort you during this time of her transition ~ "
Barbara Stacks | Little Rock, AR
"Your family is in our thoughts and prayers. You have my sincerest condolences in the loss of your mother."
Jeremiah Gardner | Little Rock, AR
"So sorry, I am unable to come to the funeral due to a fall. I've know Barbara since high school and we've had a lot of great times over the years. Barbara was a dear friend and she will be greatly missed. "
Betty Wallace | Little Rock, AR
"Dear Amsler family,

Close to 40 years ago, we met your Dad. He was serving as the attorney for the family from whom we were purchasing our home. What started as business (2 lawyers crossing paths) soon became a wonderful friendship. Guy Amsler had the most UNBELIEVEABLE filing system in his office! Remarkably, (without defining it's unique configuration - which produced laughter and awe), he knew where everything was located. The gentleman was so charming, each time we ran into Guy and his precious wife, our lives became more entertwined. The couple lived nextdoor to our darling friend, Margaret Thaxton (of the historic, NLR Faucette family.) Each time I visited Mrs. T., Mrs. A. would come join us. We grew to adore both 'of the Amsler team.'

We will pray for GOD's blessings on all of the Amsler Family Tree and send you our sincerest condolences."
Audrey Burtrum-Stanley & Jim Stanley, Jr. | , AR
"I became acquainted with Barbara about 10 years ago as we both served on Presbyterian Village Auxiliary Board. She was a grand lady! I admired her willingness to perserve despite her failing eye sight and her "issues" with her knees. She was an upbeat person who brought a smile to your face when you saw her. She will indeed be missed by all who knew her! "
Gail Phillips | Jacksonville, AR
" Barbara gave so much of her time and money and interest in The Stewpot for many years. We all loved her and grieve at our loss and yours.
May wonderful memories help you through the coming days.
Nancy"
Nancy Rorex | Little Rock, AR
"Please accept my condolences on your loss. May your memories comfort your heart; and God help your family during this time of sorrow. Isa.41:13
"
Carla | Phoenix, AZ
Sign Condolence Book
---
Please fill out the form below to enter your name and a short message to the family into the online condolence book. Please type in regular sentence format; do not type in all capital letters; only type your condolence or comments in the Comments field. Your signature will be formatted from the Name,City & State, and E-mail fields. Please remember that you are leaving comments for a public guestbook and not sending personal email to family members. Do not type in email or letter format. Phone numbers and Addresses (other than email) will not be posted.
* denotes required fields.