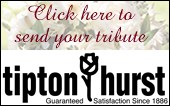 Read our Privacy Policy concerning online obituaries and release of information.
Dorothy W. McGlauflin
---
Dorothy White McGlauflin peacefully entered a new life on August 20, 2017. A memorial service will be held at 11:00 am at Ruebel Funeral Home on Tuesday, September 5, 2017 with visitation at 10:00 am until the time of the service.

She was preceded in death by her husband of 54 years, Eugene Philip; parents, Warren Shelby and Gertrude Rolfe White; sister, Gertrude Cone; and brothers, Warren, Joe Rolfe, and Charles White.

She will be lovingly missed by her children, Dr. Margaret Feurtado and her husband Dr. Earl Feurtado, and Mary McGlauflin; grandchildren, Philip Feurtado his wife Danielle, and grandchild, Olivia; Shelby Feurtado and his wife Mackenzie; Matthew Feurtado and his wife Rachel; sister, Genevieve McDuff; cousins; and numerous nieces and nephews.

Dorothy was born on January 10, 1931, in Mer Rouge, Louisiana. She graduated from Mer Rouge High School and Louisiana State University with a B.S. degree in Art Education. Following graduation she worked for the Louisiana State Welfare Department in Rayville and Shreveport, where she met the love of her life, Gene McGlauflin. They married in 1957 and shared their lives together in Spokane, Washington; New York City; Pine Bluff, Arkansas; and Little Rock. They shared a love for Maine, where Gene was raised, and took yearly trips as a family throughout their marriage. Dorothy taught art at Little Fire House in Pine Bluff, and enjoyed many activities and volunteer organizations. She was a member and president of Delta, Delta, Delta sorority (LSU), PTA, United Methodist Women, and P.E.O. Her love of nature led to many family camping trips and also to Girl Scouts where she volunteered as a leader for many years. Dorothy was a devoted Christian and an active member of St. James United Methodist Church, serving in various ways through the years.

Dorothy's greatest area of service was to her many friends and family, whom she loved with great devotion. Her home was always open to all, and her gift of hospitality was practiced with much joy. Her hands were never idle as she served her family home-cooked meals, sewed, knitted and decorated their home with her lovely oil paintings. Her example of kindness, sacrificial service, and cheerfulness have blessed all those who have known her and she will be greatly missed.

For friends and family there will be a Celebration of Life at the Feurtado home on Monday, September 4, at 6:30-8:00 pm. A graveside service will be held on October 7 at 11:00 am at the Episcopal cemetery in Oak Ridge, Louisiana. Memorials may be made to Camp Aldersgate, 2000 Aldersgate Road, Little Rock, 72205.
Condolence Book
---
"margaret & mary my prayers are with you all at this time"
DEBORAH Adkins | LITTLE ROCK, AR
"My love and thoughts and prayers are with our extended family and friends during this time."
Wendy Windsor | Nashville, TN
"Mary and Margaret: Your mother was so very kind to my late wife when we moved next door. She took it upon herself to see that Tish met the neighbors, and especially the Walkers. I'm still in regular contact with June these days.

Five years ago Dot and your father greeted us when we first attended a service at St. James. Again they had a warm influence on our lives."
David Miller | Little Rock
"Dot used to pick me up for PEO meetings when I first moved here. She was a sweet dear lady. She will be missed."
Barbara Sudman | LITTLE ROCK, AR
"Please accept my condolences on your loss. May your memories comfort your heart; and God help your family during this time of sorrow. Isa.41:13
"
Carla | Phoenix, AZ
Sign Condolence Book
---
Please fill out the form below to enter your name and a short message to the family into the online condolence book. Please type in regular sentence format; do not type in all capital letters; only type your condolence or comments in the Comments field. Your signature will be formatted from the Name,City & State, and E-mail fields. Please remember that you are leaving comments for a public guestbook and not sending personal email to family members. Do not type in email or letter format. Phone numbers and Addresses (other than email) will not be posted.
* denotes required fields.