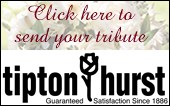 Read our Privacy Policy concerning online obituaries and release of information.
Sheridan "Bud" Caraway Conley
---
Sheridan Caraway "Bud" Conley died August 5, 2017 at the age of 96. He was born July 26, 1921 in Vimy Ridge, Arkansas to Sheridan Thomas Conley and Lillie Belle Caraway Conley. He was preceded in death by his parents; sisters, Vonnie Hewitt and Katherine Bogard, and son Robert Neal Conley. He is survived by the love of his life, his wife of 71 years Sue Ellen Graves Conley; daughter, Carol Thomas (Les) of Scotland U.K.; son William Conley of North Carolina; special nephew, Ken Brock (Lynn) of Little Rock; two grandchildren and one great-grandson.

Mr. Conley graduated from L.R. Senior High in 1938. During World War II, he went through the Naval Aviation Flight Program and was commissioned in the Marine Corps as a torpedo bomber pilot. After the war, he continued his military flying in the Marine Reserves retiring in 1972 as a Colonel.
He graduated in 1947 with a B.S. degree from the University of Arkansas with a major in geology. After a long career as a petroleum geologist in the "oil patches" of Louisiana, Oklahoma and Texas, he retired from Sunoco as Gulf Coast District Production Geologist in 1983.

Upon retirement, he moved to Little Rock and Parkway Village. As an ardent Razorback fan, particularly baseball, he and his wife followed the Razorback team on many road trips all over the country.

He was a member of Second Presbyterian Church in Little Rock , an ordained deacon in the Presbyterian Church, and a member of many professional and military organizations. In lieu of flowers, memorials may be made to Second Presbyterian Church, 600 Pleasant Valley Dr, Little Rock, AR 72227.

Graveside service and burial will be at Roselawn Memorial Park Cemetery on Thursday, August 10, 2017 at 11:00 a.m.
Condolence Book
---
"Please accept my condolences on your loss. May your memories comfort your heart; and God help your family during this time of sorrow. Isa.41:13
"
Carla | Phoenix, AZ |
Sign Condolence Book
---
Please fill out the form below to enter your name and a short message to the family into the online condolence book. Please type in regular sentence format; do not type in all capital letters; only type your condolence or comments in the "comments" field – your signature will be formatted from the "Name," "City & State," and "E-mail" fields. Please remember that you are leaving comments for a public guestbook and not sending personal email to family members. Do not type in email or letter format. Phone numbers and Addresses (other than email) will not be posted.
* denotes required fields.