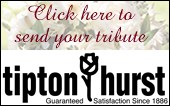 Read our Privacy Policy concerning online obituaries and release of information.
Elizabeth Stewart Gorman
---
Elizabeth "Lib" or "Libby" Stewart Gorman, age 90, a resident of The Ginny and Bob Shell Alzheimer's Center, Little Rock, AR passed away Wednesday, July 19, 2017. She was born February 10, 1927, Little Rock, AR to Elsie McMillan and Goode Stewart.

Lib graduated from Little Rock High School in January 1945. There she was a member of Delta Beta Sigma Sorority. She then attended Little Rock Junior College, The University of Arkansas at Fayetteville and was a member of Pi Beta Phi Sorority.

Lib had varying interests as a member of Pulaski Heights United Methodist Church, Bible Study, membership in the United Methodist Women's Organization and helping with events for her son, Michael. She was involved in several bridge clubs, volunteering at UAMS, making beautiful porcelain seasonal ornaments, a member of Bas Bleu and spending time with family and friends.

Lib was preceded in death by her parents, her husband, John "Bud" Gorman died in January 1989, two sons, John Robert died at age four months in 1952, Michael Stewart age 27 in April 1975, a brother, Dr. James K. Stewart age 92 in February 2016 and his wife, Louise age 87 in September 2012.

Survivors include Helen Gorman Hinkle, her former daughter-in-law and Helen's husband, Richard, two grandsons, Dietrich Michael Duke (Elizabeth) and Seth Francis Duke (Nicole), three great-grandchildren, Hunter, Chloe and Nadia. Other relatives include a sister-in-law, Mary Gorman, niece, Julie Gorman Eells (John) and nephew, Jeff Gorman. Nephews, James K. Stewart (Caren), William S. Stewart (Beverly), nieces, Elizabeth L. Stewart and Susanne B. Stewart.

A celebration of Elizabeth Stewart Gorman's life will be held at Ruebel Funeral Home, 6313 W Markham St., Little Rock, AR 72205 on Monday, July 24, 2017 at 11:00 a.m. followed by burial at Roselawn Memorial Park. Visitation will precede the service beginning at 10:00 a.m.

Some people make the world more special just by being in it and Lib was one of those people.

A special thank you to all the caregivers from the Shell Center and Hospice. In lieu of flowers, memorial contributions can be made to Alzheimer's Arkansas, 201 Markham Center Drive, Little Rock, AR 72205 or Pulaski Heights United Methodist Church, 4823 Woodlawn Drive, Little Rock, AR 72205. Arrangements by Ruebel Funeral Home, www.ruebelfuneralhome.com.

Condolence Book
---
"Lib Gorman was a beautiful person inside and out. I'm blessed to have known her and had her in my life. My thoughts and prayers are with you Helen and family during this time.
Love, Regina"
Regina Kirk | Sherwood, AR | RWilliamsK11@yahoo.com
"Mrs. Gorman and her late husband were both special friends to my parents before they passed away. They had all attended school together growing up in the same neighborhood and maintained that friendship thru the years. She would visit my parents often even when my mother was in advanced stage of Alzheimer's and it always made my mom so happy to get a visit from "Lib." I will always appreciate her kindness to them during those difficult years."
Lisa Young Joyce | Little Rock, AR | lgyjoyce@hotmail.com
Sign Condolence Book
---
Please fill out the form below to enter your name and a short message to the family into the online condolence book. Please type in regular sentence format; do not type in all capital letters; only type your condolence or comments in the "comments" field – your signature will be formatted from the "Name," "City & State," and "E-mail" fields. Please remember that you are leaving comments for a public guestbook and not sending personal email to family members. Do not type in email or letter format. Phone numbers and Addresses (other than email) will not be posted.
* denotes required fields.