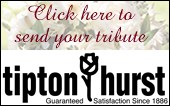 Read our Privacy Policy concerning online obituaries and release of information.
Donald "BoBo" Pomeroy Henry
---
Donald "Bobo" Pomeroy Henry,89, of Little Rock, was called home by Our Father on July 14th. Born in Norwood, Ohio on March 19th, 1928 to George and Emma Henry.


After a long two week courtship, Don married the love of his life Dorine Neil Henry on September 26th 1953. They had four children Debbie, Donnie, Diane, and David. Yes, it was confusing in the house with all D's.

Don graduated from Purdue University in 1947 with a B.S. in mechanical engineering. He was a Staff Sergeant in the Army. He held numerous engineering positions across the Midwest. In 1969, he moved his family to Little Rock and began working for Jacuzzi brothers and later became president. After becoming bored in retirement, he got his real estate license and later joined his wife's already successful bar-b-que chain Casey's. Although his career and academic accomplishments were many, his true pride was his family. This miracle man, who often astonished doctors, loved running, reading, golfing, fishing, and boating. He was a devoted husband, father, grandfather, uncle, and cousin. He and the family often took camping trips all throughout the United States.

He is survived by his wife, Dorine; daughter Diane Williamson(Rodney), son David, son-in-law Robert Johns, grandchildren: Jennifer, Jessica(Tyler),Judith, Lauren(Philip), Angela, Lindsey, Landon, Mary, and Johnny;8 great grandchildren; and numerous nieces and nephews. He was preceded in death by his parents George and Emma; his children Debbie Henry Johns and Donnie; and his brother Richard.


Join the family in celebrating his life. Visitation will be at Ruebel Funeral Home on Thursday, July 20, 2017 from 6 to 8 p.m. Funeral service will be in the chapel at Second Presbyterian Church on Friday, July 21, 2017 at 1 p.m. followed by a reception at the church. Burial will follow at Roselawn Memorial Park at 3 p.m. Memorial donations may be made to the American Cancer Society.

Condolence Book
---
Scott Ball | Paris, IL
"Lauren and family,
We are so sorry for your loss. Please take some comfort in knowing that we are keeping your family in our thoughts and prayers during this difficult time. Please let us know if there is anything we can do."
RichSmith Management Family | North Little Rock, AR
"Dorine and David,
I'm so sorry to hear the sad news. I'll be praying for you and the rest of your family.
Cathy Mulhollan"
Catherine C Mulhollan | Little Rock, AR
Sign Condolence Book
---
Please fill out the form below to enter your name and a short message to the family into the online condolence book. Please type in regular sentence format; do not type in all capital letters; only type your condolence or comments in the Comments field. Your signature will be formatted from the Name,City & State, and E-mail fields. Please remember that you are leaving comments for a public guestbook and not sending personal email to family members. Do not type in email or letter format. Phone numbers and Addresses (other than email) will not be posted.
* denotes required fields.