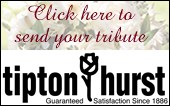 Read our Privacy Policy concerning online obituaries and release of information.
Emily "Robin" Spindler Sudderth
---
Emily 'Robin' Spindler Sudderth, 91, died Monday evening, June 26, 2017. She was born in Little Rock August 13, 1925, to Emily Burrow Spindler and Frederick J. Spindler. Known to many as 'Sissy' she was preceded in death by her parents, her sister, Patricia Shurgar, and her brother, Jack Spindler. She was predeceased by her husband of 57 years, Lt. Col. Ralph M. Sudderth,Jr., and her youngest son, Dr. Brian Sudderth. She is survived by her daughter, Kimball Sudderth Ford and her husband, Mabry of Memphis, TN, her son, Ralph Sudderth III and his wife, Lorell of Little Rock, daughter-in-law, Lynn Sudderth of Little Rock, grandchildren, Lauren Sudderth Satterfield and her husband, Matt of Little Rock, and Jim Sudderth and his wife, Kelley of Denver, CO, and great-grandson, Henry Manning Satterfield who brought her great joy. Countless nieces, nephews, cousins, and friends were loved by their Aunt Sissy, or Robin, or Miss Em, or Baba. She was known by many names.

What a life she lived! The Big Depression, World War II, Post-war Germany, 20-plus years as an Air Force wife, six years in Jolly Old England, and then a return to Little Rock and a 20 year career working for Governor Winthrop Rockefeller and WinRock Enterprises. After her retirement, she enrolled as a freshman in college. In 1995, she celebrated her 70th birthday, her 50th wedding anniversary, and graduated from UALR Summa Cum Laude, honored as outstanding graduate of the college of arts, humanities, and social sciences. She went on to earn a master's degree in composition and rhetoric.

Emily was an amazing woman, wife, and mother. She loved her family, friends and faith. For many years she served as clerk of the vestry at St. Mark's Episcopal Church where a memorial service and a celebration of her life will be held on July 26, 2017, at 1:00 p.m.

In lieu of flowers, the family requests that memorials be made to St. Mark's Memorial Fund or the Sudderth Memorial Scholarship Fund at Rhodes College or UALR. Arrangements by Ruebel Funeral Home, www.ruebelfuneralhome.com.

Condolence Book
---
"What a wonderful women!!! My fondest memory is of her portraying Mary, mother of Jesus. Birth to death. It was fantastic. She will be missed. "
Vicki Kellogg | Little Rock, AR | Vkkellogg@att.net
"Ralph and Lorell,
We are very sorry for your loss. She did indeed live a full life. Summa Cum Laude at 70!! No wonder, Ralplh, that you can do the NY Times Crossword; and even on Sunday. Hang in there.

Jim and Kay "
jim and kay | little rock, AR | nosarirealestate@comcast.net
"Robyn and Ralph and the family were the first family we met when we moved to Arkansas in 1968 and they have remained friends all these years. I bet there is one heck of a bridge game or dinner party happening in Heaven with all of our parents together again. I am so sorry for your loss. Robin was a very special woman and I know how very much you will miss her. I'm sorry I won't be in the State for her memorial service, but my thoughts will be with you."
Janet Harney | Little Rock, AR | grantiejan@gmail.com
"I was one of her caregivers, she was full of life, loved classical music. She had a spirit of love. She will truly be missed by all who knew her."
Sondra Bailey | Little Rock, AR | sondrawright08@gmail.com
"Topper, so sorry to hear about the loss of your mother, Robin. She and Sud were special people. Our thoughts are with you."
John and Vicki Halley | Siloam Springs, AR | vhalley27@gmail.com
Sign Condolence Book
---
Please fill out the form below to enter your name and a short message to the family into the online condolence book. Please type in regular sentence format; do not type in all capital letters; only type your condolence or comments in the "comments" field – your signature will be formatted from the "Name," "City & State," and "E-mail" fields. Please remember that you are leaving comments for a public guestbook and not sending personal email to family members. Do not type in email or letter format. Phone numbers and Addresses (other than email) will not be posted.
* denotes required fields.