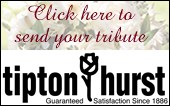 Read our Privacy Policy concerning online obituaries and release of information.
Gwendolyn Merrill Schmidt
---
Gwendolyn Merrill Schmidt, 99, passed away June 29, 2017 peacefully in her Little Rock home. She was preceded in death by her husband of 62 years Harold Schmidt.

Gwen was born in Auburn, IL. Her family moved to Galveston, TX when she was a young girl. She had two brothers, Robert and Mort, who both served in World War II. Gwen worked as a secretary for Union Carbide during the war. She met her husband, Harold, who had returned to the States from service in the European Theater of War on the steps of the Christian Science Church in Galveston. They married in 1945.

Gwen and Harold moved to Harold's hometown of St. Louis, Mo. Harold rejoined his family's business, The A.E. Schmidt Co, which still manufactures pocket billiard tables today. They lived 40 years in the same house in South St. Louis in what is known as the "Scrubby Dutch" neighborhood. Gwen's sister-in-law, Rosette, from Belgium had been abandoned by her husband, Mort, in 1949. With her two young children, Rosette moved to St. Louis where they stayed with Gwen and Harold until she found her own home. Gwen and Rosette became lifelong friends. Their two families, the Schmidts and Ciampolis(Rosette remarried) have always remained close.

Gwen and Harold had three children- Susan, Bob and Fred. Gwen became a homemaker and wonderful cook. Harold and Gwen loved to play bridge with church friends and canasta and double- solitaire with their children. After their children grew up and moved from St. Louis, the couple moved to Little Rock where son, Bob, managed Jones Brothers Pool Tables. Harold had purchased this business from his friend, Calvin Jones, in the 1950s. Gwen then inherited her mother's job of crocheting linen snooker table pockets. This was her small cottage industry, These pockets were sold throughout the US. She continued with this business into her 90's.

Gwen was active in the Little Rock Christian Science Church. She and Harold spent much quality time with their grandchildren playing card games, dominoes and Mexican Train! She later moved to Andover Place Apartments after her husband passed on. There she continued to make many close friends. She was a loving and kind mother, grandmother and great-grandmother.

Gwen is survived by her daughter, Susan and her husband Bill Capozella of Cheyenne, WY; son, Bob and wife Malinda Moses Schmidt of Little Rock; son, Fred and his daughter, Chloe of Columbia, MO; grandsons, Bill and Tom Peterson of Illinois; granddaughters, Merrill Jane Schmidt of Denver, CO and Claire Schmidt of Little Rock; 5 great-grandchildren; neice Mary Jean (Merrill) Coers of Kerrville, TX; and 3 nephews, Robert, Ted and Max Ciampoli of St. Louis, MO.

Our family would like to give a special thanks to Shawnda Washington and her care-givers along with Arkansas Hospice for their loving support during her last months.

Donatinons may be made to the Christian Science Church of North Little Rock or Boys and Girls Clubs of Central Arkansas.

A private family memorial service will be held later.
Condolence Book
---
"I loved Miss Gwen very much and thought of her often. She will be missed. I hope only to live a life as uplifting as hers.

Thinking of you all and keeping you in my prayers.
Kay"
Kay McPherson | DAMASCUS, AR
"Susan, Bob. Fred Family & Friends. Itís sad to lose someone in death. What helped me the most was prayers and faith in Godís promise at Psalm 34:18 ďGod is close to the broken heart: he saves those who are crushed in spirit.Ē For more comforting scripture, please visit: http://bit.ly/1K38EFt. Godís Kingdom that Jesus taught us to pray for will bring about these wonderful promise. My prayers are with you at this difficult time."
I. Keyes | Dublin, GA
"Bob, Malinda and Claire

I was saddened to see the death of your mother, mother-in-law and grandmother. I ran into Malinda in the hall one day at Andover when she recognized me from St. Paul. It then became clear the mystery I had been unable to solve ~ who made the flower and butterfly wreath during Kids' Club that hung on a residents door. Last night I read in the Andover newsletter that July 23 would have been her 100th birthday. What a wonderful family and what a wonderful life. Thoughts and Prayers "
Liz Wright | North Little Rock, AR
Sign Condolence Book
---
Please fill out the form below to enter your name and a short message to the family into the online condolence book. Please type in regular sentence format; do not type in all capital letters; only type your condolence or comments in the Comments field. Your signature will be formatted from the Name,City & State, and E-mail fields. Please remember that you are leaving comments for a public guestbook and not sending personal email to family members. Do not type in email or letter format. Phone numbers and Addresses (other than email) will not be posted.
* denotes required fields.