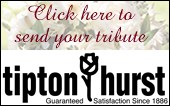 Read our Privacy Policy concerning online obituaries and release of information.
Tommy Frank Moore
---
Tommy Frank Moore age 81, of North Little Rock, AR, passed away on June 26, 2017.

He served in the US Army, worked for the United States Postal service and owned several businesses before retiring. He was an avid lover of horse races and regular patron of Oaklawn Horse Racing.

He is preceded in death by his parents Calvin and Collie Moore, one brother Clarence "Bill" Moore and one sister.

He is survived by his loving wife Kathleen V. Moore, who he married on July 3, 1958. He is also survived by two sisters, Sybil and Peggy; one son Charles Ronald Moore (wife, Betty Sue) and two daughters Mary Sue Nony (husband, Kenny) and Teresa Diane Estabrooke (husband, Troy).

He is also survived by eight grandchildren; Andy Moore, Philip Moore, Charlie Moore, Virgina Segriest, Amanda Inman, Heidi Green, Matthew Tull, Mason Tull, fourteen great-grandchildren, and several other family members and friends.

A service will not be held. Condolences can be sent to Kathleen Moore at 3019 Whistling Pine, Bryant, AR 72022.
Condolence Book
---
"Condolences to the Moore family. Our thoughts and prayers go out to your whole family. Psalms 147:3 says God, "heals the broken hearted, and binds up their wounds." May God bring you comfort and peace."
Williams Family | Bloomfield, MI
Sign Condolence Book
---
Please fill out the form below to enter your name and a short message to the family into the online condolence book. Please type in regular sentence format; do not type in all capital letters; only type your condolence or comments in the Comments field. Your signature will be formatted from the Name,City & State, and E-mail fields. Please remember that you are leaving comments for a public guestbook and not sending personal email to family members. Do not type in email or letter format. Phone numbers and Addresses (other than email) will not be posted.
* denotes required fields.