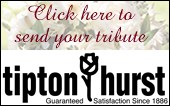 Read our Privacy Policy concerning online obituaries and release of information.
William "Bill" K. Keeler
---
William "Bill" K. Keeler, age 86, of Jacksonville, Arkansas, died Tuesday, June 27, 2017 at St. Vincent North in Sherwood, after a brief illness. He was born September 11, 1930 in Lake Andes, South Dakota.

Bill was the oldest of seven children, he grew up in Southeastern South Dakota and would later go on to serve his country faithfully for over twenty-seven years in the United States Air Force, retiring as a Senior Master Sergeant, having served during the Vietnam Era, where he received numerous medals for his service .

He received a Bachelor of Science Degree from Park University, Parkville, Missouri and was a retired electrical superintendent and Freemason. Bill enjoyed golfing and spending time with his Grandson, Connor. He was a life-long Episcopalian, and served faithfully as an usher for many years at his church, St. Luke's in North Little Rock.

Bill is preceded in death by his parents and four brothers and sisters.

He is survived by his wife of fifty-eight years, Sarah Keeler; their son Tom Keeler and his wife Jennifer; grandson Connor Keeler; brother Edison Keeler; sister Vesta Haben; and a host of other relatives and friends.

In lieu of flowers, memorials may be made in Bill's memory to St. Luke's Episcopal Church, 4106 John F. Kennedy Blvd, North Little Rock, Arkansas 72116.

A memorial service will be held Monday, July 3, 2017 at 11:00 a.m. in St. Luke's Episcopal Church, North Little Rock , followed by a brief committal service in the St. Luke's Columbarium with Masonic Rites and Full Military Honors, with a reception to follow.

Arrangements are under the direction of Ruebel Funeral Home.
Condolence Book
---
"Dear Sarah and Keeler family, Bill was such a gentleman and will be missed. He's with our risen Christ. "
Jan Hoskins | North Little Rock, AR
"My deepest sympathy to each of you. May the love and the memories that you shared be of comfort to you. Our heavenly Father promises that he will restore life to many who have fallen asleep in death. He assures us that the day is soon to come in which the tears of sorrow of death will be no more.

Revelation 21:3-5
John 5:28,29
"
Annette | Toledo, OH
Sign Condolence Book
---
Please fill out the form below to enter your name and a short message to the family into the online condolence book. Please type in regular sentence format; do not type in all capital letters; only type your condolence or comments in the Comments field. Your signature will be formatted from the Name,City & State, and E-mail fields. Please remember that you are leaving comments for a public guestbook and not sending personal email to family members. Do not type in email or letter format. Phone numbers and Addresses (other than email) will not be posted.
* denotes required fields.