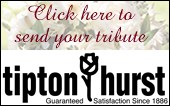 Read our Privacy Policy concerning online obituaries and release of information.
Peggy Robertson
---
God chose this day June 17, 2017 to take Peggy Robertson to be with Him in Heaven where she will have peace forever. She was currently residing at Greystone Nursing Home in Cabot, AR.

Peggy was preceded in death by her husband, Kenneth E. Robertson (Lifetime Teamster Member Local 878 and Retiree from Strickland Trucking), her daughter, Judy Cantwell, her infant son, Kenneth Don Robertson and her son-in-law, Harold Cantwell Sr.

Peggy was born on January 14, 1921 in Quinlan, Texas. She and Kenneth were married in Greenville, Texas in 1938 for 55 years. She was a wonderful loving mother and Nanny to her family and cherished each and every one of them. She always put the needs of others before her own. She was never a world traveler, her entire world was her family and friends and the joy she received from being with them. You never left her house without a full stomach, lots of spoiling and the chance to watch Wheel of Fortune, The Waltons or Little House on the Prairie.

She leaves behind her son, Gary Robertson and wife, Suzanne, granddaughters, Kristi Cantwell Shuster (Gus), Sarah Elliott (Jerry), Jennifer Martin (Aaron), Natalie Robertson (Chris Mase), a grandson, Harold Cantwell, great grandchildren - Shelby Shuster (Chad), Dalton Shuster, Jessi Elliott, Taylor Elliott (Kevin) and great great granddaughter, Emma Cantwell.

A memorial service will be held at Ruebel Funeral Home, 6313 W. Markham St., Little Rock on Friday, June 23, 2017 at 11 a.m. Visitation will be prior to the service from 10 a.m. until 11 a.m. A private burial will be held at Pinecrest Memorial Park. Memorials may be made to ThatChurch Camp United Scholorship by texting Camp United then text 77453 and follow the prompts or call the church at 501-833-4673. Arrangements by Ruebel Funeral Home, www.ruebelfuneralhome.com.

Condolence Book
---
"My thoughts and prayers go out to this precious family. Love you guys Kristi & Harold. "
Samantha Blaylock | Bryant, AR
"My deepest sympathy for you and your family."
Maurice Stovall | Wylie, TX
"My heart is with you and your family. This feeling of loss is all too familiar. The Stovall family loves you all very mucb."
Crystal Stovall | Wylie, TX
"Sending our condolences --"
Wanda Walker Truesdale | Atlanta, GA
"Gary and Suzanne I'm keeping you in my prayers. Gary you were such a loving son to your mother. You have been there when she needed you the most. This journey hasn't been an easy one for you but God will carry you through. I'm sad for Natalie and Jennifer and will continue to remember them also. "
Judy Smith | Sherwood, AR
"I am so sorry for your loss. My prayers and thoughts have been with you during this difficult time and pray God's peace to surround both of you beyond measure. Times will be hard but know that God is with you and we are lifting you in daily prayer.

Love you, Rose"
Rose Stone | North Little Rock, AR
Sign Condolence Book
---
Please fill out the form below to enter your name and a short message to the family into the online condolence book. Please type in regular sentence format; do not type in all capital letters; only type your condolence or comments in the Comments field. Your signature will be formatted from the Name,City & State, and E-mail fields. Please remember that you are leaving comments for a public guestbook and not sending personal email to family members. Do not type in email or letter format. Phone numbers and Addresses (other than email) will not be posted.
* denotes required fields.