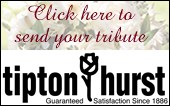 Read our Privacy Policy concerning online obituaries and release of information.
Lisa Williams
---
Lisa Williams, 59, of North Little Rock, passed away unexpectedly on Sunday, May 7, 2017. She was born to James A. and Bonnie Jean Hill in Washington, Indiana on June 27, 1957.

Lisa was an extraordinary person and faithful follower of Jesus. Her ministry was through music and singing in the church choir and demonstrating a Christian lifestyle. She was blessed with a beautiful soprano voice and often shared her gift for weddings, funerals and other special life events. She lived a life of grace, dignity, and compassion. Faith and family were the most important priorities to her in life. She was devoted to her family and a champion for each of us. Her heart was kind and full of love for everyone around her. Lisa had a gift of always bringing her family together. She was an inspiration and facilitator in many people's lives.

Lisa was a beacon of faith and strength to her entire family and a compassionate mentor to all who knew her. She was a very loving and supportive wife and mother, always putting her kids first and always believing in them. Lisa's grandchildren were the center of her world. She loved spending time with the boys and supporting them in their sporting activities. She also loved traveling with her husband and taking family vacations. She and Dan were best friends and enjoyed doing everything in life together.

She is preceded in death by her mother, Bonnie Jones Hill. She is survived by her father, James A. Hill (Jackie), of Henderson, Kentucky, her husband of 37 years, Dan Williams, of North Little Rock, her son, Jason Williams and her daughter Lauren Williams, both of North Little Rock, and her two young grandsons, Brady and Halen Williams. She is also survived by her sister, Darla Solomon (Mike) of Newburgh, Indiana, and her brother James Brent Hill, of Evansville, Indiana, and many nieces and nephews, and friends who all loved her dearly.

Lisa received her early education across several states and attended Stephens College in Columbia, Missouri and graduated with a marketing degree from Arkansas State University in 1978 and began a 23-year career in the marketing industry, first at JC Penney, then Dillard's Department Stores, Perry Ellis and Salant. In 2000, she was inspired to begin a new career at the Arkansas Democrat Gazette, where she found her new home in advertising sales. Subsequently, she was promoted to Manager of the Tri-Lakes Edition of the paper.

Visitation and rosary will be at 5 p.m. on Thursday, May 11, 2017 at Immaculate Heart of Mary Catholic Church in North Little Rock, Arkansas. A memorial mass will follow at 6pm at the church. Interment to be at a later date. In lieu of flowers, please send donations in memory of Lisa to the American Heart Association.

Condolence Book
---
"Please accept my condolences on the loss of Linda. May your memory of her comfort your heart and God help your family during this time of sorrow. Isa.41:13
"
Carla | , AZ
Sign Condolence Book
---
Please fill out the form below to enter your name and a short message to the family into the online condolence book. Please type in regular sentence format; do not type in all capital letters; only type your condolence or comments in the Comments field. Your signature will be formatted from the Name,City & State, and E-mail fields. Please remember that you are leaving comments for a public guestbook and not sending personal email to family members. Do not type in email or letter format. Phone numbers and Addresses (other than email) will not be posted.
* denotes required fields.