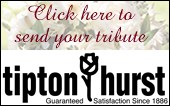 Read our Privacy Policy concerning online obituaries and release of information.
Megan Schwartz
---
Megan Schwartz, 22, left to be in the arms of our Lord on Monday, May 1st, 2017. Megan was born Wednesday, July 13, 1994 in Little Rock. Megan was taken from us way too early, but is now at peace and flying high in Heaven. She will always shine brightly down on us with her amazing smile, and will now be one of the most beautiful angels in Heaven. She was preceded in death by grandfather, Richard Schwartz, who passed away in April of 2013.

Megan is survived by her daughter, Imerie Schwartz. She also leaves her mother, Kelly Pfeifer, stepfather, Josh Pfeifer, and brothers, Aidan & Judson. Maternal grandmothers, Jane Schwartz, Cathy Schwartz and great-grandmother, Hazel Schwartz Choquette. She is also survived by father, Sean Goforth and paternal grandparents, Patricia & Jesse Rogers, Royce & Dianna Goforth. She leaves several aunts, uncles, and cousins.

A private family service will be held under the direction of Ruebel Funeral Home, www.ruebelfuneralhome.com.


Condolence Book
---
"I am so sorry for your loss. May her memory be eternal."
Phoebe Kutait | Little Rock, AR |
"I am so sorry that Megan did not have the time to live and thrive on this earth. Her life was too short. I will always remember her as the sweet little dark-haired girl that brought joy and laughter in my home when she visited me with her loving grandmother Chris Rogers. Chris was like a mother to her always; loved her and treasured her for as long as she lived. Megan will be missed but I hope she finds peace and contentment in her heavenly home. I will miss her. Aunt Leta "
Leta Bishop | Germantown, TN |
"Thoughts and prayers going out to Kellys family today and always. "
Jesse & Patrica Rogers | Conway, AR | progers68@live.com
"My beautiful wishing flower...mother of my granddaughter You will be greatly missed this world never understood You and you never understood it but rest in peace now baby girl until we meet again I love you. "
Nikki Payne | Conway , AR |
Sign Condolence Book
---
Please fill out the form below to enter your name and a short message to the family into the online condolence book. Please type in regular sentence format; do not type in all capital letters; only type your condolence or comments in the "comments" field – your signature will be formatted from the "Name," "City & State," and "E-mail" fields. Please remember that you are leaving comments for a public guestbook and not sending personal email to family members. Do not type in email or letter format. Phone numbers and Addresses (other than email) will not be posted.
* denotes required fields.