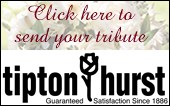 Read our Privacy Policy concerning online obituaries and release of information.
John Thomas Harpole
---
John Thomas Harpole died unexpectedly Saturday, April 29, at home of a broken heart.

John was born in Louisville, Ms, graduating from LHS in 1965. He met his best friend and future wife, Katherine, on a blind date at Hendrix College. John wooed Katherine to Mississippi State University, marrying at semester their senior year. After receiving their degrees in 1969, they moved to Memphis, Tn , where he worked for Union Planters Bank while she pursued her graduate degree. In 1973, they settled in Little Rock, raising their children while he worked for Dillardís.

John loved golf, and spent hours away from the greens watching the golf channel. This Bulldog fan spent fall attending MSU football games and tailgating with family and friends. He thoroughly enjoyed hours spent with Damon on the tailgate set-up crew, often spending twelve hours on campus. The duo liked to people watch. John enjoyed cooking and food in general, but his quick fix was a box of Cheezits.

In their 50s, the Harpoles hand dug a koi pond in their backyard and spent hours enjoying their fish. John and Katherine loved spending time with family in Pensacola, Fl, and Ackerman, Ms. An avid cartoon lover, John loved Minions and was looking forward to the release of Guardians of the Galaxy 2 featuring Baby Groot.

Predeceased by his wife, Katherine a.k.a. Precious, mother-in-law, Mary Noel, and father, Jeff Harpole, he is survived by daughter Katy Harpole Smith (Damon) of Pensacola, Fl; son Douglas (Stephanie) and grandchildren Conner, Julianna, and Carter of Little Rock; mother, Annie Harpole, of Louisville, Ms; sister Julia Oswalt (Gary) of Ackerman, Ms; sister-in-law, Martha Thannisch (Ray) of Little Rock; brothers-in-law Campbell (Van) of Charlotte, Nc, and Bob Walton of Batesville, Ar; and generations of nieces and nephews.

The memorial service will be held at 11 am, Saturday, May 6, at Grace Presbyterian Church, Little Rock. A reception will be held after the service.

In lieu of flowers, memorials can be made to Melanoma Research UAMS Winthrop P. Rockefeller Cancer Institute, Slot 623-F, 4301 W. Markham, Little Rock, Ar 72205. To all of those who checked on Dad the last six months, we thank you.

Condolence Book
---
"Dear Douglas, I was so sorry to see your Dad's obituary in today's paper. Please know that I am thinking of you and Katy and pray that God will surround you with His loving arms."
Deborah Jackson | Little Rock, AR
"I was sorry to hear about John. He was a classmate and teammate on the basketball team while we attended Louisville High School. He was a fine man and teammate. My prayers are with the family. "
Buster McAdory | Louisville, MS
"Dear Doug & Katy, we were so very sorry to learn of your Dad's passing in the paper today. Please know you are in our thoughts and prayers. Your parents were wonderful people and we enjoyed having them as neighbors on Kings Row. Peace be with you."
Joe & Dovie Norcross | Little Rock, AR
"Katy and Douglas- I'm shocked to hear about your Dad as I'm sure you are too. Somehow I'm not surprised to read 'of a broken heart!' I never talked with your Mom that she didn't tell me something about John and then about each of you.
You will be in my thoughts and prayers as you continue to go through this great transition in your lives. You each hold a very special place in my heart. "
Reita Miller | Little Rock, AR
"Katy and Doug - I am so sorry to hear of your great loss - It was a great pleasure getting to know him thru Grace Church and playing church softball with him many years ago. He was quite the character - I enjoyed him and your mother's friendship.
My thoughts and prayers are with you both and your families. "
Rusty Graham | Florence, AL
"I am so sorry for your loss. I didn't know that your Mother had passed until today. Your Dad was more helpful to me in my new job than anyone else. Your Mother was delightful. They had me out to dinner at their home before my wife and family moved to LR. Wonderful, gracious and honest people. God Bless You at this time."
Dean Haywood | Tulsa, OK
Sign Condolence Book
---
Please fill out the form below to enter your name and a short message to the family into the online condolence book. Please type in regular sentence format; do not type in all capital letters; only type your condolence or comments in the Comments field. Your signature will be formatted from the Name,City & State, and E-mail fields. Please remember that you are leaving comments for a public guestbook and not sending personal email to family members. Do not type in email or letter format. Phone numbers and Addresses (other than email) will not be posted.
* denotes required fields.