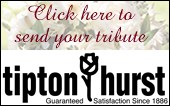 Read our Privacy Policy concerning online obituaries and release of information.
Sara Crawford DeMotte
---
SARA CRAWFORD DEMOTTE, 88, died Thursday, April 27, 2017. She was born on October 28, 1928 to Edward Virgil and May Blackmon Crawford in Montgomery, AL.

Following graduation from Huntingdon College (Montgomery) in 1951 she began working as a social worker for the State of Alabama and in 1952 married the love of her life, Ed DeMotte. They were married for 59 years, living in Alabama and Georgia, raising and nurturing three children and creating a network of friends of all ages.

Sara moved to Little Rock in 2010. She became an active member of Second Presbyterian Church—participating in Presbyterian Women leadership, serving in the ministry of Pastoral Care, and volunteering regularly at Stewpot. She enjoyed worshipping, learning, and serving in a church family that nurtured her journey of faith and provided a variety of ways for her to live out her call to discipleship.

Sara enjoyed flower gardening in her yard, decorating her home, entertaining and celebrating holidays with family and friends, and SEC football (an avid Crimson Tide fan all of her life, with an acquired support of the Razorbacks). With her gifts of hospitality and compassion, her genuine love of people, and her beautiful smile she literally made friends everywhere she went—her church, her neighborhood, her grocery store, her pharmacy--- everybody loved "Miss Sara."

Sara is preceded in death by her husband Ed DeMotte and her brother Charles Edward Crawford. She is survived by her children Lauren DeMotte-Kelly (John), Jeannie Ford (Collins Andrews), and John DeMotte (David Tankersley); her grandchildren Daniel Ford, Leah Kelly, and Sara Kelly; her step-grandchildren Collins Andrews (Boriana) and Spencer Andrews (Jennifer) and three step- grandchildren Milla Andrews, Nina Andrews, and Scarlett Andrews; her sister-in-law Carolyn Crawford and niece Cathryn Crawford.

A memorial service and witness to the resurrection will be held on Monday, May 1, 2017 at 11:00 am at Second Presbyterian Church. A reception will follow. Memorials may be made to Second Presbyterian Church or a charitable organization of your choice. Arrangements are under the direction of Ruebel Funeral Home. www.ruebelfuneralhome.com.

Condolence Book
---
"Dear Jeannie, Daniel, Collins and family:
I was saddened to hear that Miss Sara had passed away. I will always remember her bright beautiful smile, and great hugs. I am so blessed to have known her over the years. Our prayers are with you and the family during this time of sadness. May God give you Peace as you go through the days ahead. Lord, in Thy Mercy, hear our Prayers.
Peace of Christ:
Michael and Dr. Jim"
Michael Upsson | Little Rock, AR
"My thoughts and prayers are with you and your family during this difficult time, Jeannie."
Aubrey Nixon | Little Rock, AR
"Jeannie, Collins and Daniel,
We are truly sorry to hear of your loss. Sara was so warm, caring and welcoming to everyone she met. Her warm smile was her signature of welcoming you into her life.
Our memories of her will be cherished.
Love,prayers and blessings of healing to each of you.
"
Jo Ann and Bob McQuade | Little Rock, AR
Sign Condolence Book
---
Please fill out the form below to enter your name and a short message to the family into the online condolence book. Please type in regular sentence format; do not type in all capital letters; only type your condolence or comments in the Comments field. Your signature will be formatted from the Name,City & State, and E-mail fields. Please remember that you are leaving comments for a public guestbook and not sending personal email to family members. Do not type in email or letter format. Phone numbers and Addresses (other than email) will not be posted.
* denotes required fields.