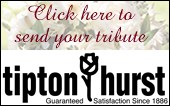 Read our Privacy Policy concerning online obituaries and release of information.
Ruth Fein
---
Ruth Fein, age 89 of Little Rock, passed away April 1, 2017.

There are no local services planned

Arrangements are under the direction of Ruebel Funeral Home.
Sign Condolence Book
---
Please fill out the form below to enter your name and a short message to the family into the online condolence book. Please type in regular sentence format; do not type in all capital letters; only type your condolence or comments in the Comments field. Your signature will be formatted from the Name,City & State, and E-mail fields. Please remember that you are leaving comments for a public guestbook and not sending personal email to family members. Do not type in email or letter format. Phone numbers and Addresses (other than email) will not be posted.
* denotes required fields.