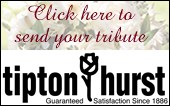 Read our Privacy Policy concerning online obituaries and release of information.
Wanda B. Hammons
---
Wanda B. Hammons, 87, of Little Rock died peacefully April 3, 2017. She was born January 25, 1930 in Lynn, Arkansas to the late Edgar and Augusta Rider. She is preceded in death by her husband of 53 years, Gerald Hammons, a brother, Verdell Rider and her step-mother, Vera Rider.

Wanda graduated from Lynn High School as Valedictorian and was awarded a scholarship to Baptist Nursing School, graduating in 1950. Later she gave up her nursing career to stay home and raise her children.

She is survived by her brothers, Tom Rider, Carl Rider, Bill Rider and Jerry Rider; her children, Brenda Butler (Joe), Sharon Danysh and Dr. Grant Hammons; her grandchildren, Matt Hammons (Ansley), Mary Elizabeth Stephenson (Jay), Sara Freiermuht, Noah Butler, Steven Sanocki, Kristin Sanocki, Jennifer Phillips (Ben) and Greg Butler (Brittany). She is also survived by 13 great-grandchildren.

A graveside service will be held at Arkansas State Veteranís Cemetery on Friday, April 7, 2017 at 10 a.m.

Condolence Book
---
"Condolences especially to Sharon. BH"
Buddy Hamner | Little Rock, AR
Sign Condolence Book
---
Please fill out the form below to enter your name and a short message to the family into the online condolence book. Please type in regular sentence format; do not type in all capital letters; only type your condolence or comments in the Comments field. Your signature will be formatted from the Name,City & State, and E-mail fields. Please remember that you are leaving comments for a public guestbook and not sending personal email to family members. Do not type in email or letter format. Phone numbers and Addresses (other than email) will not be posted.
* denotes required fields.