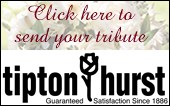 Read our Privacy Policy concerning online obituaries and release of information.
Charles H. Harper
---
No one could tell a story like Charlie Harper. One of the shames of his passing is that he won't be able to orate his own obituary from his dinner table, where for years he entertained family and friends with stories of his life. And at 94 years old, he never seemed short on stories.

Charles H. Harper was born in Little Rock on January 27, 1923 to Roy and Linnie Belle Harper. He was the second of three sons along with James Roy "Jim" Harper, Jr. and William A. "Bill" Harper. He graduated from what was then Little Rock High School and went on to proudly serve his country as a U.S. Navy aviator in World War II and Korea. He fought for freedom against the evils of fascism in the Pacific Theater. As many of his generation do, he had endless war stories, but a favorite was to share how he was accidentally shot down by his fellow Americans, but fortunately survived and kept on fighting.

After the war, Charlie came back to Little Rock, started a family and began a successful career with Rebsamen Insurance in 1954. He became president of the company in 1971 and chairman in 1992. During his career, he was one of the most recognized names in Arkansas insurance, and is credited with building Rebsamen into a local Little Rock business that succeeded on a world-class scale. He traveled the globe, charming clients, associates, friends and family in countries wherever he went. He made many of his best friends through working in insurance and stayed close to them throughout the rest of his life.

But his greatest loves were at home in Arkansas. Here, he enjoyed life with his wife Bunny Harper, son Sean Harper and his wife Barbara Harper, son David Harper, stepson Joel Smith, grandson Doc Harper and his wife Misti Harper, grandson John Thomas Harper, and great-grandchildren Clara Harper and Ethan Harper. Charlie also embraced numerous cousins, nephews, nieces, and in-laws, never shying away from hosting them at his home, joining them for lunch or dinner, challenging them to some sort of game, or just having a conversation.

One of the most fun things to do with Charlie was go to the horse track. He owned several thoroughbreds over the years and was involved in Arkansas horse racing for decades. The first time he invited his grandchildren to Oaklawn in Hot Springs, even though the races didn't begin until noon, he picked them up at 5 a.m. to show them the stables, the trainers, the jockeys, and the press box. He loved all of it. His horses even won a few races - sometimes.

Charlie was also a regular at Pleasant Valley Country Club. He loved to play golf with friends and family. He helped teach the game to his grandchildren, and never was too embarrassed when one of them would shank a ball across the front of the driving range. He liked to have fun on the course, and if you weren't watching, he might even put an exploding ball in your bag.

Little Rock was home for Charlie throughout his life. He was a devoted member of Pulaski Heights Presbyterian Church, and previously served on the Board of Directors of the United Way of Pulaski County, Central Arkansas Radiation Therapy Institute (CARTI), the Arkansas Tennis Foundation, and the National Association of Casualty and Surety Agents. He helped raise money to build Little Rock's Aerospace Education Center and served as an advisor to the Florence Crittenton Home for Unwed Mothers.

We encourage everyone to celebrate Charlie's life by playing a game of Yahtzee, hearts, or dice - or visit the track. A memorial service will be held in his honor at Pulaski Heights Presbyterian Church in Little Rock on Thursday, March 30th at 11:00 a.m. Memorials can be made to the church or to the Arkansas Horseman's Benevolent & Protective Association.


Condolence Book
---
" a great friend with a wonderful life."
ginger-joe denson | BOYLE, MS
"A great man with a blessed life and a fabulous, loving, caring wife!! There will never, ever be another "Uncle Charlie"……………I have precious memories of him all the way back to the 1970's……I was bragging about him even then!!………know he is in heaven with his precious Mother & Daddy and Brothers. What a gift Linnie Belle and Roy gave the world with those three boys!! Will miss him more than I can express….Love, One of your favorite nieces!!"
anna harper | little rock, AR
" What a wonderful life!! I'll remember Charlie as truly a gentle man, thoughtful and caring of his family and friends. He could be tough in business transactions but such a honor and pleasure to work with him and Bunny."
Faith Smith | Little Rock , AR
"Our condolences on the death of Charlie...We have such fond memories of out times with The Harpers as you "boys" were growing up. You are in our prayers."
Pete and Sissy Wells | Norfork, AR
"You will forever be in our hearts. You were so loved by my entire family and will be greatly missed. "
Amy Faulkner Parker | College Station, TX
"Charlie, was my second father growing up. He taught me the gift it was to be a man and the responsibility that came with it. I raise both my daughters with the same integrity that Charlie taught me, work hard and live your life to the fullest. God has never put a better man on this earth that sets a better example for all to learn from. He was a great man and will be missed. I love you Charlie, thanks for all the memories, laughs, lessons and generosity! "
Frederick H. Graupner | Driggs, ID
Sign Condolence Book
---
Please fill out the form below to enter your name and a short message to the family into the online condolence book. Please type in regular sentence format; do not type in all capital letters; only type your condolence or comments in the Comments field. Your signature will be formatted from the Name,City & State, and E-mail fields. Please remember that you are leaving comments for a public guestbook and not sending personal email to family members. Do not type in email or letter format. Phone numbers and Addresses (other than email) will not be posted.
* denotes required fields.