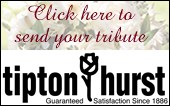 Read our Privacy Policy concerning online obituaries and release of information.
Margaret Helene Ohm Shepherd
---

Margaret Helene Ohm was born July 24, 1924 in Madison, Wisconsin, to Helene and Howard Ohm. She died March 24, 2017. In addition to her parents and husband, she was preceded in death by sister and brother-in-law, Mary Ellen and Robert Klueter.

Margaret attended the University of Wisconsin in Madison where she was a member of Delta Gamma Sorority, and she was named a Yearbook Beauty. She met Howard T. (Shep) Shepherd while he was stationed at Madison Army Airfield, and she dropped out of college to marry this handsome Southerner on January 5, 1945. They settled in Little Rock following a short stint in Biloxi, Mississippi. Because Margaret was a "Yankee," Shep referred to her jokingly as his War Bride.

Margaret and Shep's only child, Stephen Kemp Shepherd, was born July 6, 1946. And Margaret, the Yankee, adopted her new home and became a gracious Southern Belle in every way.

Margaret was a member of the Junior League of Little Rock, a board member of the Florence Crittenton Home, and she served as president of the Forest Park PTA. During the desegregation crisis, she also served with the Women's Emergency Committee to Open Our Schools. Her name is engraved, with other members, on the windows of the Terry Mansion in Little Rock. She seemed a bit embarrassed when she saw her name there because as she said, "I only made phone calls."

Margaret's talents were many. In particular, she was a gracious hostess and excellent cook. She entertained often and she always instructed Shep and Steve that the "family hold back" until everyone else was served all that they wanted. Steve remembers her giving the last plate of turkey, which she had just fixed for herself, to a late-arriving, young officer from the Little Rock Air Base one year at Thanksgiving.

Even when just entertaining her family, including her grandchildren, the meal was often formal. On many occasions, she would serve shrimp cocktail in sea shell bowls as a first course and follow that with beef tenderloin, twice baked potatoes, green beans, and a salad. Dessert was always something scrumptious, and the dining room was filled with candlelight, silver and crystal.

On Easter, Margaret and Shep would stage an egg hunt for their grandchildren, Stephanie Lee Shepherd and Paul Darrow Shepherd, in the backyard of their home. Plastic eggs held candy and money, so the children were enthusiastic about finding every single egg. The egg hunt would be followed by a traditional Easter feast of ham and potato salad.

Margaret and Shep bought their home on Normandy Road in 1947, and it was their pride both inside and out. Margaret took care of the interior which was always spotless, and Shep took care of their elegant garden and yard. Victor Zanovich, a popular decorator in Little Rock, helped Margaret pick colors, furniture, fabrics and drapes. And the front yard, which was full of deep pink Pride of Mobile Azaleas, was featured in Southern Living Magazine during the 1980s. However, it was the backyard garden that was the most exquisite and the setting for Steve's wedding to Ruth Darrow Dietz in 1972.

Margaret and Shep were soulmates with similar tastes. One year at Christmas, they discovered they had picked the same gift for each other (a stack of antique books which cleverly hid a set of cordials). Fortunately, Bolton's Antiques was willing to have one of them returned.

Margaret and Shep were doting grandparents, and it was not unusual to find her on the floor playing with one of the grandchildren. She would pull out all the canned goods and boxes of food from the kitchen so that they could set up a "store" in the den. Margaret and Shep preferred the formal names of Grandmother and Grandad, no nicknames for them. Stephanie and Paul both remember hours of fun including adventures with Grandad attending the Ringling Brothers Circus, for example.

In 1974, Margaret and Shep took their trip-of-a-lifetime, traveling throughout the British Isles with their best friends, Helen and Dr. Alastair Hall. Later, after Shep's retirement, they spent several weeks each year on Sanibel Island, Florida. She was a gracious hostess there too, and they made friends from throughout the United States and Canada.

Margaret was also a talented knitter and needlepoint artist and loved spending time with friends at the Yarn Mart. She made beautiful needlepoint Christmas stockings for each member of her immediate family.

Shep died on September 26, 2003. Margaret is survived by her son and daughter-in-law, Steve and Ruth Shepherd; grandchildren and their mates, Stephanie and Brad Prater, and Paul and Laura-Rose Shepherd; and great grandchildren, River April Shepherd, Aurora Grace (Rory) Shepherd, and Callum Shepherd Prater.

Dementia slowly stole Margaret's mind and health over the past several years, but we remember most how beautiful she was, how devoted she was to her family, and what a gracious homemaker and hostess she was. We are very grateful to the caring staff at Clarity Pointe Little Rock and to Hospice Home Care. Burial and services will be private, but we invite you to mix a great cocktail or pour a good glass of wine and drink to Margaret Shepherd!

Condolence Book
---
"After reading Margaret's obituary I felt I knew so many important and meaningful bits and pieces of her. I can almost see her needle-pointed family Christmas stockings. How lucky you all have been. She must have been a woman of grace and graciousness. Tonight we will raise a glass of good wine and toast your Margaret. Thank you for a lovely tribute to her.

Patti Powell"
Patti Powell | Maumelle, AR
"Steve, cheers to your mom and all your family. I remember that beautiful yard and her sweet smile. My prayers are with you. "
Judy Russell Phillips | Memphis, TN
"Steve and Family, I am so sorry to hear of your mom's passing. May memories of special times with her comfort you at this time."
Kathryn Magruder Brazil | Fernandina Beach, FL
Sign Condolence Book
---
Please fill out the form below to enter your name and a short message to the family into the online condolence book. Please type in regular sentence format; do not type in all capital letters; only type your condolence or comments in the Comments field. Your signature will be formatted from the Name,City & State, and E-mail fields. Please remember that you are leaving comments for a public guestbook and not sending personal email to family members. Do not type in email or letter format. Phone numbers and Addresses (other than email) will not be posted.
* denotes required fields.