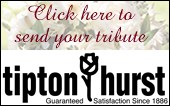 Read our Privacy Policy concerning online obituaries and release of information.
Elsie Faye Weaver Bailey
---
Elsie Faye Weaver Bailey departed for a new destination on March 15, 2017, six days after celebrating her 88th birthday. She was born on March 9, 1929, in Humphrey, Arkansas, to Grace Freeman Weaver and Thomas Wesley Weaver, Sr. They also had a son, TW Weaver, Jr, who pre-deceased Elsie. The Weavers moved to Little Rock in 1934, joined Pulaski Heights United Methodist Church, and opened the Weaver's Café in Little Rock's Hillcrest neighborhood.

At the time of her death, Elsie was married to her beloved, Richard Robert Bailey, of Little Rock, AR. They met at Little Rock High School as members of the Class of 1947. Elsie and Bob's love and eight-year marriage have been an inspiration to all who know them.

She is also survived by her son, Carl Warren Williams, Jr. (Susan) of Port Charlotte, FL, and Leslie Karen Golden (Gary) of Little Rock. Her son, Michael Freeman Williams Bliss, predeceased her. Step-children from her marriage to Roger Clifton Mears, Jr., are Vicki Mears Strickland (deceased) and Clifton Wayne Mears. She is also survived by a dear stepson, Ric Bailey, and his wife, Lori.

Elsie was the adored matriarch of four generations and a precious Mema to nine grandchildren: Sara Williams Freitag (Jeff), Adam Golden, Ryan Golden, and Nash Bliss; as well as, Clifton Mears, Jr., Shanna Mears Van Houten (Stuart), Blake Strickland, Susanna Young (Brian), and John Foster (Jillian). She had 13 great-grandchildren; two predeceased her. She held a special place in her heart for her nieces, Kelley Weaver and Kathy Weaver, and her daughter-in-law, Luvenia Mears.

Elsie attended Texas State College for Women. Among her professions, Elsie was a realtor for a time and assistant to the dean of the University of Arkansas' Graduate School of Social Work. She assisted three deans and two interim deans at the UAMS College of Medicine.

In addition to being a tremendous homemaker and seamstress for her family, she threw lavish dinners and delightful parties for family and friends. She wrote the book on cinnamon rolls and, in fact, several cookbooks for her family. Among her labors of love were researching and recording extensive genealogical histories for relatives distant and near. Elsie adored traveling. She often said that she could be ready to leave for an impromptu trip in 30 minutes. Elsie visited each of the United States, all of the Canadian provinces and territories, and more than two dozen countries around the world, chronicling the trips for her companions in photographs and flowing prose. Her favorite vacations were in Florida with her family. Family was everything.

A memorial service officiated by Reverend Lynn Lindsey will be held in the sanctuary at Pulaski Heights United Methodist Church on Saturday, March 18, 2017, at 11 AM. Honorary pallbearers are members of The Dietz Dialogue Sunday School Class. Memorials may be made to Pulaski Heights United Methodist Church, 4823 Woodlawn Dr, Little Rock, AR 72205.

Condolence Book
---
"To Kelley, Kathy, and all the family,
Our thoughts and prayers are with you all at this difficult time. I know how much you cherished Elsie and how special she was to you."
Lisa and Myles Spears | Fort Smith, AR
"Carl,

Our thoughts & prayers are with you.

Love,
Dr. Beavers & The Girls
"
Dr. Beavers & The Girls | Lincoln, AR
"Elsie was a delight to be around. I met her through my father, Lawrence McKellips. She was a joy and both my father and I looked forward to seeing her. Especially my father looked forward to getting to give her one of his big hugs. Sorry for your loss Bob. "
Judy McKellips Smith | Sherwood, AR
Sign Condolence Book
---
Please fill out the form below to enter your name and a short message to the family into the online condolence book. Please type in regular sentence format; do not type in all capital letters; only type your condolence or comments in the Comments field. Your signature will be formatted from the Name,City & State, and E-mail fields. Please remember that you are leaving comments for a public guestbook and not sending personal email to family members. Do not type in email or letter format. Phone numbers and Addresses (other than email) will not be posted.
* denotes required fields.