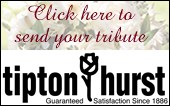 Read our Privacy Policy concerning online obituaries and release of information.
Charlotte Diana Miller Storthz
---
Charlotte Diana Miller Storthz died on March 8, 2017, not coincidentally on International Women's Day. She was born on May 28, 1920, in Baltimore, MD, to Annie Narkinsky Miller and Chester E. Miller, DDS. She was predeceased by her beloved husband, Herbert L. Storthz; brother Max Miller; and son-in-law, Barry Boshears.

Charlotte is survived by her children, Chester (Carol); Jenny Storthz Boshears; Joseph Storthz (Karen) of Houston, TX; grandchildren Katey Hobbs (Jon), St Louis; Merlin Kilbury IV; Michael Kilbury (Meg), Portland, OR; Jill Storthz, Portland, OR; Amy Storthz, Houston; and great-grandchildren, Andrew and Alex Hobbs, Levi and Adele Kilbury. She is also survived by her sisters, Raida Snyderman of Little Rock and Roslyn Applin of Seattle, WA, and numerous nieces, nephews and cousins.

Charlotte enjoyed teaching dancing in Baltimore before her marriage and volunteered at the Red Cross during World War II. After moving with Herbie to Little Rock, she was a long-time member of Temple B'nai Israel, an officer of the National Council of Jewish Women and a member of Hadassah. As a member of the Ladies' Auxiliary of St. Vincent Infirmary, she served as its president in 1975, and as its historian. She volunteered at St. Vincent and Doctors Hospital and in many other charitable organizations in the U.S. and in Mexico, when she and her husband lived there. During Little Rock's public-school crisis, Charlotte was very active in the Women's Emergency Committee to Open Our Schools and S.T.O.P.

She had an extraordinary gift for starting conversations and making friends. Being with people at social events was one of her greatest joys. An outwardly focused woman who rarely spoke of herself, she was beautiful, intelligent and possessed a compassionate spirit. She sang with Big Bands in the '30s, and enjoyed every style of music from Bach and Puccini to Louis and Ella to Merle Haggard. Charlotte always had a smile on her face and was genuinely interested in everyone she met. She deeply loved her family and many friends, had a beautiful singing voice, impeccable taste and endless empathy. Unfortunately, these traits were not passed on to her children.

As a mother, she always wholeheartedly supported Chester, Jenny and Joe from their earliest days to her last. "Meme" was a wonderful grandmother and great-grandmother, who took joy in every aspect of their lives, hosting sleep-overs, annual events from "The Nutcracker Ballet" to Pops on the River and watching them perform in all of their activities. We are grateful for those who helped Meme and took care of her throughout her later years: her devoted sister, Raida; as well as Rosie Rafter, Lumma Norwood, Brenda Foster, Tonya Pride, Tiffany Robinson, and PW; and the attentive staff at Presbyterian Village, particularly Melody, Curtis, Gail, and Audonte.

Charlotte was unfailingly optimistic, always interested in others, and she never lost her sense of humor, even as her memory began to fail in the last years of her life. She died as she lived, with grace and dignity.

A memorial service for Charlotte will be held at three o'clock on Sunday, March 12, at Temple B'nai Israel, 3700 Rodney Parham.
Donations may be given to the Southern Poverty Law Center; Presbyterian Village; or to a favorite charity.

Condolence Book
---
"I am so sorry for your loss."
Sidney Spitzer | Little Rock, AR
"It has been an absolute joy knowing Mrs. Storthz over the last three years. I will miss her sense of humor, sweet spirit and her bright smile. I will keep the family in my thoughts and prayers. "
AuDonte Williams |
"I love that although we were miles and miles apart for all of our lives, I could have read the above-not seeing whom it was written about yet would have known it was about my sweet Aunt Charlotte. She truly was always interested in those she spoke to. I can see her sweet eyes twinkling as she asked how our boys are and how my husband is-during a phone conversation. Her love for family was so obvious. She will stay close in my heart forever. To all of those celebrating Aunt Charlotte, tomorrow and always-we love you. Tomorrow I will purchase Lilies of the Valley to celebrate her long life. What a legacy to leave behind. I can hear the laughter now. Dad, Mom, Charlotte, Herbie, Nana and Chester, Uncle Lou and Uncle Ron and Bo reminiscing. I am not sure who would be funnier or laughing the most... oxox"
Carol, Sam, Kevin and Kyle Stratton | Erie, CO
"My prayers and thoughts are with you Chester"
Gil caver | Little rock, AR
"Joe,
I feel sad that you lost your mom; she lived an important, seemingly joyful life. Perhaps,she worked with my mom on the Women's Emergency Committe, a well kept secret until 1996.

In sympathy and love,
Mary Reese Finley"
Mary Reese Finley | St. Louis, MO
"Chester, so very sorry to learn of your mom's death. I will always remember her beauty but also someone who always made a point to ask me how I was doing and family give carol my love and sympathy as well Tom and Lillian "
Tom wittenberg |
"I'm just reading of Charlotte's passing. She was a dear lady, and i was honored to know her and her husband. My condolences to the family. "
Elizabeth Gunn | Green Mountain, NC
Sign Condolence Book
---
Please fill out the form below to enter your name and a short message to the family into the online condolence book. Please type in regular sentence format; do not type in all capital letters; only type your condolence or comments in the Comments field. Your signature will be formatted from the Name,City & State, and E-mail fields. Please remember that you are leaving comments for a public guestbook and not sending personal email to family members. Do not type in email or letter format. Phone numbers and Addresses (other than email) will not be posted.
* denotes required fields.