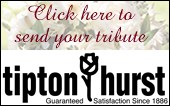 Read our Privacy Policy concerning online obituaries and release of information.
Anthony Heyd
---
Anthony Heyd died Wednesday March 1, 2017. He was born in New Orleans, LA on August 30, 1928 as the only child of Anthony Heyd, Jr. and Ethel Guise Heyd.

He attended Sacred Heart of Jesus grade school and St. Aloysius High School, in New Orleans. He was employed with Fruehauf Trailers, where he began in parts and service management and rose to become one of the leading salesman for Fruehauf's southwest region, and later was made branch manager of the division sales and service branch in New Orleans. Tony was a natural salesman who won the hearts and confidence of customers because he treated them as friends. After 40 years of dedicated service with Fruehauf, he and his wife, Pat, enjoyed their retirement years in Diamondhead, Mississippi and later relocated to Little Rock, AR to be near children and grandchildren. In his last years, Tony was blessed to have been part of the Clarity Pointe family in West Little Rock – the kindness and care he received while there was a great comfort to him and his family.

He is survived by his wife of 67 years, Patricia Giblin Heyd; 2 sons – Stephen Heyd and Andrew Heyd; 2 daughters – Donna Streeter (Richard) and Ruthmary Goodhart (Jim); six grandchildren – Laura Goodhart (Hamilton Mitchell), Kathryn Amberg (Ben), Jeffrey, Philip (Maria), and Timothy Goodhart, and Elizabeth Streeter; and two great-grandchildren – Madeline and Rose Mitchell.

A Mass of Christian Burial will be celebrated at Our Lady of the Holy Souls Catholic Church in Little Rock on Saturday March 11, 2017 at 10:00 a.m.
He was a man of great faith, love and devotion to God and family, and friend to all he met.

Condolence Book
---
"Rest in peace, Anthony, father of our dear friend Andrew Heyd."
Loren Adams | Fayetteville, AR
"Mrs.Pat, Stephen, Donna, Ruthmary, & Andrew,
I'm so sorry for your loss of your husband & dad!! I still remember that smile he always readily gave to everyone!
Please know that all of you & your families are in our thoughts & prayers. Love you all ❤😘
Jeannie Bourgeois Ruda & all the Bourgeois Clan"
Jeannie Bourgeois Ruda | Metairie , LA
Sign Condolence Book
---
Please fill out the form below to enter your name and a short message to the family into the online condolence book. Please type in regular sentence format; do not type in all capital letters; only type your condolence or comments in the Comments field. Your signature will be formatted from the Name,City & State, and E-mail fields. Please remember that you are leaving comments for a public guestbook and not sending personal email to family members. Do not type in email or letter format. Phone numbers and Addresses (other than email) will not be posted.
* denotes required fields.