W. Charles Webster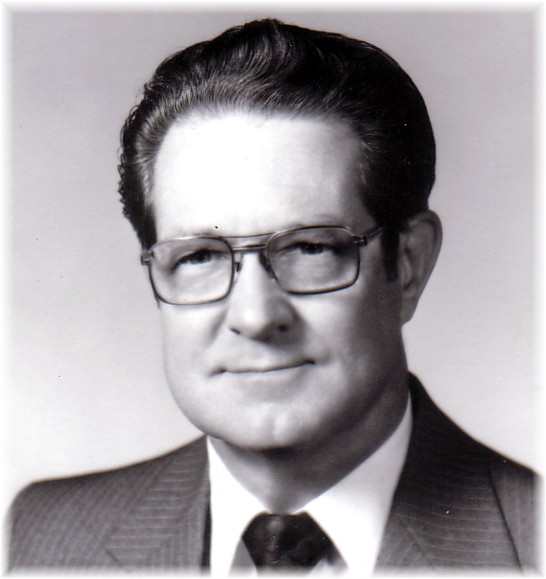 Obituary Notice
W. Charles Webster, 89, of Little Rock, died May 23, 2005. He was born March 28, 1916 in Hardy, Nebraska, the son of William H. and Grace Webster, and graduated from Lincoln Nebraska High School. He attended the University of Nebraska and graduated from the Arkansas Law School in Little Rock. He served three years in the Nebraska National Guard and five years in the United States Army. He was a court reporter for the Second Division of the Pulaski County Circuit Court from 1947 to 1959, when he resigned to accept employment in the office of the Little Rock Scottish Rite Bodies. In 1984, he retired after 26 years as office manager for the Little Rock Scottish Rite Bodies.
A 33rd degree mason, he was a past master of the Arkansas Research Lodge No 739, Cathedral Lodge No 757, and Trinity Lodge No 694, all of Little Rock. Other lodge affiliations included Brady Lodge No 753, Union Chapter No 2, Occidental Council #1, Hugh de Payens Commandery and Bendemeer Grotto in Little Rock, a 72 year DeMolay and an active Legion of Honor recipient.
He played in the Lincoln, Nebraska Symphony Orchestra and City Concert Band, Little Rock Symphony, Little Rock Concert Summer Band, Pine Bluff Community Concert Band, North Little Rock Community Concert Band, Scimitar Shrine Band and the Sonny Land Dance Band.
He joined the First Methodist Church of Little Rock in 1947, where he served 27 years as secretary of the Administrative Board.
He is survived by his wife of 63 years, Elizabeth Thomas Webster; a daughter and son-in-law, Ruth and Larry Howell of Dallas, TX; two grandchildren, David and Sarah Howell, and six nieces and nephews.
Masonic Graveside services will be held at 10:00 AM on Wednesday, in Pinecrest Memorial Park conducted by Brady Lodge No 753. Arrangements by Ruebel Funeral Home, www.ruebelfuneralhome.com.
---
Register Book
Ruth, my thoughts and prayers go out to you and your family.
Deran Abernathy
Dallas, Texas
My thoughts and prayers are with you.
Lindy Jolly
Dallas, Texas
May The Lord Give You Peace. I will be praying for you.
Janie Johnson
Dallas Texas
Email: janie@utdallas.edu
Our prayers are with you during this time.
David and Dalia Sanders and Family
Garland, Texas
Email: dalia.sanders@utd.edu
To Ruth Howell and Family, I know this is a very difficult time in your life and there is nothing I can say that will take the pain away. However, I want you to know that I am praying that God will be with you, comfort you, and give you peace during this time. If there is anything I can do for you, please let me know.
Dee Lambert
Dallas, Texas
My thoughts and prayers are with you during this very difficult time.
LeDawn Stark
Garland Texas
Email: lxs026100@utdallas.edu
Ruth, My thoughts are with you during this time. Although I cannot be there in person, please know you and your family are in my prayers.
Deborah Chen
Plano, Texas
Ruth and Family: I pray you are feeling the loving embrace of our Heavenly Father during this very difficult time. God bless you as you rest in the comfort of His arms.
Sue Sherbet
Richardson, Texas
Ruth, I am so sorry to hear of the passing of your father. You are in my prayers. Take care.
Judy Thompson
Richardson, Texas
Email: jthompso@utdallas.edu
My condolences for your loss and may God be with you and your family in your time of need.
Athena Baumann & Family
Dallas, Texas
Email: aab053000@utdallas.edu
Ruth, My thoughts and prayers are with you in loss of your father.
Gary Matney
Garland, Texas
Dear Ruth, We are very sorry to hear of your father's passing. Please accept our deepest sympathy . Our Prayers are with you and your family.
Guy Graugnard & Family
Sugar Land, Texas
Email: guy.graugnard@utdallas.edu
Aunt Bee and Ruth, I am thinking of you in this trying time. I hope time will ease some of the pain. I plan to get together with both of you in the near future.
Marjorie W. Terhune
Hopkinsville, Kentucky
Email: martyterhune@aol.com
Sorry we could not be with you. Hope all is well and we will see you soon.
Jerry, Marty and Lois Wall
Oak Ridge, Tennessee
---