Dr. John G. Watkins, Jr.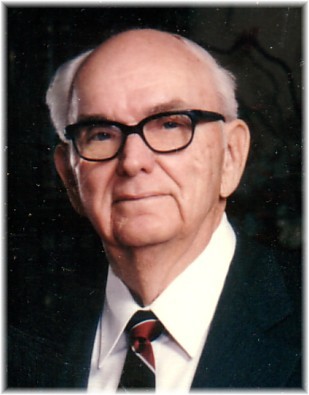 Obituary Notice
Dr. John G. Watkins, Jr. age 86, of Little Rock died Monday, April 18, 2005. He was born on March 29, 1919 in Little Rock to the late Dr. John G. and Zilpa Barrow Watkins. He graduated from Little Rock High School in 1937, and graduated from the University of Arkansas in 1941, and the University of Arkansas Medical School in 1944. he was a member of Sigma Chi men's fraternity. His internship was served at St. Louis City Hospital, ophthalmology residency at Barnes Hospital in St. Louis. Dr. Watkins was a medical officer at Balboa Naval Hospital in San Diego at the end of WWII. He was recalled during the Korean Conflict where he was stationed at Camp Lejeune in North Carolina. Dr. Watkins was a member of the Pulaski County Medical Society and American Board of Ophthalmology. He was a long-time member of Pleasant Valley Country Club and St. James United Methodist Church.
He is survived by his wife of 59 years, LaVern Gettinger Watkins; three sons, Dr. John G. Watkins III and wife Vicki, Bob Watkins and his wife Nancy all of Little Rock, and Jim and his wife Cheryl Watkins of Hot Springs; five grandchildren, Beth Noland (Matt) , Jay Watkins (Ali), Chris Watkins (Whitney), Amanda Watkins, and James Watkins; great-granddaughter, Kate Noland. He is also survived by a nephew, Dr. Charles J Watkins, Jr. and his wife Terri of Little Rock and a niece, Patricia and Dr. David Wilks; sister-in-law, Sue Webb, and a host of other nieces and nephews. He was preceded in death by his three sisters, Martha Jean Watkins, Dr. Grace Watkins, and Sarah Watkins Smith and a brother, Dr. Charles J. Watkins.
A visitation will be held from 5-7 p.m. Wednesday at the Ruebel Funeral Home, followed by a funeral service at 10:00 a.m. Thursday at St. James United Methodist Church. Burial will follow in Pinecrest Memorial Park. Memorials may be made to either Baptist Health Medical Center or St. James United Methodist Church. www.ruebelfuneralhome.com
---
Register Book
Virginia W. Simpson
Little Rock, Arkansas
John and Family, so sorry to hear of the passing of your father, our thoughts and prayers are with you and your family.
Dub & Corinne Allen
Little Rock, Arkansas
Email: f4jrider@hotmail.com
May God Bless You during Your time of sorrow.
Don & Barbara McBeth
Mabelvale,Arkansas
Email: donmcbeth@juno.com
My thoughts are with you at this time.
Mrs. Irving J. Spitzberg
Little Rock, Arkansas
Our heartfelt sympathy given at first opportunity on the internet, today, 5/31/05. John's father was the EENT specialist who removed my wife's tonsils at the home of Bedford and Iva Brown in Sweet Home many, many years ago. We appreciate continuing services by John G. III making the third generation of specialists serving our family.
Rev. & Mrs. James D. & Doss B. Reed
Greenbrier, Arkansas
Email: jimdoss@tcworks.net
---