W. Barnett "Barney" Stansell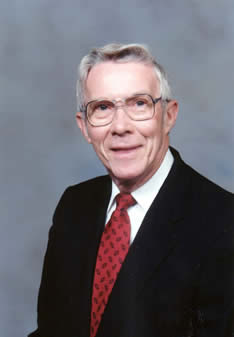 Obituary Notice
W. Barnett "Barney" Stansell, of Little Rock, died October 10, 2005. He was born in Little Rock to the late Wre B. and Katherine McGahhey Stansell. He was preceded in death by his sister, Dartha Garst and brother, John Wesley.
Mr. Stansell had been Branch Manager of Appliance Buyer's Credit Corp; with the Credit Department of Bankamerica Credit Card of the First National Bank of Memphis and had retired from the Internal Revenue Service in Little Rock. He was a United States Army Veteran, and a member of the Geyer Springs United Methodist Church.
He is survived by his wife of 56 years, Carolyn Middleton Stansell; son and daughter-in-law, Gregory Dale and Leslie B. Stansell; two grandsons, Benjamin and Jacob, and sister, Katherine Lusby of Lake Charles, LA.
Funeral services will be held at 10:00 AM on Thursday in the Chapel of Ruebel Funeral Home with Rev. Deanna McCormack officiating. Burial will follow in Roselawn Memorial Park.
In lieu of flowers, please make memorials to The Geyer Springs United Methodist Church, 5500 Geyer Springs Road, Little Rock, AR 72209. www.ruebelfuneralhome.com
---
Register Book
I'll always remember Uncle Barney. We used to visit my Grandmother (Nanny) often when I was growing up. Barney, Caroline and Greg never failed to come to Nanny's when we were there. Nanny's little house was full of people, all glad to be with each other. Barney will always be remembered by me as a happy, up-beat person, that's what I always saw when I was growing up. He loved his family and my Dad's family as well. He always took an interest in me and what I was doing.

Barney will be missed!

Randy Lusby
Katy, Texas
Carolyn, I will be praying for you and your family at this time. I have good memories of Barney and you from times past and that's what I'll treasure in the future. I'm sorry I cannot be there to give you a big hug but please know I'm thinking of you. With sincere sympathy,
Myrna Sue Williams
Waco, Texas
Email: mwilliams13@hot.rr.com
Carolyn, We are so sorry about your loss. We love you and are thinking about you!

Beth & Bill Roberts
Monticello, Arkansas
Email: robertsb@uamont.edu
Carolyn, you have my heart felt sympathy. I know he will be missed by everyone he knew.
Ranellia Mann, Usda, aphis, vs
Redfield, Arkansas
Herb & Nelda Hinson
Wynne, Arkansas
Carolyn, You are in our thoughts and prayers. May the love of the Lord, surrounding you through all of your relatives and friends, ease your way through this difficult time.
Love, Tim and Carolyn Bredlow
Scott, Arkansas
Email: rbredlow@aol.com
Carolyn, My deepest sympathies to you and your family. Barney was such a good, gentle man. He has always been one of my favorite relatives. My prayers are with you at this sad time.
God bless you,
Lynn Garst
Bella Vista, Arkansas
Email: ggarst@centurytel.net
The Swaty Family wishes to express our condolences regarding the death of Mr. Stansell.
He was such a pleasant man to be around. We are thinking of you.
Richard, Janet, and Rodney Swaty
Little Rock, Arkansas
Dear Aunt Carolyn, Greg and Family, I am so sorry to hear of Uncle Barney's passing. Some of my early memories are of him and I always remember him smiling. My thoughts and prayers are with you during this difficult time.

Love, Scott (for Edna and Emily WeiXia Rose as well)

Scott Dobbs
Little Rock, Arkansas
Email: scott.dobbs@ssa.gov
---