Wietske H. Patrick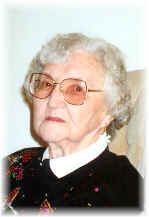 Obituary Notice
Wietske H. Patrick, 93, of Little Rock, passed away Saturday, May 28, 2005. She was born May 25, 1912, at Sweet Home, Arkansas the daughter of the late Tjeerd J. and Lillian Fullbright Hoekstra. Mrs. Patrick was married for over 44 years to the late R. M. Patrick. She was also preceded in death by five sisters and one brother.
She is survived by a son, Ralph K. Patrick and wife Martha, of Marietta, Georgia; a daughter, Mary and her husband John R. Green of Maumelle; granddaughters Victoria and Holly Patrick of Atlanta, Georgia, and grandsons James Green of Worcester, Massachusetts, John Green of Little Rock, and Charles Green of Cincinnati, Ohio.
Mrs. Patrick retired from the Pulaski County Department of Human Services in 1983. She had worked previously as a teacher and as a secretary of the Little Rock Chief of Police. A member of First Presbyterian Church of Little Rock for over 40 years, Mrs. Patrick was a member of the R.D. Adams Sunday School Class and had served as circle chairman and deacon.
The family wishes to thank the staffs of Presbyterian Village and Lakewood Nursing Center for their care for Mrs. Patrick during her last years.
There will be a funeral service Wednesday at 10am at the Ruebel Funeral Home Chapel officiated by Reverend Howard Gordon. Burial will follow at Oak Grove Cemetery, Conway. Arrangements are under the direction of www.ruebelfuneralhome.com.
Memorials may be sent to First Presbyterian Church of Little Rock, 8th and Scott Streets.
---
Register Book
Mary and John, Our thoughts and prayers are with you.
Lisa and Scott Glidewell
Little Rock, Arkansas
Email: lmhay@aol.com
Ralph: My Momma and Wietske are, in heaven, talking over over times!! There's nothing like losing your Mother! My thoughts and prayers are with you!!
Ann Treadway Henry
Columbia, South Carolina
Email: missath@aol.com
Mary, we extend our prayerful sympathy in your loss of your mother. I worked with you and her at Pulaski South Social Services in the '70s. My wife, Winnie Doss (Brown) Reed knew your mother since childhood. Your mother was about 13 years older than Doss and both lived off the old Pine Bluff Highway in Sweet Home. We wish God's richest blessings for you during these difficult days.
Rev. & Mrs. James D & Doss B. Reed
Greenbrier, Arkansas
Email: jimdoss@tcworks.net
---