Kenneth Maurice Parks, Sr.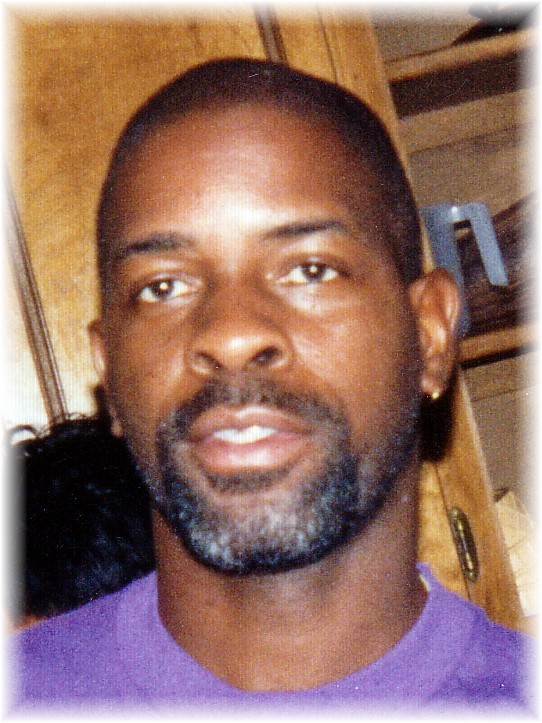 Obituary Notice
Bro. Kenneth Parks, Sr., 45, of Little Rock, departed this earthly life July 30, 2005. He was born April 22, 1960 to the late James Parks, Sr. and Johnnie Parks.
Kenny accepted Christ early in life, united with Clear Lake Baptist Church in England, Arkansas. He and his family later became associated with the Greater New Hope Baptist Church under the leadership of Pastor Ronald Young.
Kenny was employed for 26 years as a Pathology Tech and Supervisor at U.A.M.S. where he remained faithful and dedicated until his death.
Kenny was a proud parent and was very active in his sons' lives as a basketball coach for Brady Elementary School. He served in Dads of Good Kids Club at Wilson Elementary School, a faithful PTA member of Southwest Middle School. He received many trophies and special awards for his faithful services.
Kenny served as a soldier in the United States Army.
Kenny is greatly missed. He leaves to cherish his memories his mother, Johnnie Parks; his wife of 25 years, Elnora Stephens Parks; children, Sherry McClure Parks, Terry McClure Parks (Rassia), Kenneth Maurice Parks, Jr., and Eric and Deric Parks, all of Little Rock; grandchildren, Reginald Dunn, Jr., Quinton Thomas, Jr., and Reavyn McClure Parks; Eight brothers, Johnny L Parks (Vicki), Lawrence Parks, of Little Rock, Arthur Jackson, Bobby Jackson (Juanita), Harold Jackson, Ray Parks (Dorothy) of England, Arkansas, James Parks, Jr. of Michigan, and Calvin Parks of Texas; Two sisters, Deloise Davis of Michigan and Jessie Mae King (Donnie) of Little Rock; Five sisters-in-law Bernice Wallace, Beverly Rhodes, Clara McCuin of Maumelle, Bettie Young of Little Rock; Three brothers-in-law Clair Stephens, Craig Stephens, and Floyd Forte; a host of Aunts, Uncles, Cousins, and friends.
Kenny shared in the lives of nieces and nephews Telisa Criswell, Rhonya Jackson, Craig Stephens, Jr., Isaac and Tracey Strong, Ernest McCuin, Courtney Wallace, Jessica Wallace, and Sheree Forte.
Kenny, a kind, gentle, but yet serious person. He smiled sometimes, but he had a big heart. If you needed money, a car, or even a place to stay, he was always willing to help others. If Kenny had it, you could get it. He always had an open door to his children. Not only his but others. He helped to raise others as his own - his nieces, nephews, even a neighbor's child. He gave all of himself in so many ways. Kenny was one that you could depend on. Kenny can be defined as a people person - he loved people, he loved to talk - he never met a stranger. He was very serious about his work - he worked all the time, seemed to always be on call. Kenny was a true humanitarian yet he was a simple man, down to earth - said what he had to say and that was it. Never negative, but a positive attitude. If it could be done, he believed he could do it. The glue that kept things together, the backbone everyone looked up to; a mentor, a counselor, just a good friend. We know Kenny for rubbing his head, whether he was talking, thinking, or just watching television. Kenny had a faith in God that was seen in his actions in his life.
A wake will be held 5:00 to 7:00 p.m. today at Greater New Hope Baptist Church, Little Rock, followed by homegoing services at 1:00 p.m. Saturday at East Macedonia Baptist Church in England.
Arrangements are by Ruebel Funeral Home, www.ruebelfuneralhome.com.
---
Register Book
Ms. Delois Davis and Family,
We are very sorry for your loss and you and your family have been and will continue to be in our prayers.
SSG and Mrs Prescott (Elizabeth) Woodard and Family
Grand Blanc, Michigan
Email: Callowaywoodard@aol.com
We are praying for you and with you. Weeping may endureth for the night, but joy cometh in the morning. We release your comfort and care in the mighty name of Jesus.
Aaron (Ace) and Neshaja Harriott
Little Rock, Arkansas
Email: aaronharriott@yahoo.com
Unfortunate this happened to such a young man. But, remember, God does not make mistakes and his life was not in vain. God Bless his family. My prayers are with you in this time of sorrow. A concerned neighbor.
P F Brown
Little Rock, Arkansas
Ray Fresh and Teresa Smith
UAMS
Little Rock, Arkansas
My Heart is saddened at Kenneth's death. He was a good friend and coworker. I have had the pleasure of knowing Kenneth ever since he started at UAMS. Everyone at UAMS has had some interaction with Kenneth at one time or another and it was always a pleasurable experience. He was proud of his job, his country and above all his family. My heart cries for your hurt and sorrow. Hold your head high and be proud of your father, son and husband because he was a great man. He has always been a good friend and helper here on earth, now he is in heaven where he belongs. Kenneth would want you to be strong and proud just like him. Take care of each other.
Frances L. Swain
Special Procedure Technician/Histology Technician UAMS
Little Rock, Arkansas
Email: SwainFrancesL@uams.edu
Our deepest sympathy and prayers are with the family of Kenny. I know that this is a very difficult time for you all; but I know that the LORD is a very present help in a time of trouble. May the peace of GOD which passeth all understanding keep your hearts andmind full of precious memories of your loved one.
Brenda Parks-Exson
England, Arkansas
Email: brenda681@futura.net
Your family will always be in our prayers. Kenny was a special person and touched a lot of peoples' lives. God bless you always.
Tiffany L. Jackson
Ruffin & Jarrett Funeral Home
Little Rock, Arkansas
Carol Smith
Little Rock, Arkansas
Thinking of you and praying that God will send you and your family peace during this difficult time.
Andrew Walker, Jr. and Family
Pine Bluff, Arkansas
Email: gswalker59@yahoo.com
May the Lord Bless and keep your family in our prayers.
Gwen Jones and Selma Chandler
UAMS
Little Rock, Arkansas
Dear Elnora and Children, I worked with Kenny at UAMS since 1988. Words cannot express how saddened I am by such an untimely death. Kenny was an excellent employee. He was talented and respected by all that knew him. Most importantly, he was a devoted family man. I know that with Kenny, his family always came first. He loved you all and in his quiet way, dedicated himself to your well-being. Your love was all he asked in return. He will be missed by so many people. I, for one, cannot imagine not seeing him again. My thoughts and prayers are with you and with Kenny. May I meet him again someday.
Bill Woodell
Former Administrator, UAMS Department of Pathology
Little Rock, Arkansas
Email: wrwoodell@uams.edu
Our deepest sympathy is expressed to you. Kenny was a very
professional person, he will truly be missed.
Joann L. Walton
and Staff Of J. Walton-Duckett Funeral Home
Little Rock, Arkansas
May God keep his arms around you in your time of need. Prayers go up and blessings come down.
Adrienne Goins
UAMS
Little Rock, Arkansas
Email: goinsadrienneb@uams.edu
Dear Parks Family, I didn't know Kenny well, but I had contact with him at UAMS. I am a nurse on Labor and Delivery. I was always impressed with the way Kenny handled the dead babies he transported to the morgue for me. He always treated them with dignity and respect. For that matter, no matter how many times I didn't do the paperwork correctly, he always treated me with respect and was very helpful to me. I am deeply saddened by the senseless act that took his life. I will continue to pray for his family. I'm so sorry.
Margaret Glasgow, RN
Little Rock, Arkansas
Email: mglasg367618@aol.com
tangie montgomery
little rock, arkansas
To Kenny's Beloved wife and lovely family, I worked with Kenny for 8 years at UAMS in the Pathology Dept and he was a wonderful, delightful person. Our jobs required us to speak to each other most everyday, and at first he was very shy, until I started kidding with him most every morning when he would call to have me to page a Doctor. When he had the children and they were with him Kenny shined like a big diamond ring. He was so very proud of all of his children. I know he loved you Mrs. Parks very very much. He was a man of trust, loyalty, and respect to all. I left Pathology Dept. last year, but whenever I would see Kenny in the hall, he would always speak to me. I will miss seeing Kenny around here at UAMS, but I will never forget this wonderful, kind, considerate, man. My God bless you and your family forever.
Paula Marneenate
UAMS Cell Therapy Lab
Little Rock, Arkansas
Email: marneenate@uams.edu
My prayer is that God comfort you in your time of bereavement. Weeping may endure for a night, but Joy cometh in the morning. Just trust God and he will bring you through.
Charles & Cotina Jackson
Jackson Carpet Cleaning
Little Rock, Arkansas
Email: jacksoncotinal@uams.edu
To the family of Kenny Parks: May God be with you in this time of sorrow, to be a shield of protection when needed! I have known Kenny for such a short time, but the time I did know him was like a life time. You do not find many kind hearted people today like Kenny and when you do, you want to hold on to them for ever. So don't be sad Kenny has gone to a better place, that one day we will see him soon. So hold on and keep the faith, because that is something Kenny would want us to do.
Shenetha Shephard
UAMS Pathology
Little Rock Arkansas
Email: slshephard@uams.edu
The Allen Family
Little Rock, Arkansas
Keeping you and your family in heart and mind, for he will be greatly missed at UAMS.
Patricia A. Wright
Medical Tech
Little Rock, Arkansas
Email: wrightpatriciaa@uams.ed
Kenny was a wonderful friend to the funeral profession. He always used common sense in the way that he did his job and cared deeply about the quality of his work. I will miss him dearly.
Steve Schade
Funeral Director
Benton, Arkansas
Email: schades@rollerfuneralhomes.com
Thinking of you and praying for your family. Look to the hills.
Anne Middleton
Family Support Supervisor DHS
Little Rock, Arkansas
To Elnora and Family Although we only met your Kenny once. He assisted and witnessed the autopsy performed on our daughter, Janie, by Doctor Harry Bonnell. We found Kenny to be a very helpful and caring person, giving us strength to endure what we were going through. We are very sad at your loss and share the knowledge that through faith we will meet Kenny Parks again. God Bless. We hope that these words may give some comfort.
Ron & Mona Ward
Marshall, Arkansas
Email: ronward@alltel.net
Just read your well-written notice with great sorrow. I, too, thought the world of Kenneth. He was super dedicated to his work. I worked with him at UAMS. Just wanted y'all to know how much everyone respected and admired him.
Cherye Riggs
ACRC, Cancer Education, retired
Little Rock, Arkansas
Jason Engler
Funeral Director, Ruebel Funeral Home
Little Rock, Arkansas
I will lift up my eyes unto the hills, from whence cometh my help. Our deepest sympathy to Kenny and Family.
William & Angelia (Terry) Scovil and Family
DHS-Personnel
North Little Rock, Arkansas
Elnora and family - I was deeply saddened and in shock when I heard the news about Kenny. I worked with Kenny for almost twenty years in the Pathology Department at UAMS and considered him my friend. Kenny was always friendly and courteous to everyone. He was a unique person and will be greatly missed. I am so sorry for your loss.
Janet Lynn Parker
Secretary - Arkansas State Police - CACD
Little Rock, Arkansas
Email: janet.parker@asp.arkansas.gov
Kenny was a great guy. I worked with Kenny at UAMS for 25 years. He will be missed by all that knew him.
Shelia Diane Romes
UAMS
Little Rock, Arkansas
Your family will continue to be in our thoughts and prayers. He will be forever missed. Our deepest sympathy and prayers are with the entire family. May God continue to bless each of you.
Eunice Reed & Dee Sheffield
Ruffin & Jarrett Funeral Home
Little Rock, Arkansas
Email: ruffin.jarrett@sbcglobal.net
"For if we believe that Jesus died and rose again, even so them also which sleep in Jesus will God bring with Him."
I Thessalonians 4:14
We are sorry for your loss - may the peace of Jesus be with you all.
Coach Ready and Family
Little Rock, Arkansas
May god blessed the family and I will keep the family in my prayers.
Markell Chatman
UAMS (Distribution Service)
Little Rock, Arkansas
Email: markell_3114@yahoo.com
On behalf of the Parks family, words can never be able to express how we feel. The love and kindness that has been shown, it is so overwhelming. We appreciate you for taking the time to show that love. Kenny was an extraordinary person, one of God's chosen ones, and his memories will forever live on in our hearts. And a very special thanks to Ruebel Funeral Home, who has done a wonderful job in making sure the family was taken care of in the loss of Kenny. We could not have done it without them. Your kindness will never be forgotten. Kenny could not have chosen better friends, but it was the Christ in him that deserves the glory. From Kenny's sister-law:
Clara Ann McCuin
Maumelle,Arkansas
Email: mccuina@yahoo.com
Brent M. Hill
Conway, Arkansas
On behalf of the Nichols Family ( Verline, Gwen, Martin, Ralph, Yancy Jr, Phillis), I'd like to express our sincerest sympathy to Kenny's wife and children, his mother, and all of his family. Kenny was truly a special person - we grew up together as friends and classmates and I will always remember him as a fun loving person with a wonderful spirit. Our prayers are with you and we are so blessed to have had the opportunity to know him. May God Bless and Strengthen You.
Phillis L. Nichols-Anderson
Columbia, Maryland
Email: nicholsanderson@comcast.net
---