Winston Theodore Treadway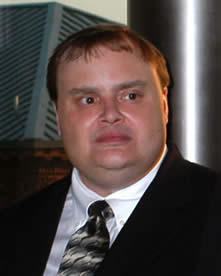 Obituary Notice
Winston Theodore Treadway, age 38, of Little Rock, beloved son of Lou Ellen and Ted C. Treadway, and cherished brother of Ellen and Amy, died Saturday, September 17, 2005. He was a kind, compassionate, and generous young man who enjoyed spending time with his family and friends.
Winston was a communicant of Trinity Episcopal Cathedral where he was a member of the Matin Choir and an acolyte. Winston graduated from Little Rock Central High School in 1986 and later earned a degree in institutional food service from Quapaw Vocational Technical School in Hot Springs.
At age 14, after initiating an Arkansas Rice Depot project to feed the hungry with Scout Troop #27, Winston achieved the highest rank of Eagle Scout. He also enjoyed Boy Scout Outward Bound excursions in New Mexico and Minnesota.

Winston had many hobbies including duck hunting with his father in DeWitt, traveling with his family, and collecting antiques. He especially treasured his oil paintings created by his paternal grandmother and art pieces given to him by his maternal grandmother.
Winston was a gifted cook and storyteller. He baked poppy seed and rum cakes from scratch, and he enjoyed dinners and playing bingo with his dear friends and neighbors at the Kathleen Peek Apartments. They all will miss him greatly.
Winston will be remembered always with deep love, admiration, and respect from everyone he knew. He had great empathy and concern for others, especially those in need of a friend. Winston's keen sense of humor and worldly perspective will be greatly missed.
Funeral services will be held at 10:00 a.m. on Wednesday, September 21 at Trinity Episcopal Cathedral officiated by the Very Reverend Henry Hudson. Burial will follow in Roselawn Memorial Park. Winston's family will receive visitors at 1921 North Monroe following the services.
In lieu of flowers, memorials will be appreciated, and they may be sent to: Trinity Episcopal Cathedral, 310 West 17th, Little Rock, AR 72202; The Winston Theodore Treadway Memorial Fund, UAMS Department of Psychiatry, 4301 West Markham, Slot 554, Little Rock, AR 72205; and The General Client Assistance Fund, Little Rock Community Mental Health Center, Inc., P.O. Box 250337, Little Rock, AR 72225.
Arrangements are by Ruebel Funeral Home, www.ruebelfuneralhome.com.

---
Register Book
Mr. & Mrs. Treadway, Ellen & Amy- I am so sorry about your loss. Winston was such a special person. He will be greatly missed by all who knew and loved him. Cherish your memories as they will stay with you forever. And look forward to the future and know that he will always be with you, guiding you and watching over you as your own special angel. My love to you all,
Shannon Tanner
North Little Rock, Arkansas
Email: stanner64@sbcglobal.net
With Deepest Sympathy from our family.

David Heslep
Jacksonville, Arkansas
Email: dheslep@wmconnect.com
Lou Ellen, you probably don't remember me, but I remember you and your family. Winston was a precious boy. My heart and thoughts are with you and your family.

Sherri Chenault Guenther
Little Rock, Arkansas
Dear Ted, LouEllen, Ellen and Amy, I am so sorry for your loss. There are no words any of us can say, that will ease your pain, but please know that my thoughts and prayers are with you all.
Sherry Ray Stafford
Fort Smith, Arkansas
Email: imsissy@msn.com
Amy, Ellen, Lou Ellen and Ted, Bill and I wish to send you our condolences. You are in our thoughts and prayers
Peyton & Bill Bishop
Little Rock, Arkansas
Email: epcbishop@aol.com
Mr. and Mrs. Treadway, Ellen and Amy--I was so sorry to hear about Winston's passing. Please know that my thoughts are with you at this time.

Ashley Bell
New York, New York
Email: ashleybellconsulting@hotmail.com
Tom Pugh
Little Rock, Arkansas
---