Vivian McVey Reed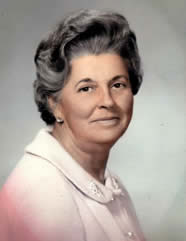 Obituary Notice
Vivian McVey Reed, age 94, of Little Rock, died Sunday, December 18, 2005. She was born in Fayetteville, West Virginia the daughter of the late George Mattie and Mayme Haynes McVey. Vivian and her family moved to Little Rock where she attended the University of Arkansas Medical Sciences Nursing School receiving her Registered Nursing Certificate. She practiced nursing for several years before marrying Jack Reed who died in 1997. Jack was past partner, Chairman of The Board of Ruebel Funeral Home. Vivian was a past president of St. Vincent Auxiliary, past member of the Departmental Club, a member of First Presbyterian Church of Little Rock, and past member of Pleasant Valley Country Club.

She is survived by two sisters, Dorothea McVey Ellington of Little Rock, Sara Lee Chiavarini of Virginia Beach, Virginia, a sister-in-law Jane Reed Eilersen of Little Rock, and several nieces and nephews.

There will be a funeral service Tuesday at 2pm at the Ruebel Funeral Home Chapel officiated by Reverend Dr. Karen Akin. Services are under the arrangement of Ruebel Funeral Home, www.ruebelfuneralhome.com.

The family wishes that in lieu of flowers memorials should be made to First Presbyterian Church of a favorite charity.
---
Register Book
---