Virginia Watson Simpson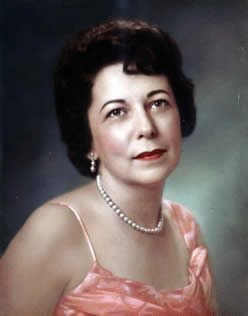 Obituary Notice
Virginia Watson Simpson, age 82, of Little Rock, died Tuesday, August 16th, 2005, the widow of Dr. Henry Simpson who died in 1994. She was born in Willow, Dallas County, Arkansas and graduated from Carthage High School and received her Registered Nursing degree from Baptist Hospital, Little Rock, in 1945. Thereafter she joined her husband during his post graduate training and assisted him throughout his private practice of Internal Medicine in Little Rock. She was a member of the State Board of Nursing, and Auxiliaries of the Pulaski County Medical Society, American Medical Association, Southern Medical Association, Arkansas Medical Society and a member of St. Paul United Methodist Church.

Virginia is survived by 2 sons; N. Henry Simpson, III and wife Melanie of Dallas, Tom Simpson and wife Haidi of Silver Thorne, Colorado, two daughters; Becky Haines and husband Chuck of Winter Park, Colorado Mary Daily and husband Richard of Branson, Missouri, one sister Sara Galloway of St. Louis, Missouri, 12 grandchildren, and 4 great-grandchildren.

There will be a funeral service at Ruebel Funeral Home at 1pm Friday, officiated by Reverend John Fleming. Burial will follow at Roselawn Cemetery. Arrangements are under the direction of Ruebel Funeral Home, www.ruebelfuneralhome.com.

Memorials in lieu of flowers should be made to St. Vincent Infirmary or St. Paul United Methodist Church.
---
Register Book
My thoughts and prayers are with you and your family.

Diane Wightman Battle
Olmsted Falls, Ohio
Email: diane.battle@netzero.net
Henry and Family, I'm so sorry about your Mom. I send my prayers and best wishes to your family. Sheri RogersBritt
North Palm Beach, Florida
Email: Prism1603@aol.com
Tom, Becky, Henry and Families

My sympathies on your Mom's passing. All the best to you.

K. Michael Leird
Quitman, Arkansas
Email: leird6700@sbcglobal.net
Henry, Tom, Becky, Mary: Our thoughts and affection reach out to each of you and your families as you gather to say goodbye to your Mom ... tough to do at any age. With time your sadness will fade and hopefully be replaced with sweet memories in the confidence that she has returned to our Father. (I hope these scriptures will be a comfort to you all ... Your friend always.

Or ever the silver cord be loosed, or the golden bowl be broken, or the pitcher be broken at the fountain, or the wheel broken at the cistern. 7 Then shall the dust return to the earth as it was: and the spirit shall return unto God who gave it. Ecclesiastes 12:6

Therefore we are always confident, knowing that, whilst we are at home in the body, we are absent from the Lord: For we walk by faith, not by sight: We are confident, I say, and willing rather to be absent from the body, and to be present with the Lord. 2 Corinthians 5:6-8


Don Keene, Sr. and family
Sherwood, Arkansas
Email: dwksr@yahoo.com
Henry, You and your family are in my thoughts and prayers.
Jane Wofford Porter

Irving, Texas
Email: porter.todd@comcast.net
Please accept our sincere condolences on your loss.

Mrs. Jean (Curry) Bradburn
and Mrs. Jacqueline (Allan) Elkins
Little Rock, Arkansas
We were former patients of Dr. Simpson for many years.

George & Relda Lasater
North Little Rock, Arkansas
---