Sallie Taylor Vaught Neathery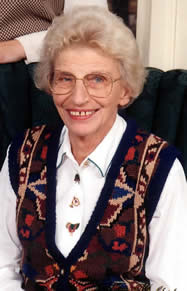 Obituary Notice
Sallie Taylor Vaught Neathery, 83, of Little Rock, died Wednesday, September 14, 2005. She was born December 23, 1921 in Indianapolis, Indiana, the only child of Albert Morton Vaught and Belle Taylor Judy Vaught.
Sallie was a member of Tri-Delta Sorority at Butler University. She was married to her adoring husband, Charles Winston Neathery, on April 28, 1946 and lived in Little Rock until 1958. They moved to Houston, Texas to raise their family and later moved to Canyon Lake, Texas. In 1993 they returned "home" to Little Rock to be close to family. Sallie was a devoted wife, wonderful homemaker, trusted neighbor and was mother, teacher and friend to her children. With her husband "Chuck", Sallie nurtured beautiful flower gardens outdoors and raised African Violets in the hundreds, indoors. For Sallie, no challenge was too large. She looked for beauty in everything, treasured life-long friendships, loved her children and grandchildren, and was inseparable from her soul-mate, Chuck.
Sallie is survived by her loving husband of 59 years, Charles "Chuck" Neathery; son, Mark Neathery; daughters, Holly Zemke and husband Gary, and Jenna Morgenroth and husband Brian; grandsons, Joel and Matthew Neathery, and Trey and Corey Zemke, which will serve as pallbearers.
May the Lord Jesus Christ bless this family as they release her to live forever with her God in heaven.
Visitation will begin at 1:00 p.m. followed by funeral services at 2:00 p.m. on Saturday, September 17, at First Christian Church. Burial will follow in Roselawn Memorial Park. Pallbearers will be her four grandsons.
Memorials may be made to Arkansas Hospice, 5600 W. 12th St., Little Rock, AR 72204.
Arrangements are by Ruebel Funeral Home, www.ruebelfuneralhome.com.


---
Register Book
Chuck, It is with a sad heart that I write this entry. Although we didn't know Sallie as well as some, we loved her and her always welcoming heart and cheereful attitude. We loved coming over to your house to work for you and Sallie. Ya'll were two of our favorite customers. Our prayers are with you as you try to get through this sad time.
Tom and Brenda Mehlin
Benton, Arkansas
Email: bren.mehlin@sbcglobal.net
---