Nancy Ann Coleman Compton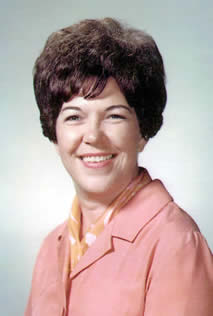 Obituary Notice
Nancy "Nonnie" Coleman Compton, 81, of Little Rock, passed away Sunday, August 28, 2005 after a brief illness. She was born December 16, 1923 in Lonoke County to the late Albert and Prudence Jones Coleman.

She attended Lonoke Schools and graduated from the University of Arkansas with a degree in Home Economics. She married James Knox Compton March 8, 1945. She was a kindergarten teacher and co-owned the Little Red Schoolhouse in Magnolia. Later, in Little Rock, she was a personnel manager for M.M. Cohn's for many years.

Nancy was preceded in death by her parents, her husband, and brother and sister-in-law. She is survived by children, Thomas A. and wife Linda Compton of Longview, Texas, Ann Compton McDearmon of Longview, Texas, and James Drew and wife Juliet Compton of Little Rock; grandchildren, Mandy and Doug Goss of Austin, Texas, John Compton of Austin, Texas, and Mac and Henry Compton of Little Rock.

"Nonnie" will be deeply missed by her friends and family. We take comfort in knowing that she will now be with her husband, Comp, as she meets our Heavenly Father.

A visitation for the residents of Pleasant Hills Retirement Community is from 2:00 to 3:00 p.m. today, Tuesday, at Pleasant Hills followed by a public visitation from 5:00 to 7:00 p.m. at Ruebel Funeral Home. Graveside services will be 1:00 p.m. Wednesday, August 31, 2005 at Mt. Zion Cemetery in Briggsville, near Danville.

In lieu of flowers, memorials may be made to Arkansas Children's Hospital.
---
Register Book
My prayers are with all of you at this difficult time. I have a lot of fond memories of Nancy and growing up with her family in Magnolia, Arkansas. May God Bless you all with His Grace and His love to get you through the pain and sorrow. I wish I could be there. Love to you all, "Ann #2"
Ann Stevens
Arlington, Texas
Email: astevens211@sbcglobal.net
To Drew Compton, I have no words of wisdom that you've probably not heard already, but I just wanted you to know that we are thinking of you and missing you here at work. I am so sorry for your loss. Mom's are special. Take good care.
John Hicks
Little Rock, Arkansas
---