Mattie Mae Hardaway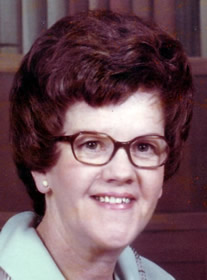 Obituary Notice
Mrs. Mattie Mae Hardaway of Little Rock, age 89, passed on after a brief illness on Saturday, December 10, 2005, in Little Rock. She was a native of Louisiana, and lived in Texarkana, Arkansas, 1941 through 1984. She was a member of St. Paul United Methodist Church in Little Rock and a former member of First United Methodist Church, Texarkana, Arkansas.
She was predeceased by her parents, 3 brothers and 2 sisters, and her husband of 25 years, C. Norwood Hardaway, who died in 1962. Mrs. Hardaway is survived by her only child, Tyna H. Moore and her husband, Jim; one beloved granddaughter, Sarah Moore Merayo and her husband, Humberto; two sisters, Exa (Mrs. J. D.) Ross of Texarkana and Columbia, South Carolina; and Era (Mrs. Edward) Mitchell of Magnolia, Arkansas; four nephews and one niece.
Graveside service will be at 1p.m. on Wednesday in the Hardaway family plot at Old Town Cemetery, Haynesville, Louisiana.
Arrangements are by Ruebel Funeral Home of Little Rock.
In lieu of flowers, memorials may be made to St. Paul UMC, 2223 Durwood, Little Rock, Arkansas, 72207; or First UMC, 400 E. 6th St., Texarkana 71854. www.ruebelfuneralhome.com

---
Register Book
---